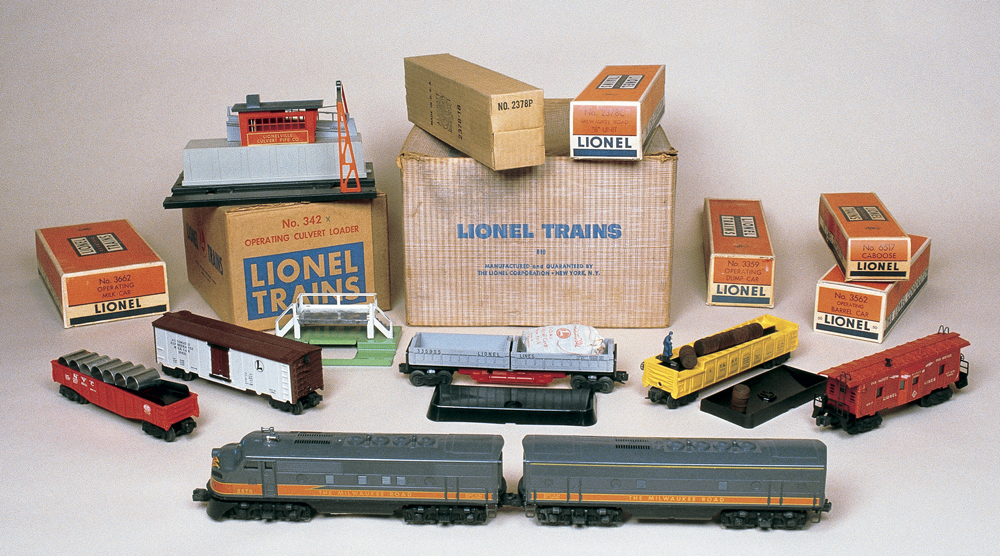 Here's the story behind this magnificent O gauge no. 810/2273W Lionel Milwaukee Road freight set. It was one of the finest outfits cataloged by the company for 1956.
Click here for a history of the Milwaukee Road.
The brand-new no. 2378P and 2378C F3 A-B locomotive combination headed the train. The powered A and unpowered B came decorated for the Milwaukee Road, a well-known midwestern railroad with a network spanning the western half of the country, all the way to the Pacific Ocean.
The units pulled four operating pieces of rolling stock promising hours of enjoyment. Three of them were familiar: the nos. 3359 twin-bin dump car (an updated, more realistic version of the model used to unload Bakelite "coal" pellets), 3562-50 operating barrel car (in bright yellow), and 3662 automatic refrigerated milk car.
Carrying the markers was the best caboose then being cataloged, the no. 6517 bay-window model, painted red and lettered in white for Lionel Lines. Like the other three cars, it had been added to the catalog the previous year.
What was new and sure to capture the interest of consumers was the fifth model: the no. 6342 culvert gondola. Lionel had developed it to work with a just-released no. 342 operating culvert loader, which would become a classic.
10 years in the making
For the first time in a decade, Lionel packed a top-of-the-line accessory to accompany a massive train set. Not since 1946, when two O-27 outfits had included either a coal or a log loader, had the firm tried this sales tactic. However, the Electronic Control Set had come with a coal elevator.
Anyone receiving the no. 810/2273W Lionel Milwaukee Road freight set would have been thrilled to unpack a pair of handsome F3s available for the first and only time, along with four operating cars, a novel and impressive freight loader, and a realistic caboose. In addition, there were eight pieces of curved track, seven straights, and a no. UCS uncoupling-operating section. The only thing missing was a transformer.
According to price sheets from Lionel, set 810/2273W had a retail price of $85, which made it the most expensive freight outfit for 1956. Only the no. 2274W Congressional passenger train, which had a no. 2360 GG1 electric pulling four matching Pennsylvania RR streamlined cars, cost more.
That $85 price, adjusted for inflation, represents $843 today.
Needless to say, the collector market has more to say about the value of an original Milwaukee Road F3 freight set with all its component boxes and its basket-weave outfit package. A like-new example of this excellent set will likely go for $7,000. A pristine version will be the jewel of most any collection.