From the first few years after World War II until well into the 1960s, Lionel released a number of O gauge locomotives and rolling stock that were entirely or partially painted silver. At one end of the spectrum were the stunning Western Pacific F3 diesels and the Burlington GP7; at the other was the lowly Sunoco double-dome tank cars.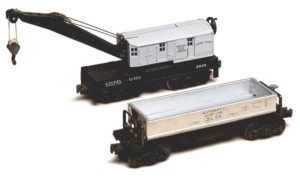 Uncommon or not, all of these silver models tend to tarnish and fade over time. When these locomotives and cars are handled or just exposed to normal light, their silver gets dull.
But silver models that are as shiny as the day they left the Lionel factory are worth their weight in silver! These models are going for sizable amounts at auctions and from dealers.
Pay attention to the silver on red-striped passenger cars and do all you can to protect your Western Pacific boxcars. Keep them out of strong light and temperature extremes. Even such run-of-the-mill pieces as Nos. 6415 and 6465 tank cars – don't we all have thousands of each? – merit special attention. I recall seeing a two-dome, plastic tanker sell for almost $300 because its silver looked absolutely gorgeous.
Twenty years after Lionel made a big splash with its bold line for 1946, the firm was struggling to tread water.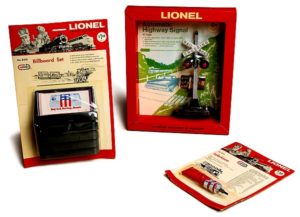 Lionel, ever hopeful, continued to release new sets, along with a roster of locomotives and rolling stock. A complement of small and ordinary accessories also showed up in the annual consumer catalog.
However, a number of these items were packaged in sealed clear plastic. These "blister," or "bubble," packs, which Lionel first announced and showed in 1965, have aroused great interest among toy train collectors, and the prices for items still in blister packs have been skyrocketing.
What explains the fervent search for billboards, crossing gates, lockons, block signals, and lubrication kits, among the most common and uninteresting items in the line? The answer is that they came in unique packaging.
To find an unopened blister pack is to have an item that, no matter how basic, can absolutely be called mint. Of course, the packaging itself must also be pristine, with no tears, rips, stains, or creases in the cardboard. Guys will, therefore, crack open their wallets big time to acquire a blister pack accessory.
No. 3: High times in Plasticville
Is there anyone who doesn't realize how hot boxes are among Lionel collectors? Name an item, and the price increases if it has its original packaging.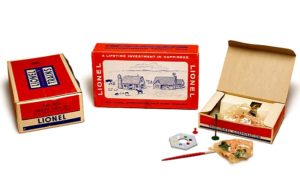 The better the condition of the box, the more it's worth. After all, logic suggests that fewer boxes have survived than trains packed in them. Certain boxes command huge premiums, being worth far more than their contents. A box for the 3854 merchandise car with its original insert and all end flaps intact was sold on eBay for $1,500 not long ago. Just a box – no car!
How much of a difference can a box make? With the Plasticville kits Lionel cataloged between 1958 and 1962, the answer is everything.
Lionel negotiated a deal with Bachmann Bros., the manufacturers of these popular structures and accessories. Versions of regular-production Plasticville items would be sold by Lionel in special orange-and blue boxes.
In doing so, Lionel inadvertently created a craze decades later. Collectors that could not care about Plasticville sets go crazy when they can find these items packaged for Lionel. Price guides can barely keep up with the rise in prices for complete sets whose boxes are in like-new or better condition.
No. 4: Ain't in the catalog
Not every postwar treasure showed up in Lionel's advance or consumer catalogs. Instead, a number of great sets and unique items showed up in promotional outfits that Lionel created for general release or specific retailers, such as Sears, Roebuck & Co.; Montgomery Ward; and J.C. Penney.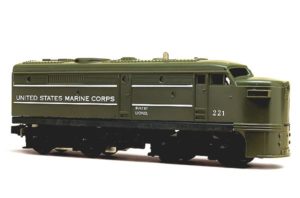 The contents of many of these specials, indeed the sheer number of them, remain mysteries. Collectors in search of answers hunt for documentation as well as sets they can verify as original. Consequently, the value of correct uncataloged outfits in their original boxes has grown significantly.
Collectors, either because they want the promotional pieces or hope to complete their postwar holdings, don't hesitate to pay for an assortment of models that was never in the annual consumer catalogs.
Some of the entry-level Alco diesels, overlooked in the past by those seeking F3s, now command top-dollar. These include the Nos. 212(T) U.S. Marine Corps A unit from 1958 and 221 molded in olive and stamped for either the Santa Fe or U.S. Marine Corps for 1964.
Prices are rising, too, on rolling stock unique to promotional sets. More attention is being paid to a select group of small boxcars, notably the Nos. 6014 Chun King and WIX Filters models and 6044 Airex in purple-blue. Also highly desirable are the Nos. (3309) turbo missile launching car in olive drab and 6651 shell launching car.
No. 5: The white better be right
Just as collectors are paying more attention to silver locomotives and rolling stock in top condition, so are they feeding the kitty to get models with white shells that look clean as a whistle. You'd think they wanted to film a commercial for Clorox!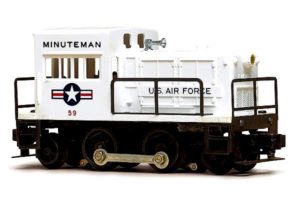 Lionel issued a handful of unpainted items in white plastic in the latter part of the 1950s. Time has not been kind to these plastic trains; the white has tended to yellow.
As a result, prices for white-as-snow examples of the Nos. 57 AEC and 59 U.S. Air Force Minuteman switchers are going into the clouds. These motorized units, desirable in any condition, exceed $1,000 when their white bodies can double as piano keys.
Two other items known to lose their pearly appearance are the No. 3366 operating circus car and its non-animated twin, the No. 6376. Examples in brilliant white are bringing home a lot more of the bacon.
Even the early milk cars (Nos. 3462 and 3472) take on added value when they look most like the white milk they're supposed to carry. The WIX oil filters boxcar, which also has a tendency to yellow, is worth most when it looks least like golden motor oil.
A few more hidden gems
Here are a few more items with prices that have climbed in recent years. As always, do your homework and beware of fakes and cars or boxes that have been altered.
Freight cars that made their debut in 1958, the final year Lionel used a version of its familiar orange-and-blue Lionel box, demand a premium. I watched in amazement as a like-new No. 6536 Minneapolis & St. Louis hopper from 1958 sold for nearly $500 on the Internet because at least two collectors wanted a version in the "Late Classic" box.
The No. 156 station platform seemed as dull as dishwater at one time. Then, about 10 years ago, guys started building layouts that had huge passenger terminals. Each of those operators seemed to want six or seven platforms to complete the scene. Prices for a 156 in like-new condition then soared from $50 to more than $200.
Then there's the "cute factor." Particular Lionel cars strike us as humorous, and so demand increases. The best example is the No. 3434 poultry dispatch car. Judging by ascending prices, a figure sweeping chicken poop out of a stockcar amuses lots of collectors. Go figure!
Know of other hot postwar pieces? Write and let us know your picks!