When it comes to buying used track, should you or shouldn't you? While buying new track means a more pristine look, it also means more money. However, if you have the time, a more cost-efficient method is buying used track, since you can always clean it up to look like new. It only takes a few basic tools and a little elbow grease, but soon you'll have your old track looking like it's fresh out of the box.
Need help choosing track for your layout? Start here!
Start the cleaning process by getting an old toothbrush to clean the loose soil off. Then, scrub the insides of the rails, making sure to not neglect cleaning the ties and underside of the track. This part of the process will help remove some of the rust (if there is any).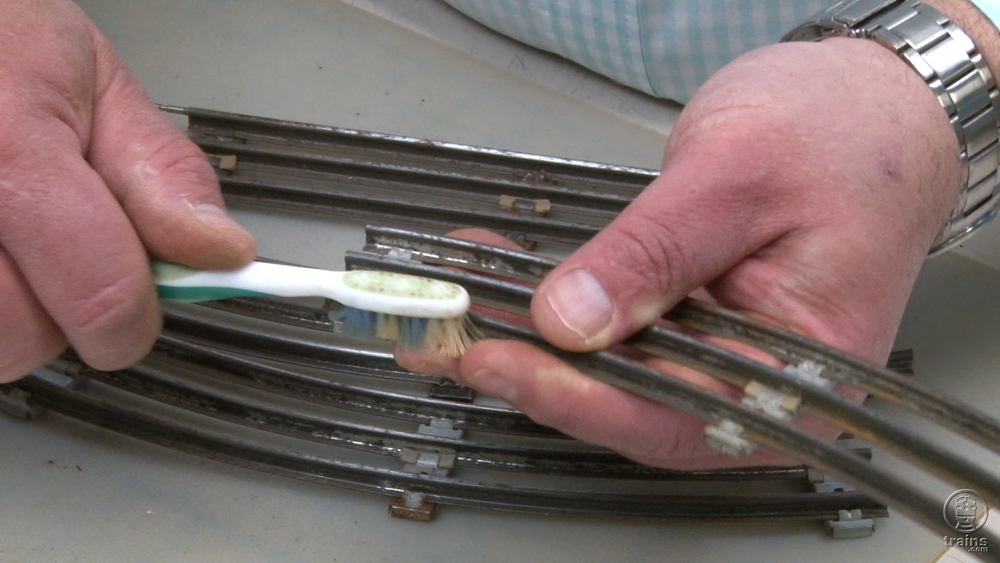 Next, get a scrubbing pad. 3M makes a nice scrubbing pad, but there are many other alternatives to choose from. The only important thing to keep in mind is that you never use a scrubbing pad that's metal. You never want to use steel wool on track because it will shed particulates that will get sucked up in your motors, causing your trains to not run.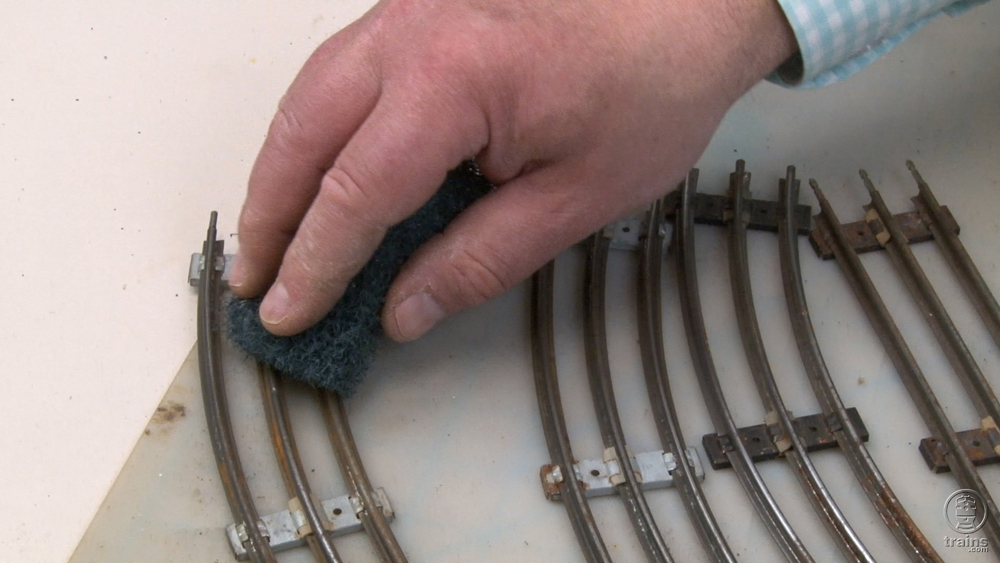 Another thing you never want to do when cleaning track is put it in water. That's because there are paper insulators on the rails that will get soaked. Water will also get trapped inside the tubing of the track, and even if you put the track in the oven, you will never be able to get it properly dry.
Members can watch the entire track-cleaning process here.
Part way through the cleaning process, it's a good idea to take a break to vacuum up all the loose rust and other dirt that's fallen off your track.
The final step of the cleaning process involves using a track eraser like the Atlas Track Eraser sold at the Kalmbach Hobby Store (available for only $4.95). The eraser will need to rubbed lightly on the tracks to shine it up. If there's any stray rust on the track, also use the eraser to remove that.
If you come across a piece of track that just can't be saved, throw it away. Otherwise, it may cause problems for your locomotives in the future.
So, roll-up your sleeves and get cleaning! Soon all your track will be shiny and ready to go back into service.