Buying collectible toy train items can be enjoyable and rewarding if you proceed carefully and patiently. Be sure to do your homework on them and the person or business selling them.
Once you've established personal guidelines about what you want, do some research about the item and its value in different levels of condition. Price guides are the place to start, followed by observation of online and in-person auction results and show sales.
Ready to buy
Regular readers of Classic Toy Trains know every issue contains a one-page article called "Collectible Classic." For more than 20 years, I've spotlighted vintage pieces I think are worth adding to a collection.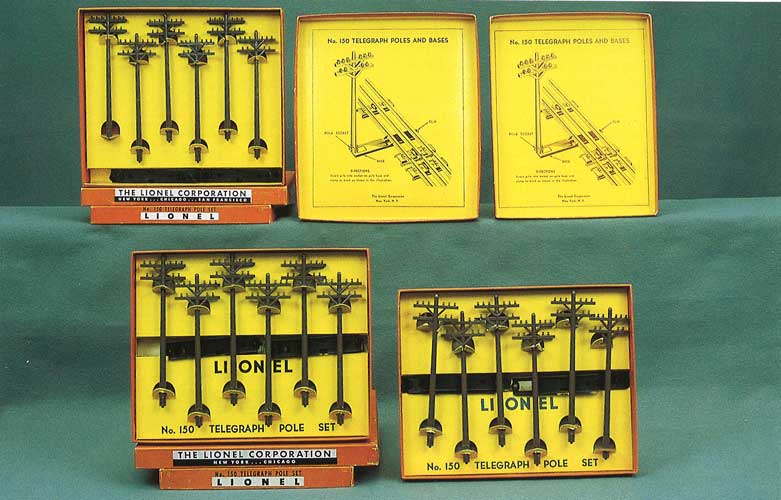 The item has an interesting background but typically is still affordable. I try to pick items valued at $100 or less, whether in excellent or mint condition, from all eras of production.
To write about a Collectible Classic I need to be familiar with it. Sometimes I have access to pieces belonging to another hobbyist; more often in recent years I've actually purchased the item.
For example, when conducting the research for Lionel Trains of the 1940s, I spent a lot of time looking at Lionel catalogs put out right after World War II. In them I found many trackside and ancillary items I'd overlooked in the past.
On the hunt
I decided the No. 150 Telegraph Pole Set would make a good Collectible Classic. Now I needed to find one in like-new condition to photograph for CTT.
I read about this overlooked piece as explained by Alan Stewart in the sixth volume (covering accessories) of Greenberg's Guide to Postwar Lionel Trains, 1945-1969. The entry described the set of six brown plastic poles with metal base clips. It warned the latter "are usually rusted, broken, or missing from sets offered for sale." It also noted these parts have not been reproduced.
What sold me were the color photographs of No. 150 sets with their packaging and eye-catching artwork printed inside the box. Getting just the poles and clips was hardly worth the effort, but the box was so cool!
Sealing the deal
I searched for a No. 150 set at a few shows and in-person auctions. I found a lot of them available at prices corresponding with those in Greenberg's Pocket Price Guide to Lionel Trains, 1901-2022: $20 in good condition and $41 in excellent. Examples of the set in like-new condition with an equally nice box and liner would cost me $75 to $100.
The search continued online. I  eventually found a set that met my criteria for completeness and condition. I contacted the seller, asking questions about the item that would reveal more than what the photographs showed. I also wanted to know if the seller belonged to the Train Collectors Association and would guarantee the item's condition.
Once I'd heard from him and was assured what I was seeing and reading about would indeed be what I would be receiving, I placed a bid. I went as high as I felt comfortable. If the price went beyond what I was willing to pay, I was willing to lose this one and start anew.
Fortunately, I won the auction. I contacted the seller about how the 150 set was going to get to me. His experience, backed up by positive feedback all but guaranteed me that he knew the safest ways to pack and ship old trains.
All in all, my experience was a good one. I had added to my collection an item with greater interest than I had previously imagined. Perhaps this article will inspire you to look for a collectible item of your own. Always, of course, after doing your research and proceeding patiently and carefully.