Welcome to the enjoyable and exciting hobby of toy trains! Folks enter this hobby a number of ways. Perhaps you found your childhood train set after many years and want to relive the fun you had with those toys. Maybe you picked up a vintage toy locomotive and cars at a yard sale or an antique store. Or possibly you received as a gift one of the outstanding trains being manufactured today. However you arrived, we're glad to welcome you with this free guide to all things toy trains.
In this 21-page download, you'll find expert answers to questions such as:
How is a toy train different from a scale model railroad?
What is the history of toy trains?
What are the best ways to learn about the toy train hobby?
Where can I buy vintage or contemporary toy trains?
What is the difference between gauges and scales?
What is O gauge?
How do I start running a toy train?
How do you build a toy train layout?
How can I start collecting toy trains?
What do popular toy train terms mean?
To get started, just enter your email address below and you'll instantly receive this free download. You'll also get more great information from Classic Toy Trains in our twice-monthly email newsletter!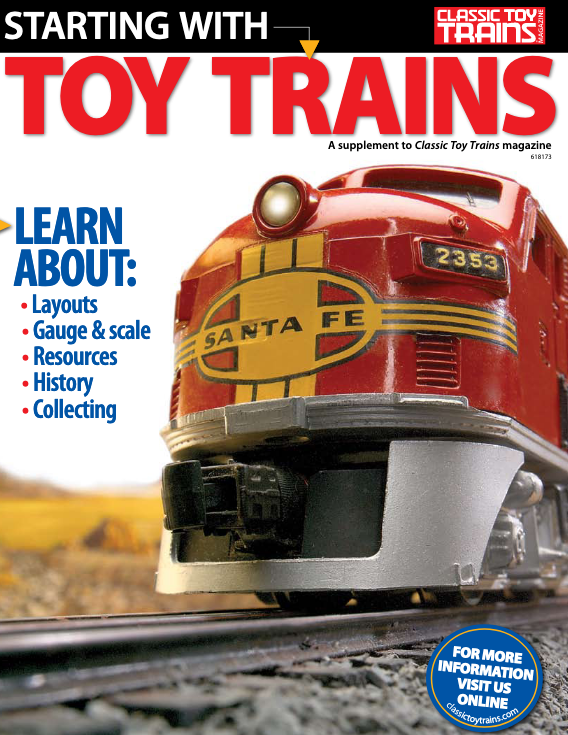 Get Your FREE PDF Download
Enter your email for access to A Beginners Guide to Toy Trains.
By entering your email you will receive newsletters, special offers, and more from the Trains.com family of brands. View our privacy policy.