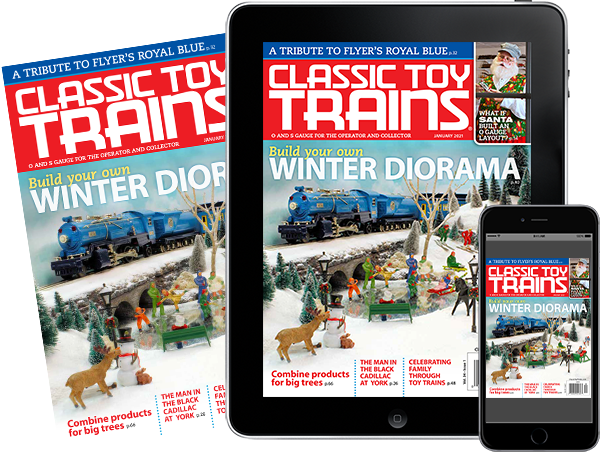 Advertise with us
For over 30 years, Classic Toy Trains magazine has been the number one magazine for enthusiasts of Lionel, MTH, American Flyer, K-Line, Marx, and similar toy trains. Classic Toy Trains covers the entire hobby of toy trains, past and present. Nine times per year, your prospective customers are reading articles that focus on O gauge, S Gauge and Standard Gauge toy train layouts, operating tips, electrical, track, scenery, accessory projects, repair and maintenance of new and old locomotives, collection and restoration of vintage trains, and the history of toy trains.
A robust website and e-mail newsletter compliment the magazine and provide additional opportunities for our advertisers to build sales and find new customers.
Whatever you're selling, from new or vintage toy trains to accessories and scenery items, the readers of Classic Toy Trains (and the viewers of ClassicToyTrains.com) are interested in your products.
It's easy to reach this active and affluent audience!
Advertising Representatives for Classic Toy Trains
The following Kalmbach Media advertising representatives are happy to assist you. Simply call 1-888-558-1544 and ask for the corresponding extension, or click on the name to email your representative.
Advertising Sales Representatives
Martha Stanczak, ext. 643
mstanczak@classictoytrains.com
Retail Directory and Classified Advertising
classads@kalmbach.com
Advertising Services
ads@classictoytrains.com