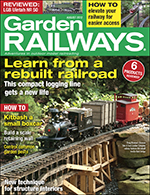 Since 1984,
Garden Railways
has been the number-one magazine about the hobby of garden railroading. Each issue features hobby news, product reviews, how-to articles, featured railroads, and much more.
Learn more about the magazine. Meet the Garden Railways staff who brings you each issue.
Want to submit your own photos, manuscript, or article ideas? Read Garden Railways' article submission guidelines and guidelines for submitting digital photos first.
Learn More About our Magazine