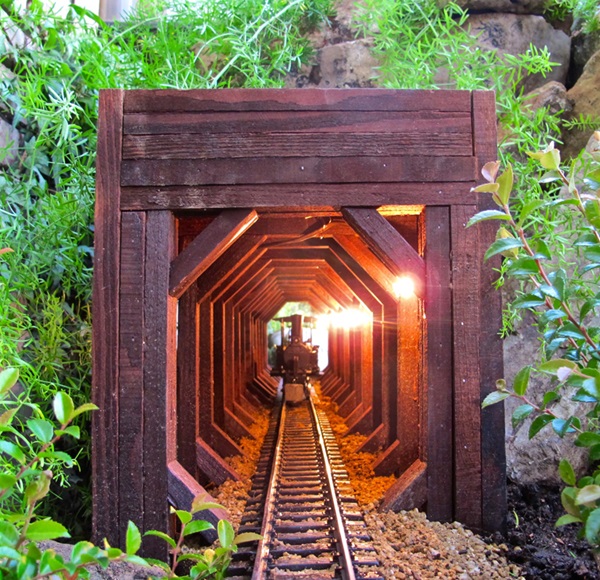 Like a grade-school report, "What I did on my spring 2020 vacation," this story is about optimism in the face of confusion and lack of resources. We had just started a new little garden railway loop in front of our house, but hidden from the street. Having built a gallery along the walkway, we next needed a tunnel along the house, but not touching it. With no big culvert tube or concrete blocks, I chose to simply call it "tunnel art."
Sheltering in (a good) place
How do we build a railway during "stay at home" orders? Where will the materials come from? Will I have to compromise strength, prototypical design, or creative freedom? Fortunately, I have a corner of my yard (respectfully hidden behind sheds and gates) where I store odd ends of lumber, bits of metal, and PVC pipe leftover from projects. New stuff, like a bundle of cheap redwood "tomato stakes" mostly ripped from heartwood, we keep under tarps. I felt like an astronaut trying to build a machine from random parts in a hatch.
Boulders, which had been moved aside for my new gravel tipple, now made their way to the new mountain over our tunnel. Hypertufa (more in the Winter issue of GR) filled the cracks to hold it all together. Soil of decomposed leaves was scraped from under a large pine tree and the compost bin provided about a yard of soil. Cathartically, my yard provided.
Design from wood
More like a snow shed, we framed up a 5-foot tunnel on a 2 x 8 using the ¾" x ¾" redwood stakes. My helper, Nick Schofield, Titebonded and brad-nailed the many pieces into an Fn3 scale shed. At 1:20.3, those boards would be 15″ thick – close enough. I've seen pictures of long wooden railway sheds where light filters in to show the timbers and support gussets, more or less as in photo 1. Seeing those beefy boards, fastened to protect the train and lit from tiny lights, feels like a promise kept – a metaphor for help amid days of disorientation.
Unique technique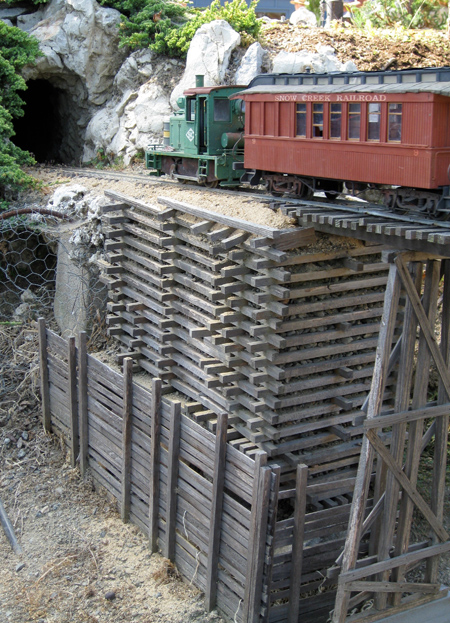 Inspiration for my tunnel came from reviewing hundreds of photos taking during National Garden Railway Conventions. Bob Treat's Snow Creek Railroad shows how dramatically packing together fun features can be; the stone portal sits above cribbing and a trestle (photo 2). Japanese garden juniper (Juniperus procumbens 'Nana', Zones 4-9) ties it to the greater yard.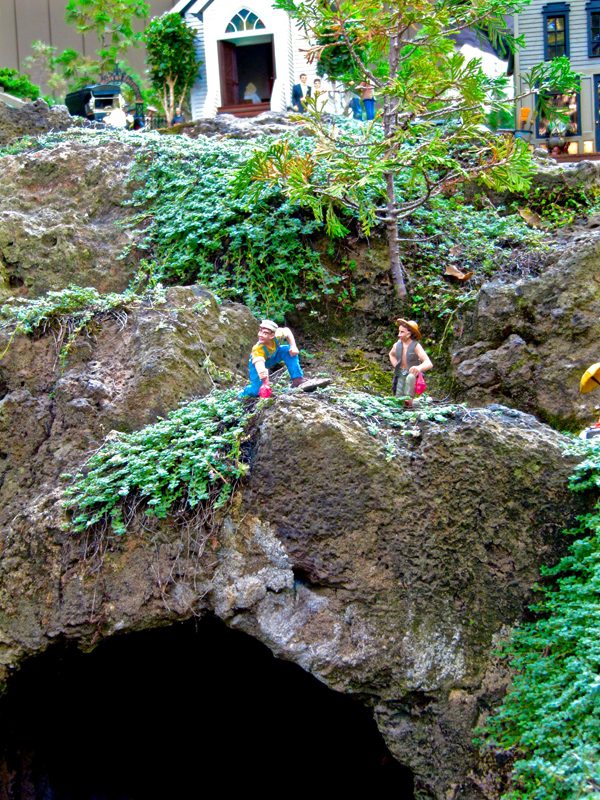 Although most of us notice the pranksters about to drop a water balloon on the train, I also noticed the portal – cement product blends real rock with faux rock on Dart and Dottye Rinefort's OS&F Railroad (photo 3). Elfin thyme (Thymus serpyllum 'Elfin', Zones 4-9) wraps up the scene.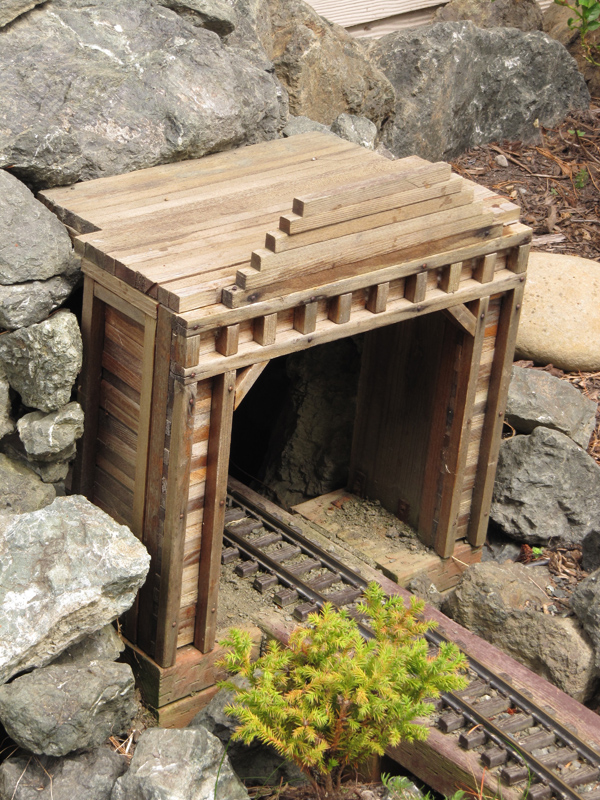 I chose a similar approach as Andy and Eleanor Geiger, whose Salal Kinikinnick & Ocean Spray Railroad funnels trains through a wooden portal, quite 3-dimensional and fancier than mine (photo 4). I also liked the wooden subroadbed under track. A shrubby cryptomeria brings life.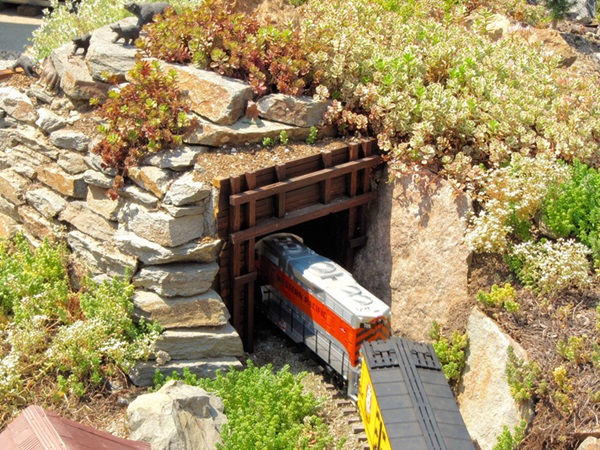 Horace and Nan Fabing built their Bear Mountain Railroad's tunnel on the edge of a hill, as did I. Stacked rock looks like the striations of ancient sandstone. Stonecrop (Sedum spp.) becomes the various shrubby bushes in the wild, foraged by bears (photo 5).
Tunnels are fun!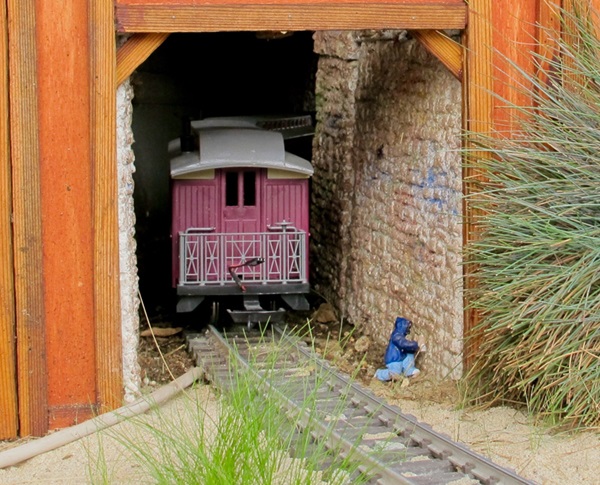 On their beach-inspired California Short Line (photo 6), where sand and grasses predominate, Bill and Dolores Rodriguez remind us of the lyrical nature of garden railways: "The words of the prophets are written on the subway walls" (Paul Simon).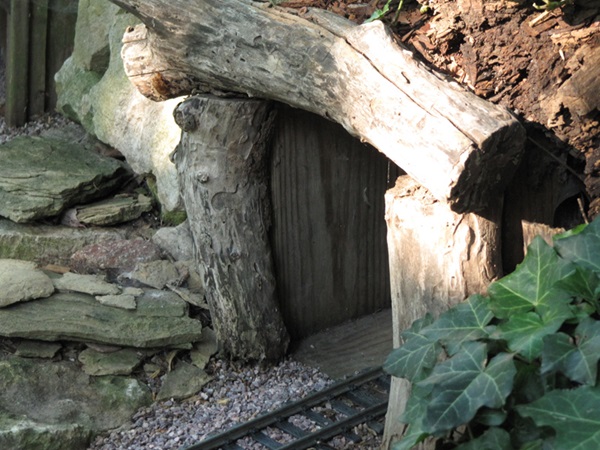 I had to smile seeing the simplicity of construction on George and Mary Kay Riehle's Le Garten Bahn (photo 7). Their wooden portal in front of their wooden tunnel got the job done. English ivy (Hedera helix, Zones 5-9) will soon cover the hill.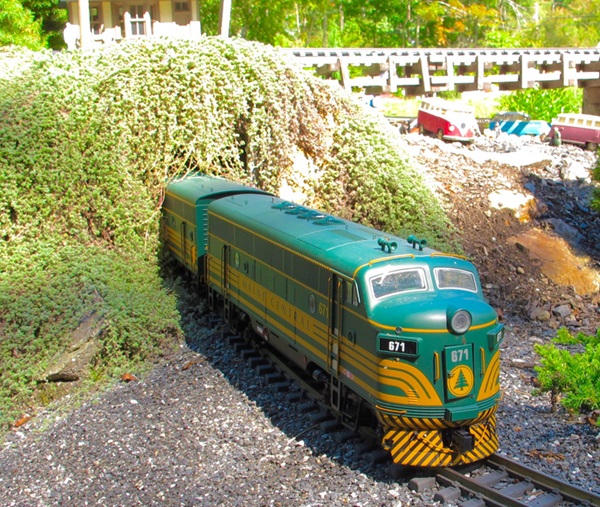 Terry and Sue Norton provided an LOL (laugh out loud) moment on their Groton and Charleston Railroad (photo 8). I saw the train go into a tunnel but didn't know where it would exit until, like parting curtains on a stage, the Maine Central burst out from the dangling minus thyme (Thymus serpyllum'Minus', Zones 5-9).
Darkness to light
Subterranean gallery, covered road, hollow conduit, in-and-out, shut in then freedom, a shortcut – no matter what you call it, your horizontal passageway through or under an obstruction will provide days of anticipation, wonder and excitement. Even the mail lady gets to share in my front yard fantasy.
From World War II leader Winston Churchill, "A pessimist sees the difficulty in every opportunity; an optimist sees the opportunity in every difficulty."
Resources
Garden Railways' back issues
Build a long curved tunnel, June 1998
Cascading trees and the rocks that support them, June 2008
Portal portfolio, Feb. 2010
Aesthetic abutments, Dec. 2013
Tunnels, Feb. 2015
Hardscape using cement products II, Feb. 2015
Do over! Turning a tunnel into a canyon, Feb. 2015
How to landscape a tunnel, Apr. 2015
Regional gardening reports
Zones listed are USDA Hardiness Zones
What are the hows and whys of your tunnels?
Prototypical fantasy
Rob Reiter
Pleasant Hill, California, Zone 9
My many rides on the railroads of Disneyworld and Disneyland became my unconscious "prototype" for my garden railroad. When traveling on the Disney trains, I board in one "land" ending up in another; going from Adventureland to Frontierland was a relatively short ride separated by a tunnel. The scenery changed by the time I exited the tunnel. So on my railroad something similar happens. From full sun with succulent plants to a shady green space with ferns, the train travels through all these changes. Of course my tunnels don't benefit from Disney workers clearing the tracks of leaves and twigs, so given my four tunnels, I have been using a track sweeper from Earl Martin (see GR ad). The sweeper blows the leaves off the tracks easier than my reaching into these tunnels.
In my case, the sweeper is attached to an old Bachmann tender on which I installed roller bearing Aristo-Craft tender trucks, all pushed by a dedicated locomotive. Inside the tender, a rechargeable battery powers the electric sweeper motor. I also installed Ram flashing beacons on the unit, partially inspired by the LGB 20670 track cleaning locomotive.
Real rock lining
Stan Ames
Chelmsford, Massachusetts, Zone 6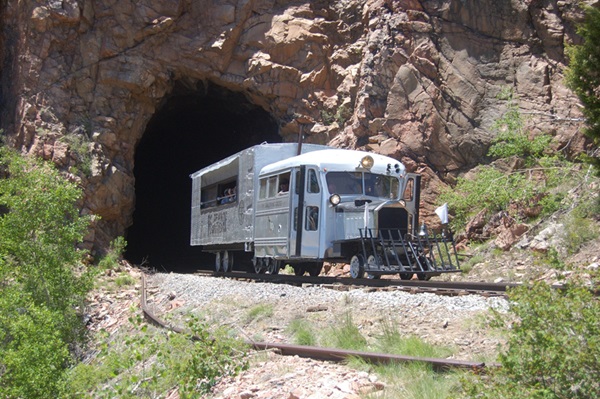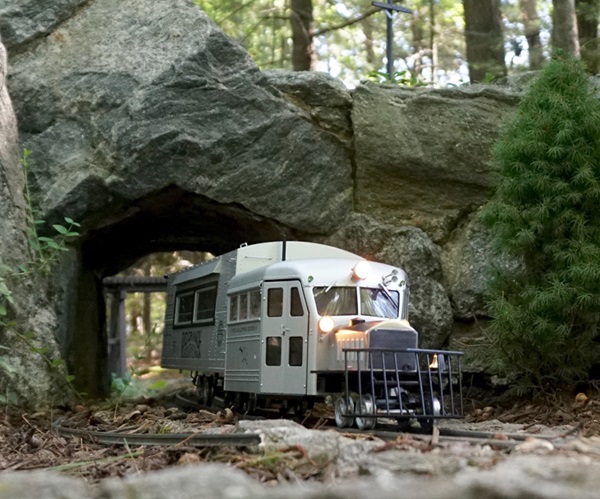 Tunnels on the SJR&P add a lot of interest to our garden railroad. Most of these tunnels (3-21′ long) are made with pressure treated lumber with interior scale sides and top stained black. Because of their location or length most visitors can't see through the tunnel, and the tunnel insides are dark and not visible.
Several of our shorter tunnels happen to open at eye level where their insides are visible. We've always liked the look of a tunnel blasted through rock and decided to duplicate this effect using the following ten steps:
1. Dig out the area and lay out the roadbed, which in our case is a concrete trough lined with small rocks.
2. Build up the tunnel's sidewalls with flat-sided rocks approximately 8″ high.
3. Set the center tunnel height by driving stakes driven into the dirt.
4. Using the stakes as a guide, fill the tunnel with mud and dirt, creating a form to support the rock lining. (It is important that the tunnel's width and height is correct for trains, as once these steps are complete the clearances are hard to change.)
5. Mortar flat rocks over the top of the domed dirt form.
6. Fill any cracks between the top rocks with dry mortar and then pour moistened concrete mix over the entire form.
7. Wait for the concrete to set before digging out the dirt from inside the tunnel. (This limits the length of the tunnel, since its center must be reached from each side).
8. Hose out the remaining dirt.
9. Install and ballast the track.
10. Add soil and scenery on top. The result is a tunnel that looks like it was blasted through solid rock.
Mock rock tunnels
Ray Turner
San Jose, California, Zone 9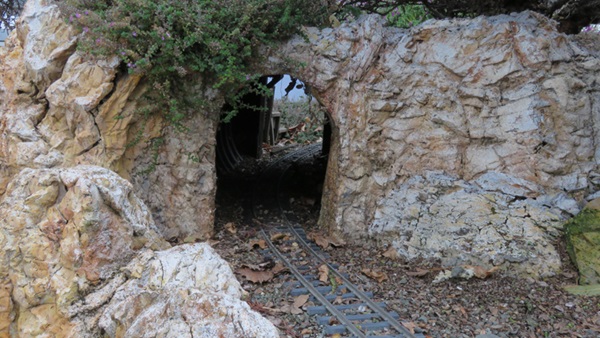 This tunnel portal is cast concrete made by making a wood form for the general shape of the opening, packing crumpled aluminum foil around and pouring a white Portland cement and sand mix around it. The rockwork around it was also created as a concrete casting. Lemon thyme (Thymus citriodorus) growing over the top gives the feeling that the tunnel has been there for a long time.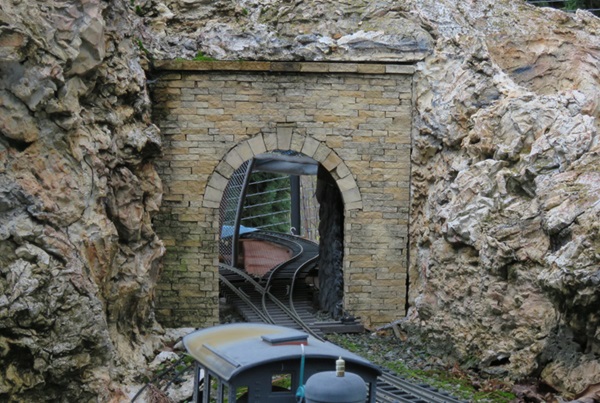 This stacked stone tunnel portal was made with Stoneworks rocks and process. The stones are backed with concrete patcher, mounted on the railroad and cast concrete rocks built around it. The weathering is natural dirt and algae.