Modify die-cast vehicles for large scale: Most modelers use 1:24 scale die cast cars and trucks out of the box on their railroads, and there is nothing wrong with that. The models are well made and painted in real life colors. I have more than 100 of them that I haven't changed. But sometimes, it's fun to customize my trucks and cars to serve the fictional industries I have built for my railroads.
Hallowell Pallet Company truck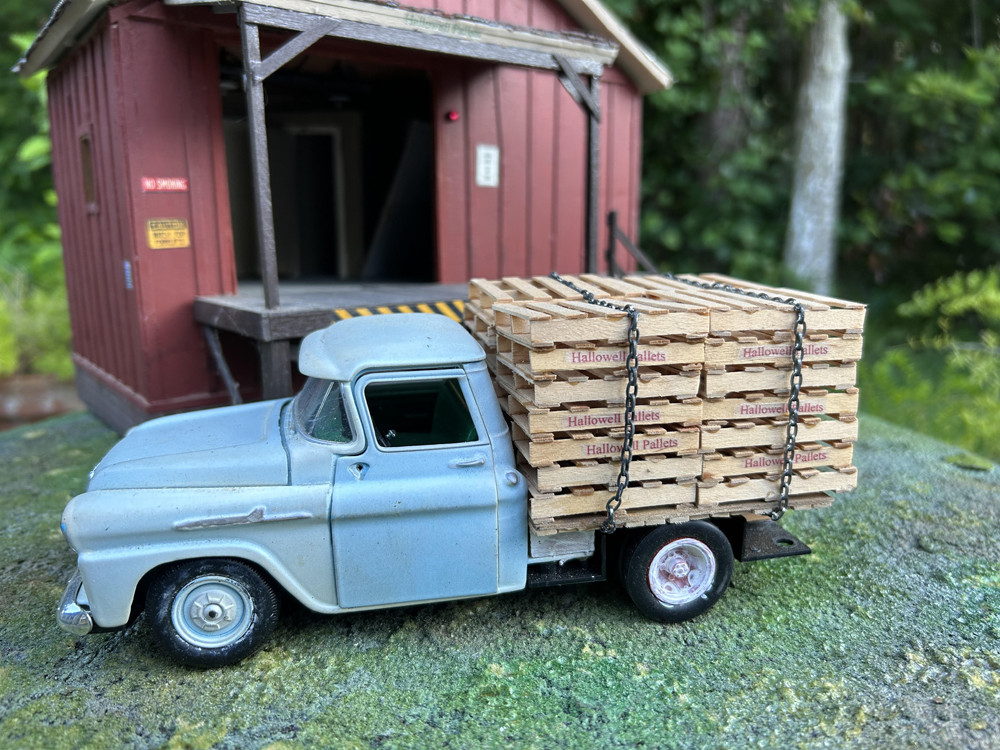 One of my industries is the Hallowell Pallet Company. I took a 1958 Chevrolet Apache Fleetside truck and removed the pickup bed. I made a flatbed for the back. I then made a jig from some scraps of wood and built a bunch of pallets to fill the flatbed. I made decals for the Hallowell Pallet Company and put them on each pallet (Hallowell was the name of the man who patented the pallet.) I then used craft store necklace chain to tie down the load.
Huxham Oil truck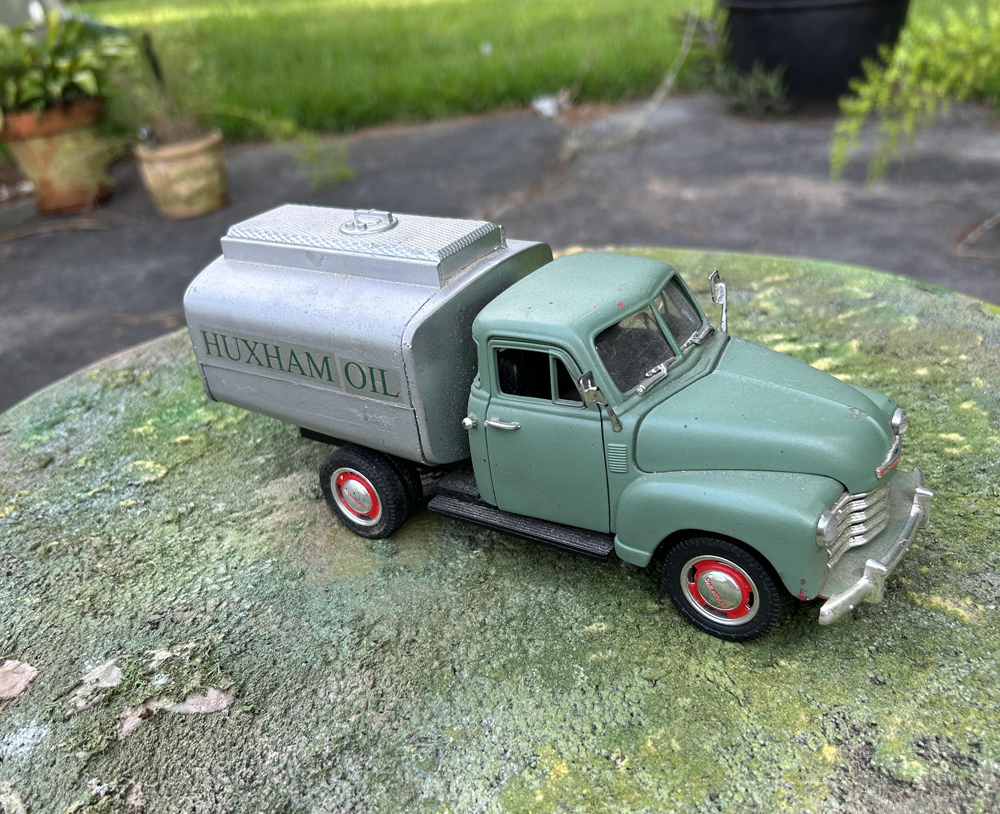 Both of my sons had a kindergarten teacher named Mrs. Huxham. Each year she took her class on a short train trip from Jacksonville to Waldo, Florida. She knew my love of trains and for years she would ask me to go on the field trip even if I didn't have a child in her class.
Her husband had a fuel oil business that provided heating oil to many homes in our town. On one of my garage sale forays, I found a tanker truck trailer that was too small for large scale. However, it was suitable to cut apart and make a tank body for another die-cast truck once I removed the pickup bed. After I applied lettering for the Huxham company and weathered it, I had another vehicle for one of my small companies.
Load for a grocery truck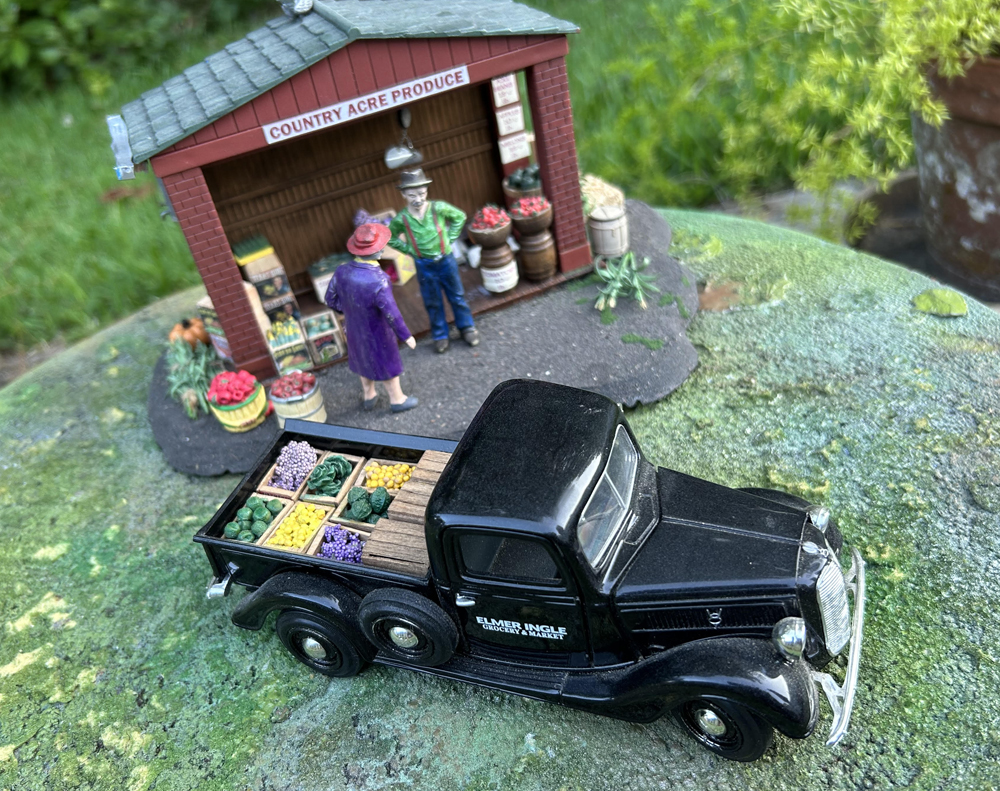 During one of my trips to my second home in South Carolina, I shopped in the local Ingles grocery store. I found the company sold a 1:24 die-cast 1937 Ford truck lettered for the Elmer Ingle Grocery and Market. Mr. Ingle had used this truck to start his line of grocery stores. I considered this a collectible and didn't want to make any changes to it. I had earlier found a toy shed that I had remodeled into a roadside produce stand. I decided to fill the pickup bed with crates of fresh produce made from spices and craft store findings. I imagined this was how Mr. Ingle got his start in the grocery business.
Moody Painting Company truck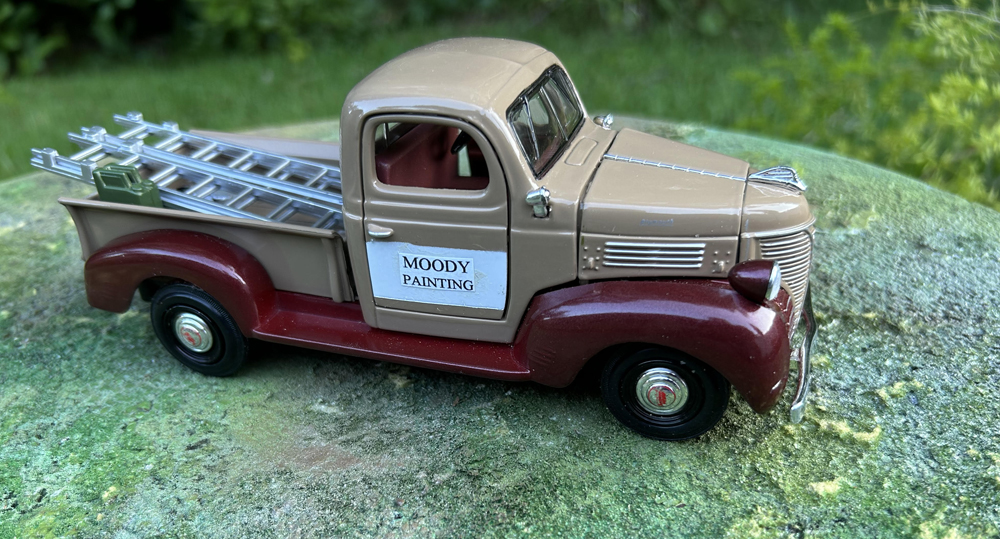 This past January I was checking the local Tractor Supply store for after Christmas sale merchandise. I found a 1941 Plymouth truck with a grossly oversized wrecker attachment in the bed. My grandfather used a similar truck in the 1940s, 50s, and 60s in his house painting business. I removed the wrecker attachment and lettered the truck for the Moody Painting company on the doors. I filled the bed with paint cans made from cut off straws and hole punch cutouts. I also used two of the extension ladders I bought at the National Garden Railway Convention in Denver. As an aside, my mother, her two sisters and her three brothers rode in the pickup bed to church every Sunday, rain or shine.
Nick's Towing company truck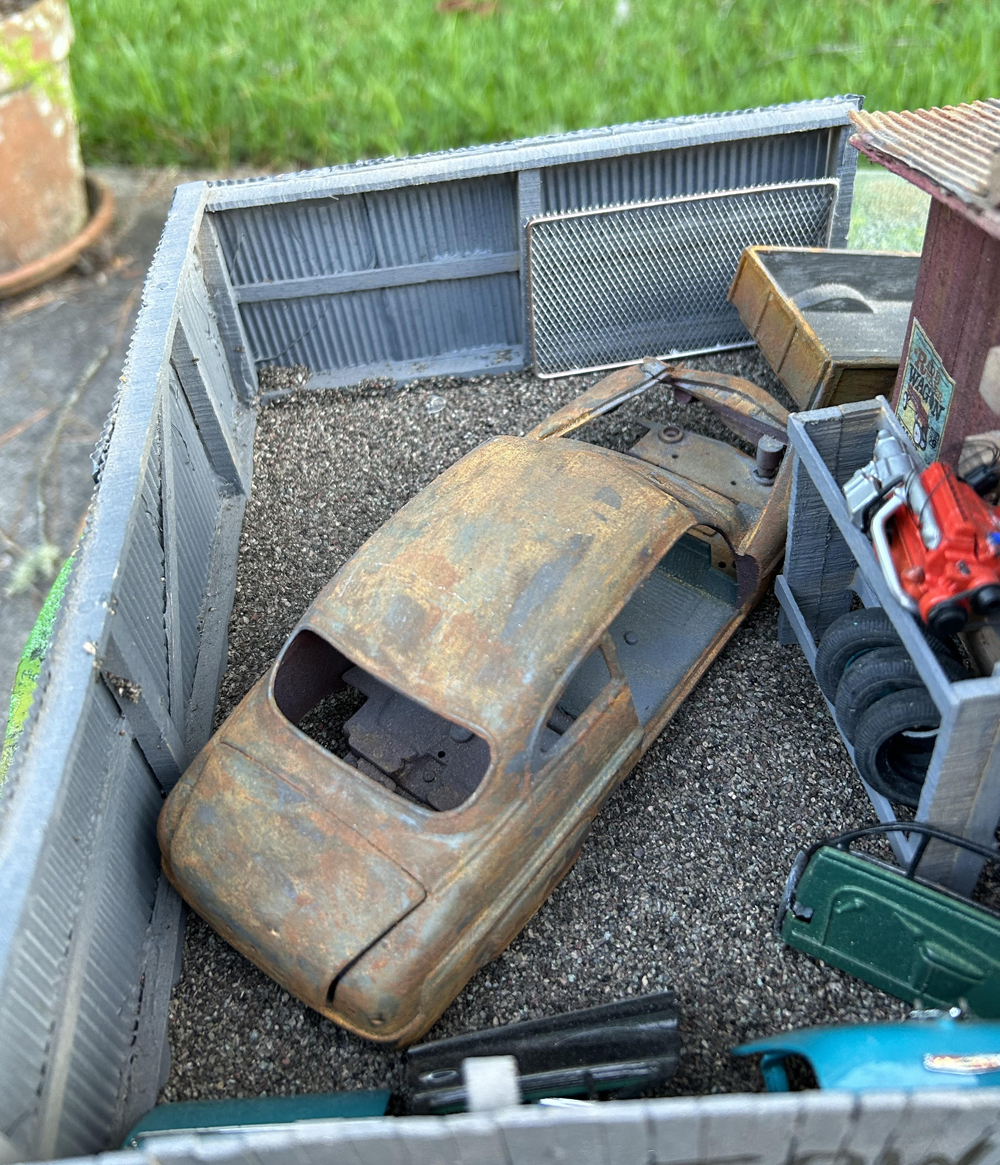 In a previous article I described how I used an unfinished wooden birdhouse to build an office for Nick's towing company. In the backyard I used one of my cheap broken 1:24 cars to make a realistic rusty hulk. I also used pieces from a broken Danbury Mint car to fill the other spaces in the yard.
Lunar Glow Distillery truck
In 2002, I found the Carl Arendt Gn15 website and became fascinated with small railroads. Using HO mechanisms and track I made a coffee table layout I named the Lunar Glow Distillery railroad. I modified another truck with a flatbed and chained two large casks to the bed with more craft store necklace chain. I heavily weathered the truck and simulated a broken headlight and grill to show hard usage in the backwoods.
HO pioneer John Allen, whose many articles appeared in Model Railroader, never used anything straight out of the Varney box. He liked to modify them to suit his G&D [https://www.trains.com/mrr/how-to/model-train-layouts/john-allens-gorre-daphetid-online-extras/ ] railroad. This is what I try to do when I change anything to fit my railroad and time line.