Industries in northern Ohio: The track and buildings are relatively level, but the walking area follows the contour of the ground. The entrance at the east is the highest, with the track and buildings being about one foot higher than the path. As you proceed to the west end, the path descends a little, so the track and buildings are about 2'10" higher than the path. This allows guests to look into the buildings' interiors.
Track switches are pneumatically controlled. A covered master switch box contains the track schematic with all the toggle controls. A compressor is hidden behind the elevator. When it runs, I tell my guests that the elevator is operating and mixing wheat.
My inventory of locomotives includes two Aristo-Craft SD-45s (freight engines), an EMD F3 A-B-A set by USA trains (passenger engines), a live-steam 2-8-2 Mikado and a 4-6-2 Pacific by Aristo-Craft, and an electric JID 4-6-4 Hudson by USA trains.
All locomotives except the live-steam Mikado are battery powered. Batteries are contained within the bodies or tenders of the locomotives (see "Installing batteries in Aristo-Craft locomotives," June 2013). All of the locomotives have quickly replaceable lithium-ion battery packs, except the SD-45, which still has a battery pack fixed inside.
There are several things I like about this hobby. One is scratchbuilding the structures, which I do during the winter months. Most of the structures, from drawing to building, take from two to three months. I work when time is available, not to a strict schedule. Springtime, when all the flowers are blooming and we are in the garden working on the placement of the new structure, is always a pleasure. Later in the summer we have an open house for invited guests. This is one of the best aspects of a train garden—you can share it with other people. This encourages me to build new things to keep their interest.
There is always something to do: vegetation to cut back, weeds to pull, or something to change that isn't just right. All of this is what makes garden railroading unique over all other hobbies.
Name: North Ohio Central Railroad
Size: 32′ x 48′
Scale: 1:29
Gauge: No. 1
Era: 1940-1960
Theme: South side, industrial; north side, mountains, depot, and lodging
Motive power: Battery-powered diesels and steam locomotives; one live-steam engine
Length of mainline: 233′
Maximum gradient: 1.5%
Type of track: Aristo-Craft and LGB brass track
Minimum radius: 5′
Structures: All scratchbuilt (grain elevator, wheat-flour mill, pizza plant, depot, Wall Drug store, lodge, church)
Control system: R/C by LocoLinc and Aristo-Craft Revolution Train Engineer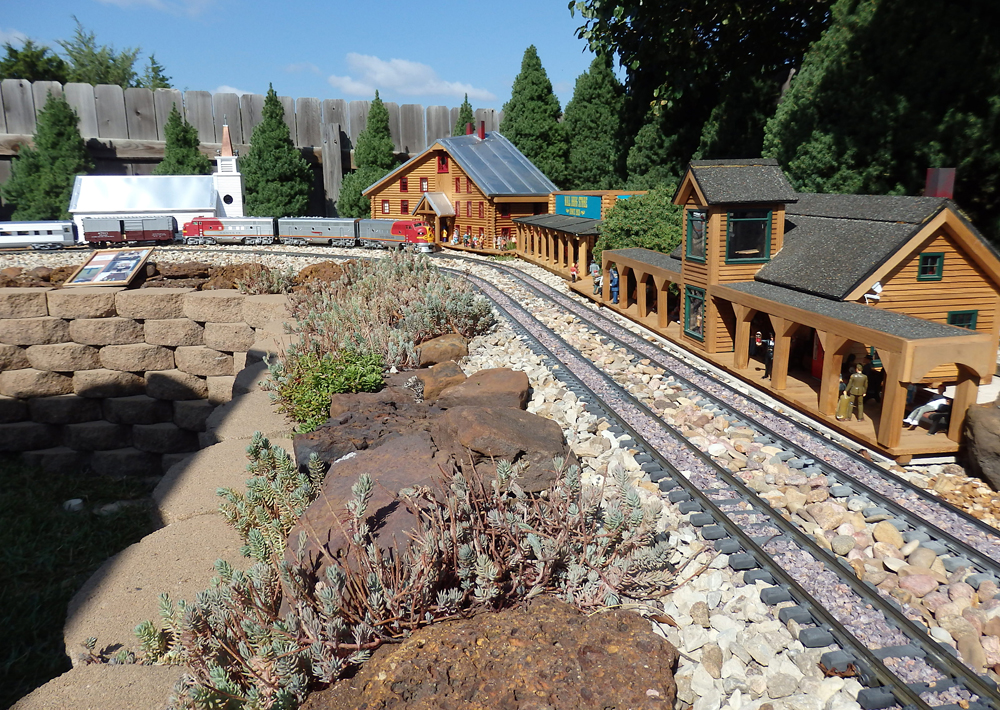 The AT&SF passenger train waits on the depot siding. Four buildings in the background (starting at left) include a model of a 100-year-old church that is still used in Munden, Kansas; the 27 room lodge the author designed; Wall Drug Store, from Wall, South Dakota (slightly modified); the depot, modeled after the Williams depot by the Grand Canyon, built by the Santa Fe in the early 1900s. Two types of stonecrop soften the rocks. Richard Nelson photo

At the right, a train of grain hoppers heads for the mainline. On the left, an AT&SF passenger train passes the pizza plant. At the plant, a pneumatic flour hopper is unloading into the upright silos while a boxcar containing tomato paste for the making of pizza pies is unloaded unto the building. Perennial plants will be ablaze with color in the spring. Richard Nelson photo


Workers wait to service the steam locomotive with water, coal, oil, and grease. Note the round, decorative rock between the tracks. The tracks prevent the round river rock from moving around. Richard Nelson photo

The fenced train garden is separate from the rest of the yard. The garden is entered over two mainlines set in a concrete walkway that leads to an oval garden, where the theme is associated with the author's work and travel. Industry is on the left; on the right are a lake, mountain, and structures to accommodate folks who travel by train. Richard Nelson photo


The 4-6-4 emerges from the four-foot rock tunnel. The wildlife below watches a father and son fishing in the lake. Richard Nelson photo


A private, empty bulk-flour hopper waits to be picked up from the siding near the bulk silos. The silos were made in two modules that can be removed and stored. Richard Nelson photo


The retaining wall holding 79 tons of dirt. The upper surface is covered with natural rock and coral bells, which blend with the boulders. Between the dwarf Alberta spruce trees and the fence, the author used 190 tires as a retaining wall around the perimeter. Blue Spruce sedum crops up between stones. Richard Nelson photo


The train has passed and people are moving to and from the depot to the various buildings via wood walkways. Dwarf Alberta spruce between the buildings has been tightly sheared to accommodate the pedestrians. Richard Nelson photo


The scratchbuilt flour mill and grain elevator are close replicas of the place the author spent much of his working life. The prototype mill was chartered in the early 1900s and is still producing 600,000 pounds of wheat flour a day. These two structures have been in the garden for over six years with only light maintenance. Both have lamps with fixtures the author made out of small-diameter aluminum tubing and fender washers. Richard Nelson photo


Santa Fe A-B-A diesels with a passenger train wait on the siding in front of the lodge, Wall Drug, and the depot. All of the buildings were designed and scratchbuilt by the author. Richard Nelson photo


A Union Pacific SD-45 brings grain hoppers down the siding for storage near the flour mill. The scratchbuilt grain elevator can be seen in the background. Richard Nelson photo


Creeping phlox adds color to the railroad in the spring. This is a low-maintenance perennial that takes light watering and some trimming. Richard Nelson photo