The Kettle Valley Railway – Bruce Division is a coal and lumber garden railroad modeled after the Kettle Valley Railway that at one time carried freight and passengers through the Thomson/Okanagan Region of British Columbia. The garden railway was started in 2004 and covers a triangular-shaped hillside on Brian Swanton's property.
The railroad features two small towns, and two ponds with a creek and waterfall between them. There is also a lumbering operation, sawmill, and coal mine. The railway is divided by a grand stone stairway where the trains travel in a tunnel under the steps from one side to the other.
My version of The Kettle Valley Railway, like the prototype, runs a number of trains to serve its varied clientele. KVR No. 3 has been used to pull a scratchbuilt seven-car coal train from the Coalmont Collieries, delivering coal to the coaling tower at Mt. Logan and to the Copper Mountain powerhouse. KVR No. 4 pulls freight trains assembled from a roster of 50 period freight cars to serve the various industries on the railway.
Canadian Pacific Shay No. 1903 pulls a seven-car, scratchbuilt gondola train with ballast from the Mount Logan pit. CP No. 3401 pulls a four-car passenger train consisting of two AMS coaches, a fruit express car, and a baggage/express and Royal Mail car. The latter two cars are kitbashed AMS coaches, modeled after existing Canadian Pacific cars. I hope to complete the construction of CP No. 3716 and a three-car train. It will be modeled after the Kettle Valley Steam Railway excursion train that operates out of Summerland, British Columbia.
Name of railroad: Kettle Valley Railway, Bruce Division
Size of railroad: 75 x 30 feet
Scale: Trains, 1:20.3 and 1:22.5; buildings, 1:24
Gauge: 45mm
Era: 1920s to 1940s
Prototype: Kettle Valley Railway in British Columbia during the steam era from 1920s to '40s
Age: 12 years
Motive power: R/C battery power; live steam
Length of mainline: 185 feet
Maximum gradient: 3 percent
Type of track: Brass (LGB sectional and Aristo-Craft/USA flex track)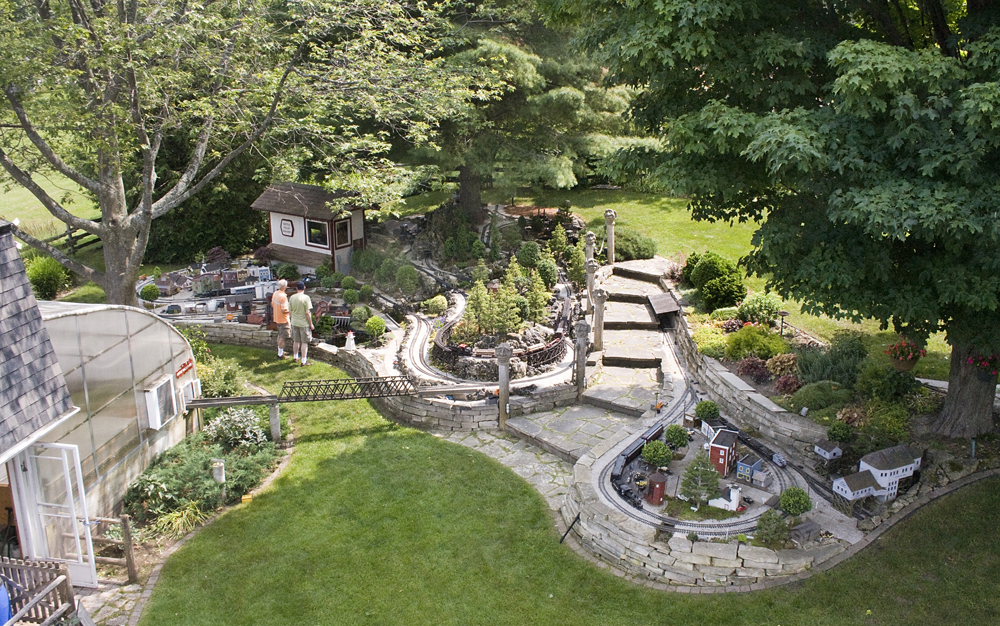 Railway overview showing the swing bridge connecting the greenhouse track storage to the outdoor railway. Coalmont is at the lower right and West Summerland is upper left. Photo by Tom Hakala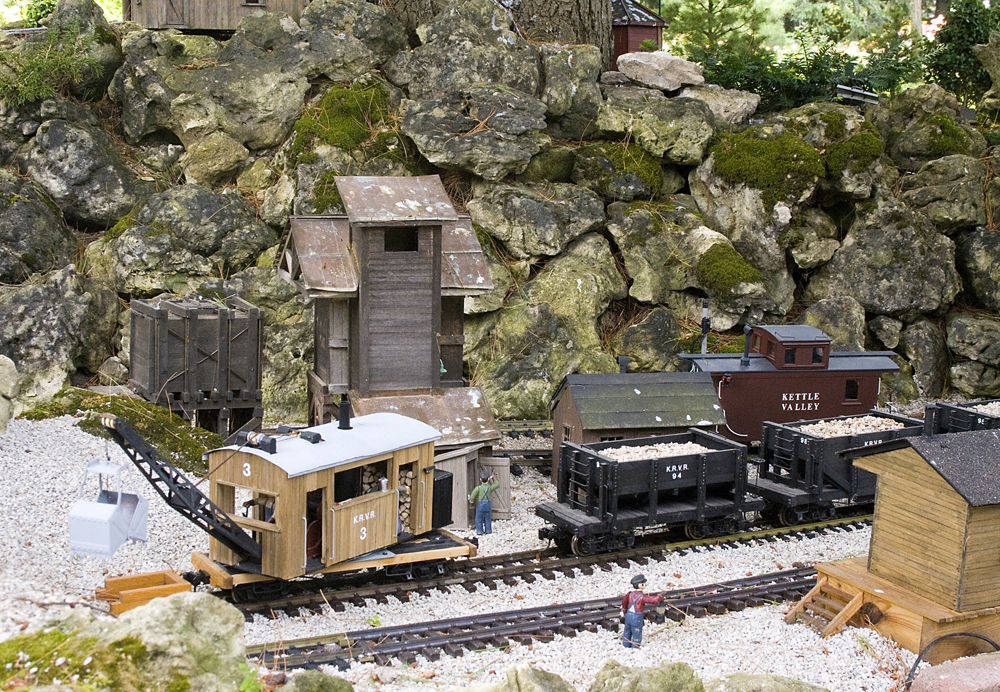 Kettle Valley coaling tower and water tower at the Eagle Ridge Quarry. Photo by Tom Hakala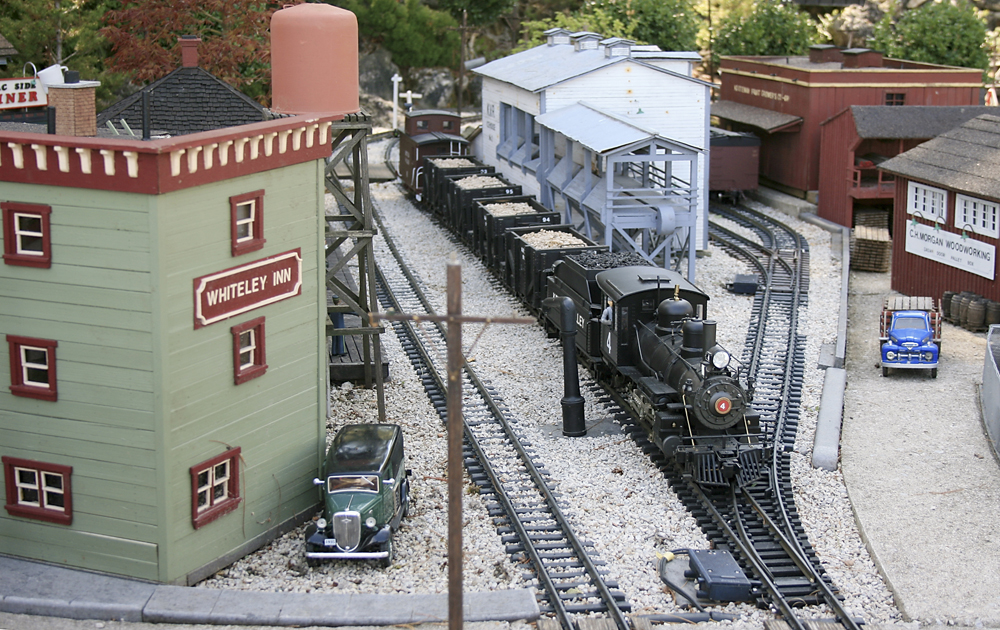 Kettle Valley No. 4 with a load of ballast for track work. In the foreground is the Whitely Inn, with the Eagles Lake Ice House on the right and the Summerland Fruit Co-Op in the background. Photo by Tom Hakala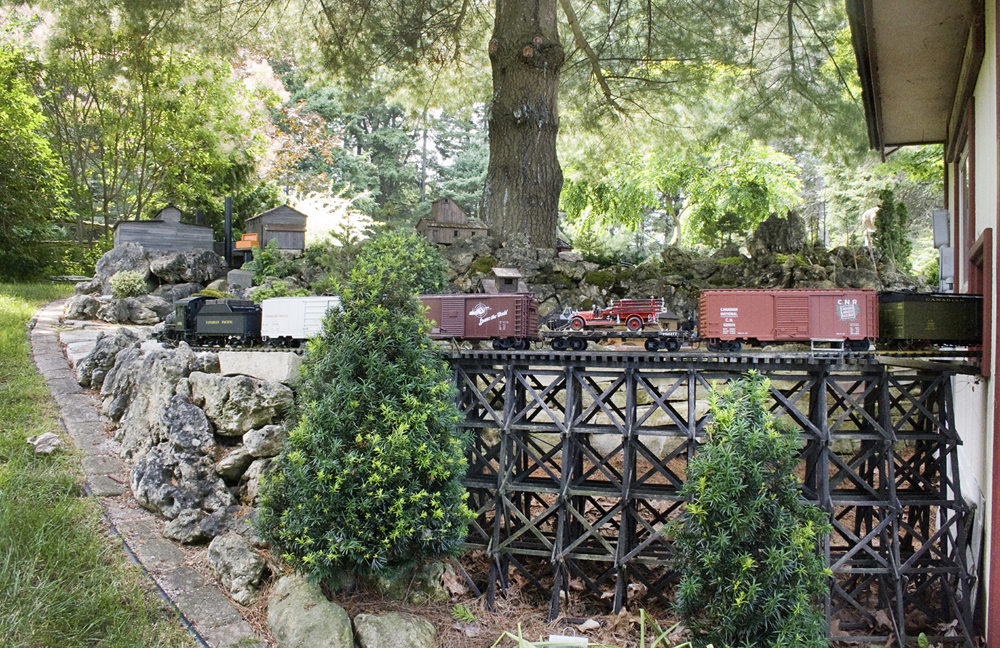 Trout Creek Trestle with Granby Power House in the background. Photo by Tom Hakala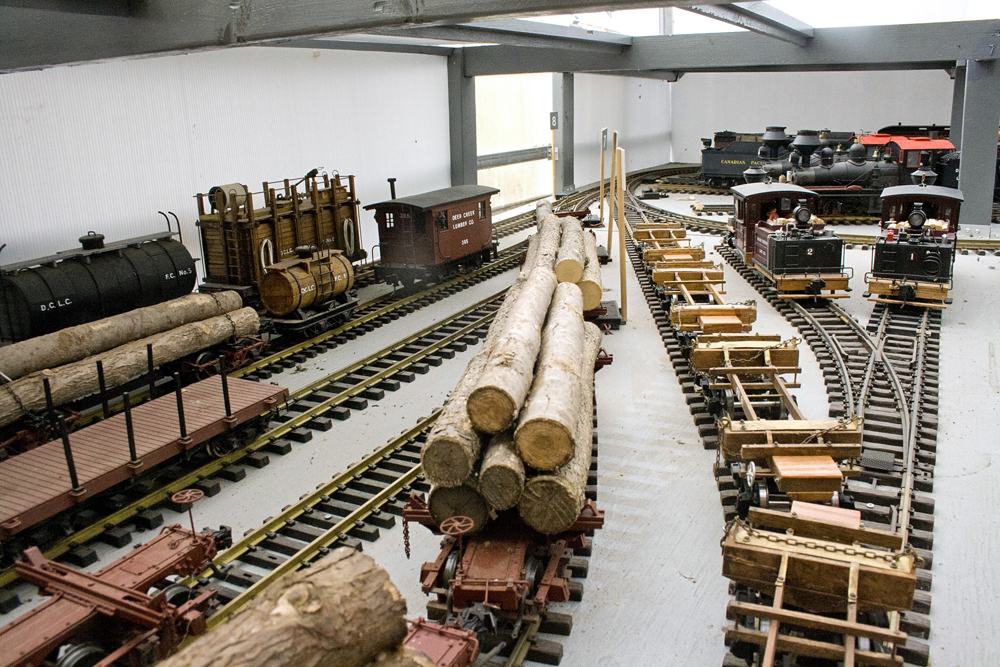 Deer Creek rail yard in the greenhouse. Photo by Tom Hakala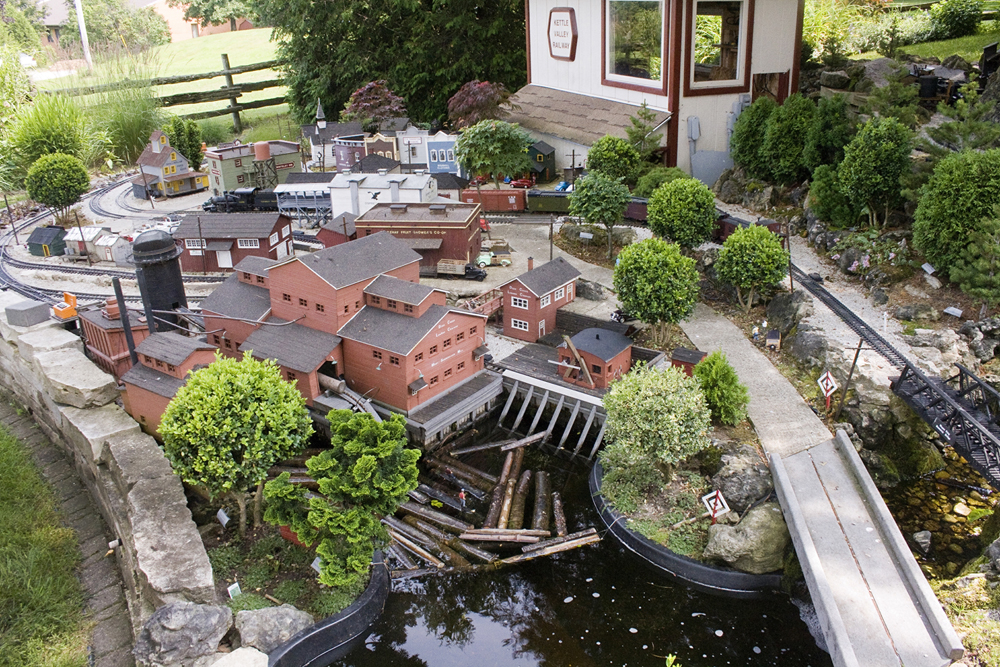 Deer Creek Lumber Co. sawmill at West Summerland with the town in the background. Photo by Tom Hakala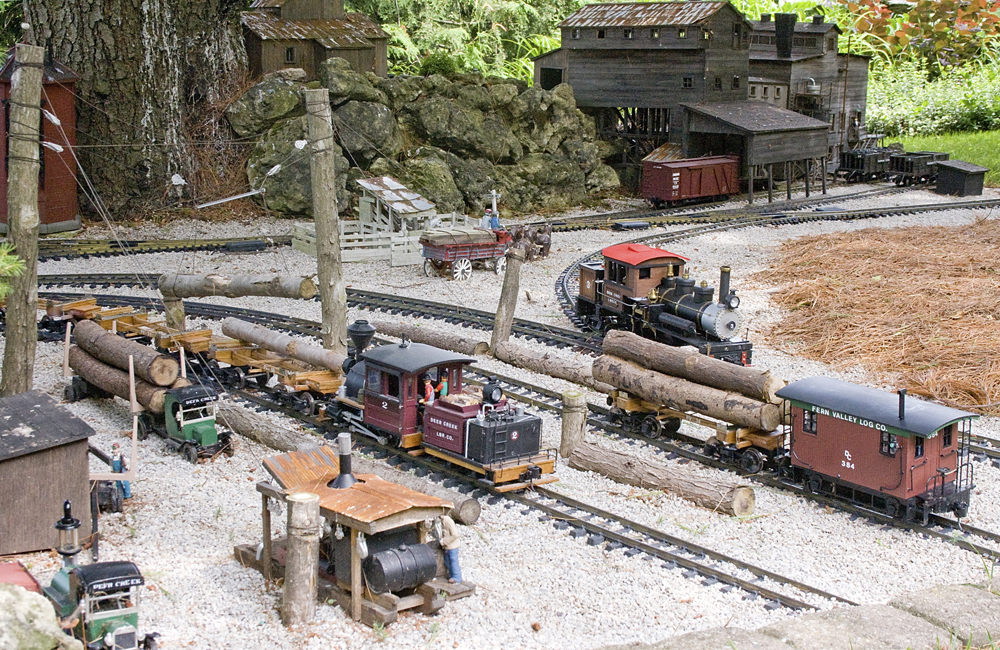 Deer Creek Lumber Company's Chute Lake logging camp loading logs with Porter No. 2 and live-steam Shay No. 3. The stockyard and powerhouse are in the background. Photo by Tom Hakala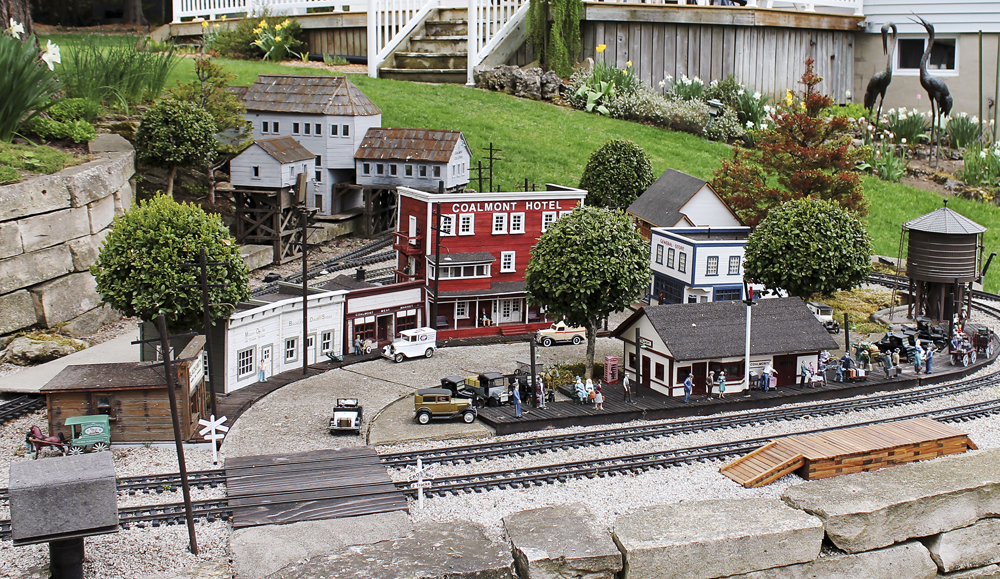 The Town of Coalmont, with the station in the foreground and the Coalmont Collieries tipple in the background. All the buildings in this town are scratchbuilt, based on photographs in Diane Sterne's book, "White Gold and Black Diamonds." Photo by Tom Hakala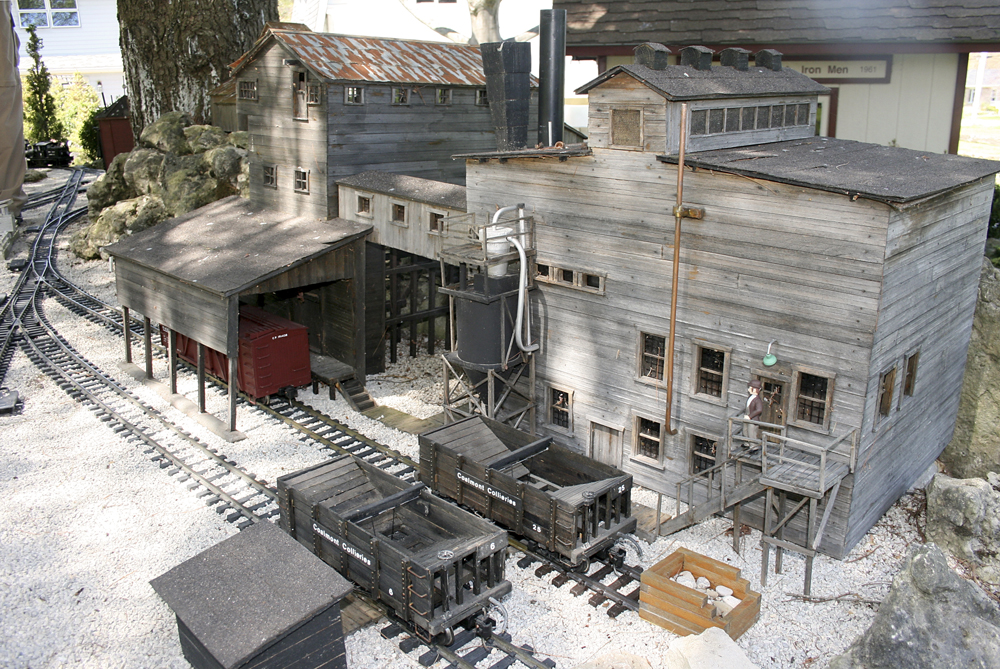 Two empty coal cars are ready to return to the Coalmont Collieries from Granby Power House. Photo by Tom Hakala