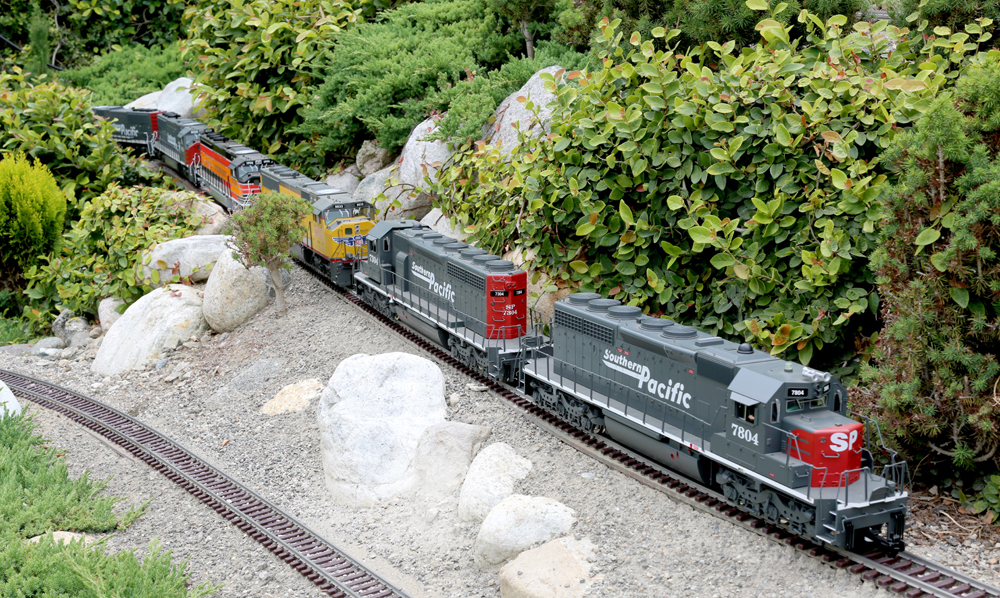 A multi-unit consist eases down the grade on Jim and Joyce Cary's Morning Glow Railroad. Creeping fig holds the embankment on the right in place. Photo by Jim Cary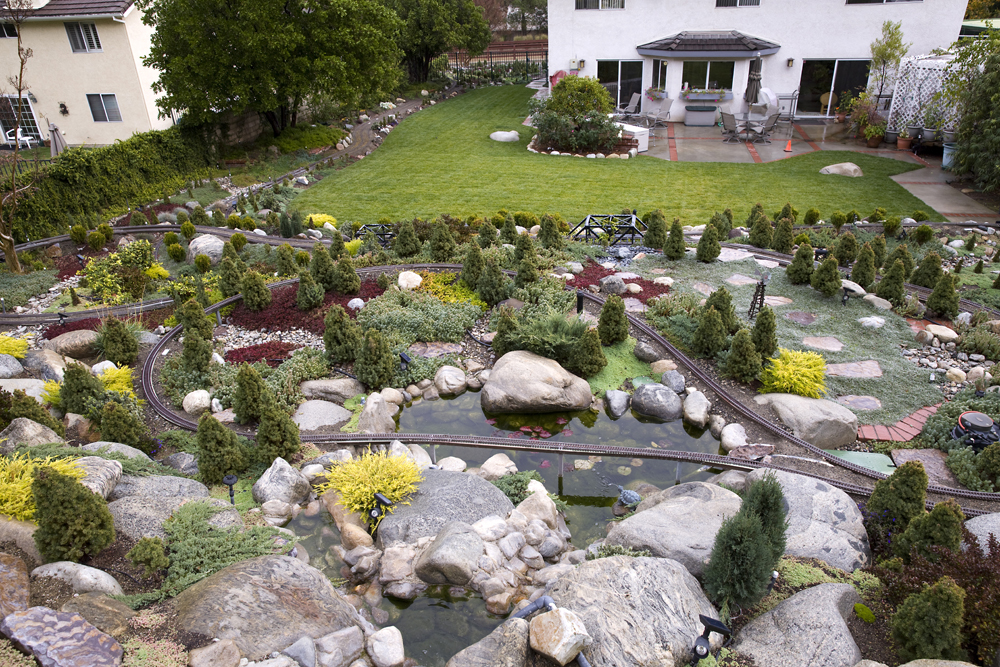 This overall view of the Morning Glow Railroad was taken from the high point at Donner Pass. Donner Lake and meadows are in the foreground while the Tehachapi Loop is far distant at the other end. Blue, green, and red sedums, along with low golden chamaecyparis cover the ground between dozens of dwarf Alberta spruce trees. Photo by Jim Cary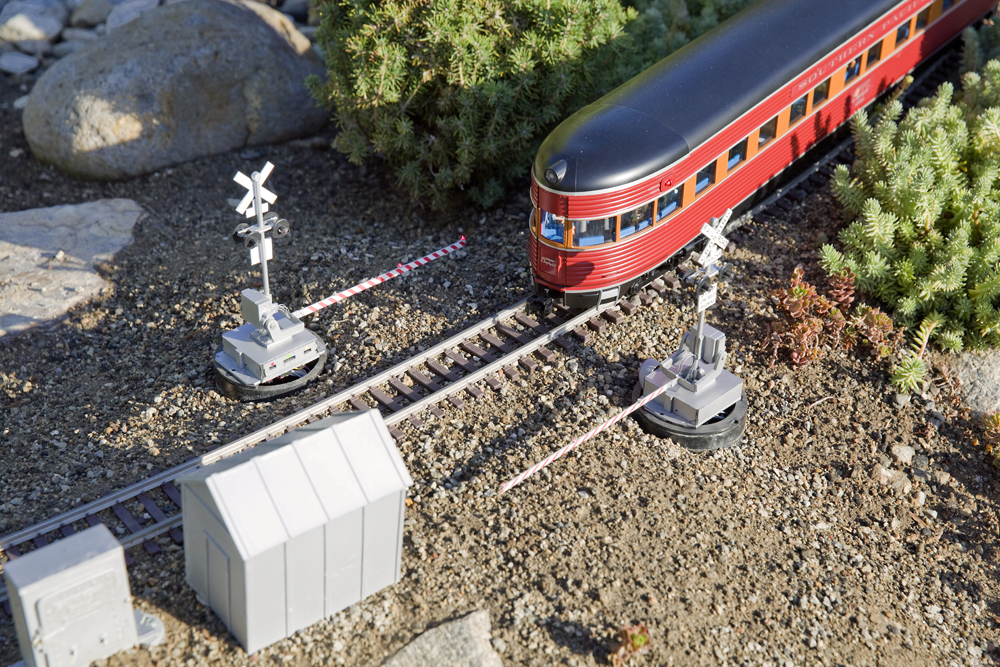 The Southern Pacific Daylight stops traffic at the summit. Signals can be inverted and stored in their supporting pipes. Blue spruce sedum forms shrubbery on the right. Photo by Jim Cary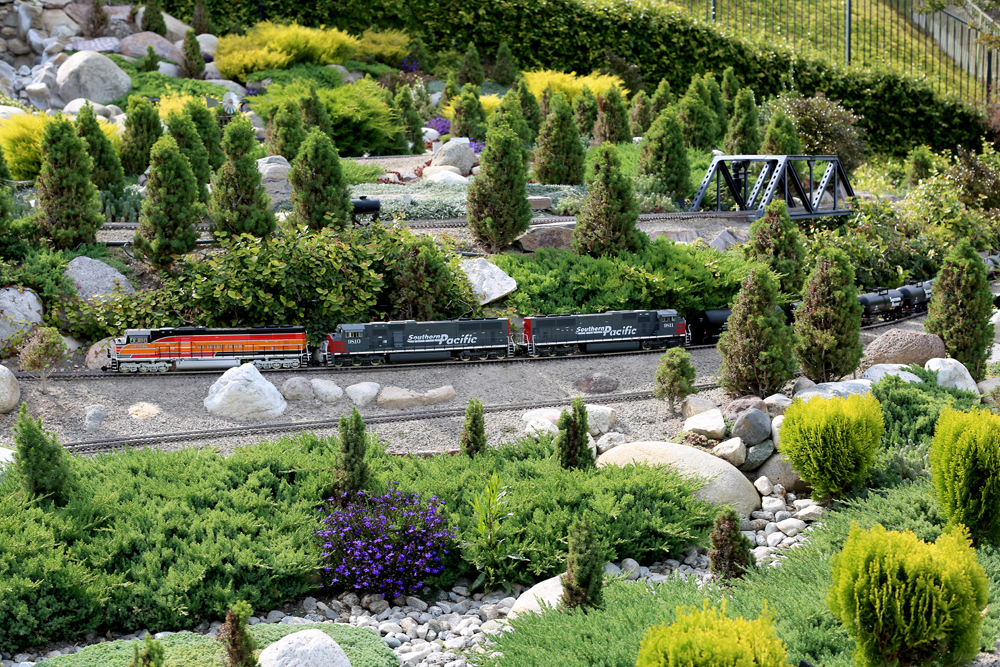 A three-locomotive consist makes a slow descent from Donner Pass, with glowing dynamic-brake resisters howling. A clump of blue lobelia grows down front on the dry creek edge.  Photo by Jim Cary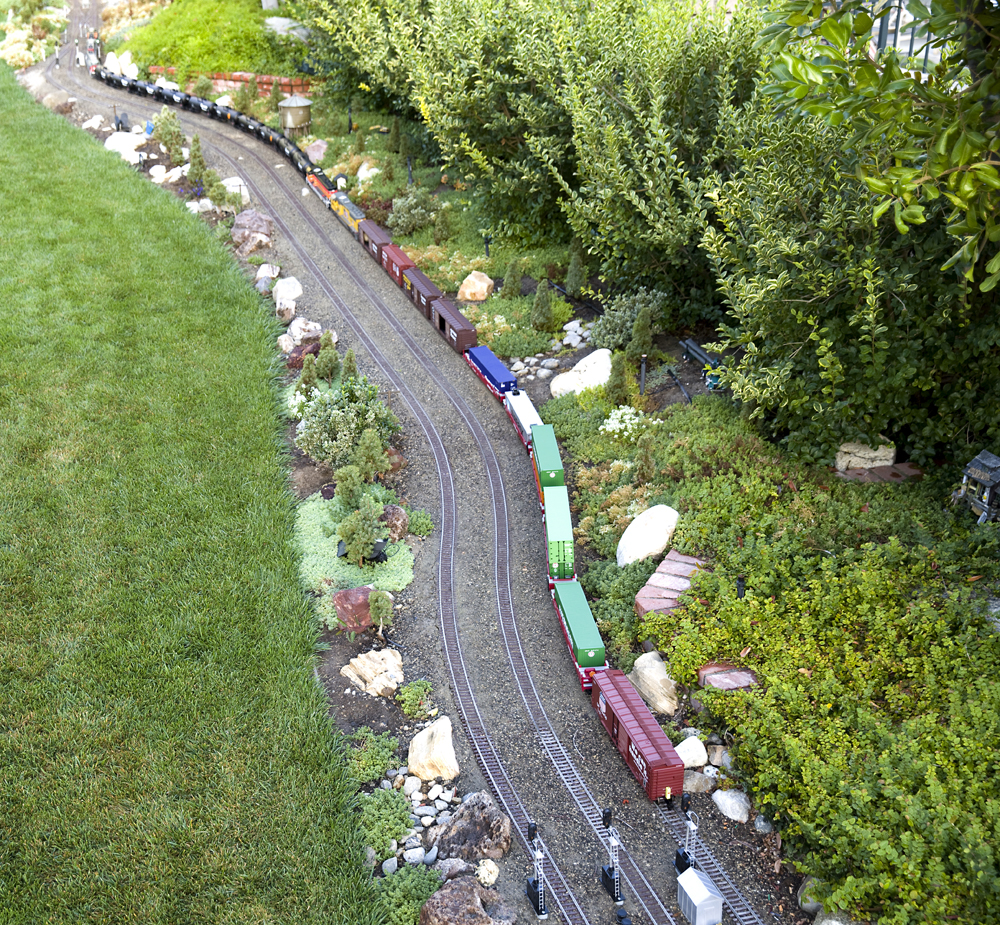 Three parallel tracks carry trains through the lowlands of the California Central Valley. Boulders amid plantings keep foot traffic away from the trackwork. Photo by Jim Cary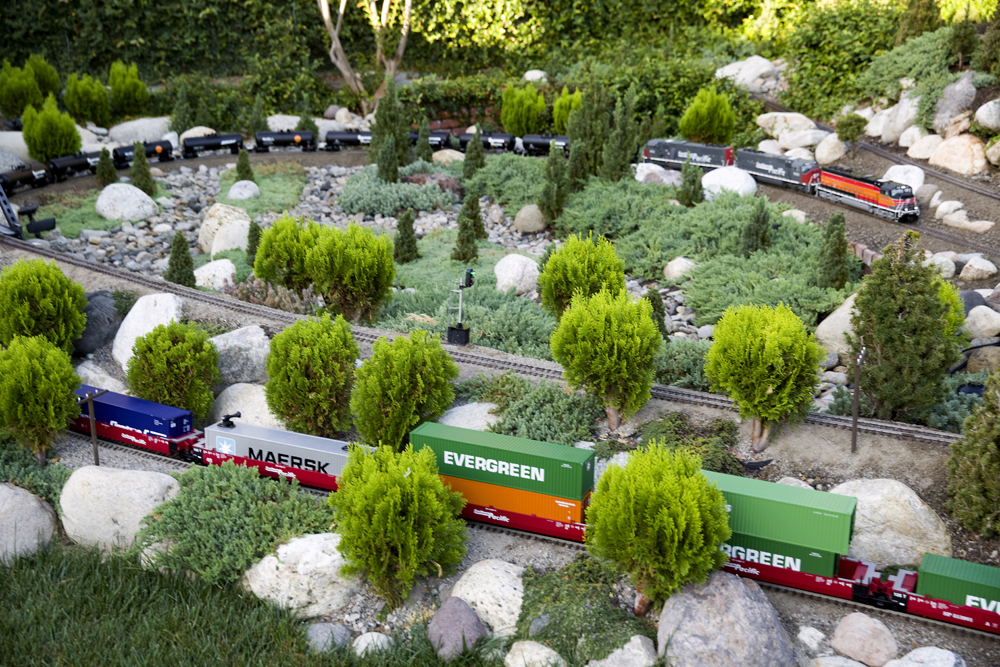 Long, modern freight trains are a signature of the Morning Glow Railroad, a California-inspired garden railroad. Chartreuse arborvitae shrubs contrast the blues of creeping dwarf junipers and the deep greens on conical spruces, all highlighted by near-white boulders. Photo by Jim Cary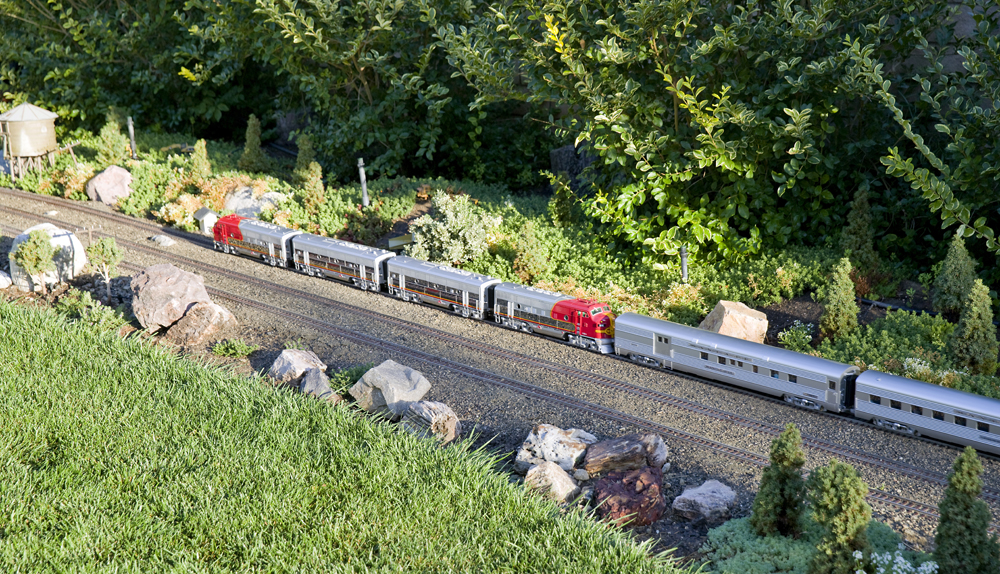 Santa Fe Super Chief, headed by an A-B-B-A consist, makes good time across the flats. Photo by Jim Cary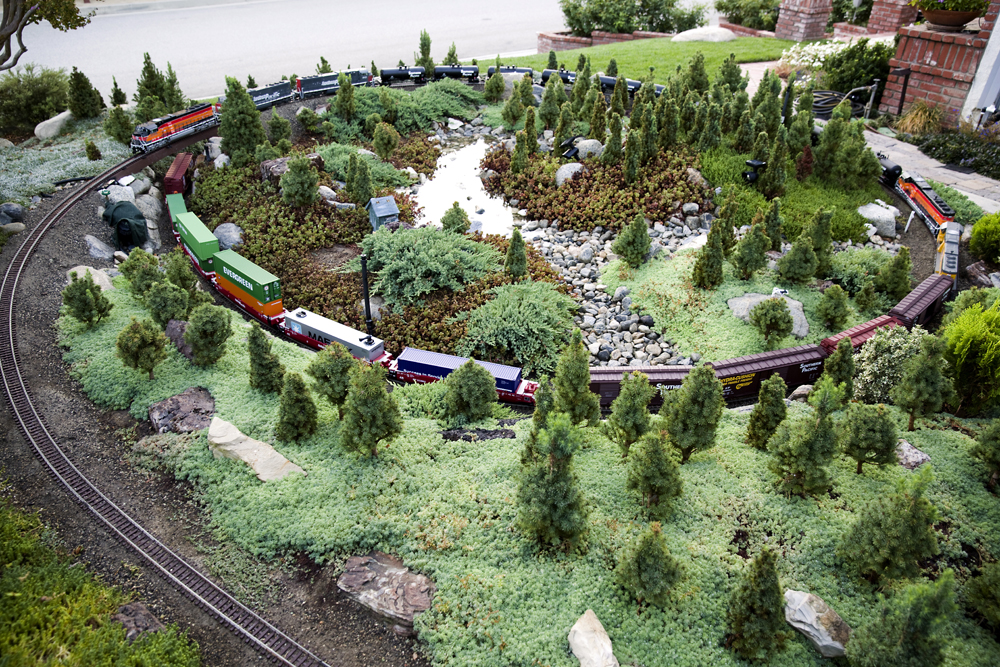 A train circumnavigates Tehachapi Loop, passing over itself. Blue spruce and Dragon's Blood stonecrops fill the meadows between conical dwarf spruces, and an arc of four dwarf Japanese garden junipers create hills of low shrubs. Photo by Jim Cary

A California-inspired garden railroad is what you can see in our Morning Glow Railroad. It was developed after watching numerous videos, reading many Garden Railways magazines, then determining the type of garden railroad I wanted to construct. Its theme is based on the type of natural setting that I enjoyed the most, namely a vacation at a high elevation, in a mountainous area with tree-studded forests, flower-covered meadows, and patches of winter snow, along with the faint scent of pine trees, far from city life. A primary requirement for the railroad was to be able to enjoy our creation from both indoors and out, even when trains were not running.
I decided to have one long, single track in a folded-loop plan. Several trains running on the same track would emulate real world train-separation challenges. The design incorporates parallel tracks at various locations, all within the same single loop, to allow for multiple train meets. This design will allow one train to run unsupervised, without conflicts with other trains, if so desired.
I spent many hours at different locations along California's Cajon Pass and the grade from Bakersfield to Tehachapi, breathing in the diesel sounds (and sometimes the fumes) from the massive lash-ups of Southern Pacific/Union Pacific and BNSF Railway. Many had six locomotives on the front, two in mid train, and one or two locomotives pushing from the rear, up or down these severe grades. They always left me standing in awe. I decided to re-create this on our California-inspired garden railroad by modeling diesels from 1960 to the present.
More information is available on our website.