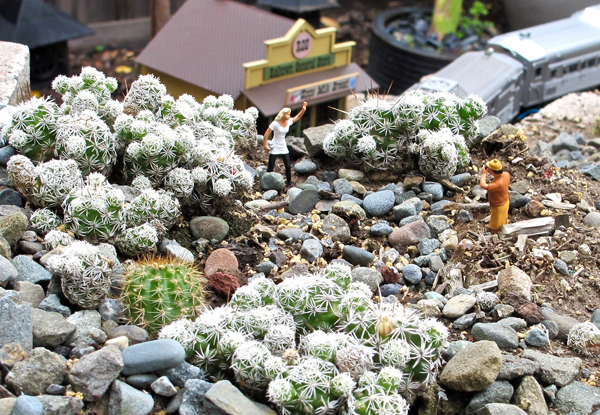 Common name: Thimble cactus
Latin name: Mammillaria gracilis fragilis
Plant type: Perennial
USDA Hardiness Zones: 9-11
Cultural needs: Gravelly or sandy well-drained, neutral or slightly acidic soil; full sun
Plant size: 1″ high, spreading to 6-12″
As might be expected, this miniature mammillaria cactus hails from south of the border in Central or Eastern Mexico, where temperatures do not dip below 25 degrees. If you can mimic the thimble cactus' home environs, you'll be rewarded with dozens of charming 1/2″ thimbles. Its defense mechanism consists of very white, curved spines that resemble stars or spiders. The pictured six-year-old group started in a 2″ pot bought by Nancy Lagomarsino, who's been waiting to plant them in her first garden railway in northern California.
Rather than treating it as an annual in northern Hardiness Zones, pot up your thimble cactus and keep it in a bright window indoors. Allow the plant to dry during the winter, then begin watering late winter, when you'll again be rewarded by satiny, creamy yellow flowers with pinkish stripes in early spring. After the last frost, plant outdoors. In a few seasons you'll be giving away extra offshoots, which practically roll around on the ground looking for a footing to set down roots. The photo shows thimbles spreading on the 0-scale Verdi Railroad, above a tunnel where the soil depth is low.