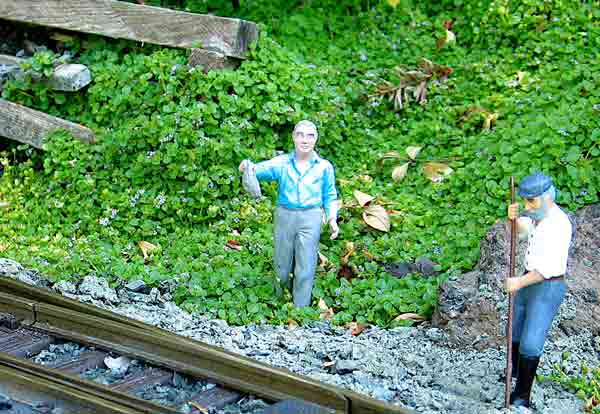 Common name: Corsican mint
Plant type: Groundcover
Latin name: Mentha requienii
Plant size: ¼" to ½" high; spreading
USDA Hardiness Zones: 6-9; annual in other zones
Cultural needs: Moist, well drained neutral or slightly acidic soil; sun to part shade
Easily one of the flattest groundcovers, with the tiniest purple flowers, Corsican mint is great in the garden railway for fast coverage. From 2″ starter pots, spaced 3-6″ apart, you'll have your little lawn or field solid green before the end of a season. The following year some of that field may have been winter-killed, but it self-sows from seeds all over the garden. The patch in the photo sprang up over 70 feet from where it was planted. Gardeners in zones colder than Zone 6 can buy seeds and sow them in spring for green summer lawns, or save your own seeds on the dried plants and sow in spring. Harvest some aromatic leaves and make crème de menthe for mixed drinks, as this is the main ingredient.
Mentha requienii is one of those plants that stirs up controversy. Known as Corsican mint, because of its origin in that warm part of France and Italy, it remains one of the mint family. Mints all love water. Given plenty of it, they spread. . .and spread, which is part of the controversy. Take moisture away, as in mid summer, and they turn dry and brown. Get plants at www.jeeperscreepers.info and www.stepables.com