I'm going to share 21 must-have gardening tools. Railroad gardening is a niche of general gardening with many overlaps. What I'll cover in this column are the tools that fit particular jobs that come with gardening in general, but especially railroad gardening. You don't necessarily need all these tools but most of them can find a useful place in your garden-tool collection. Some tools are used infrequently, maybe once a year, but can be a big help for specific jobs. Included in that category are edgers—tools that I use to edge parts of my gardens (photo 1), which I'll discuss in more detail later.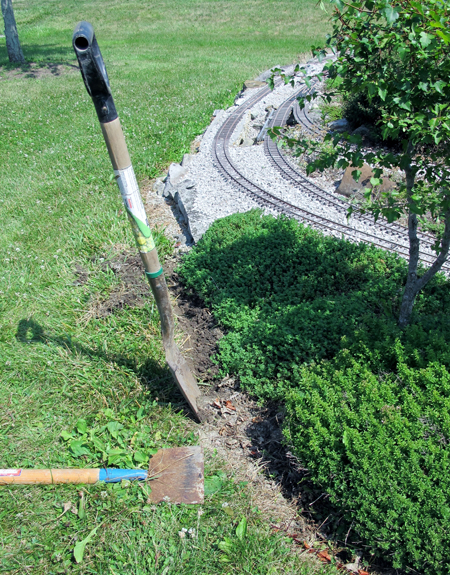 Hand tools
By hand tools, I mean those that require mostly hand motions. I carry my favorite hand tools in a tool belt that I wear when weeding and trimming in the railroad garden (photo 2). On the left is a weeding tool made to help extricate weeds that are close to desirable plants. Narrow garden trowels can also be used, but are a little more bulky to carry around. Other instruments that are effective weeders are soil, or Hori-Hori, knives and pronged weeders (photo 3). Some gardeners are especially fond of the Hori-Hori knife for its variety of uses, as it has a sharp and a serrated edge.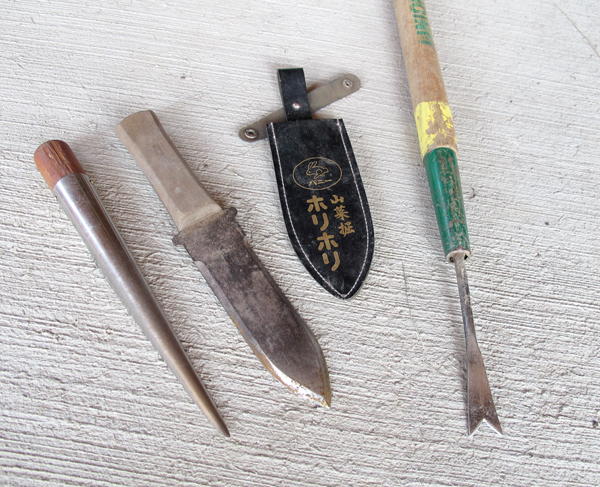 The middle tool in photo 2 is a bypass pruner, this one made by Fiskars. Other good brands are Felco (rated the best in one review) and Corona, at a lower price. You get what you pay for in pruners and it's worth getting a good one. Bypass pruners are more effective than anvil-type pruners. No matter how sharp the cutting blade, anvil pruners tend to crush the plant stem when cutting. Bypass pruners cut more cleanly and can cut through thicker stems. It is important to keep the cutting blade sharp on both types, and keep them clean to avoid spreading plant diseases.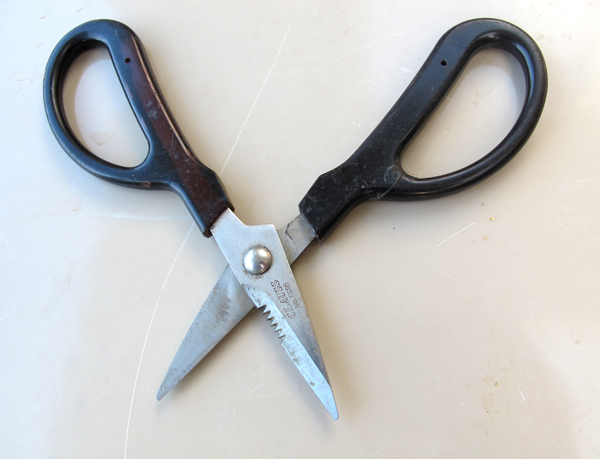 The tool on the right in photo 2 is a garden scissors, handy for cutting lighter stems. I use it in all my lighter trimming and in cutting tubing for drip-irrigation installations. It has serrations on one blade (photo 4) that help to grip stems when cutting thicker ones.
Heavier pruners and trimmers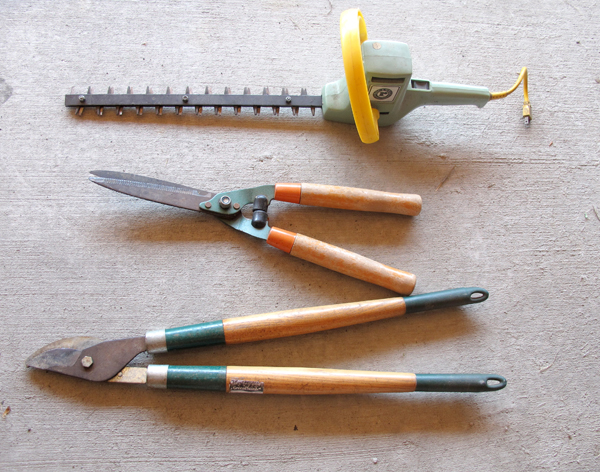 When it comes to pruning thicker stems, the long-handled lopper is the best tool (lower tool in photo 5). It will cut branches up to 1″ in diameter. There are models with ratcheted action that will cut even thicker stems but it's not likely you would need them in railroad gardening. However, I have had to cut down overgrown trees on my railroad that my lopper could not handle. In those less-common instances, I used a saw—either a curved pruning saw or a bow saw (photo 6).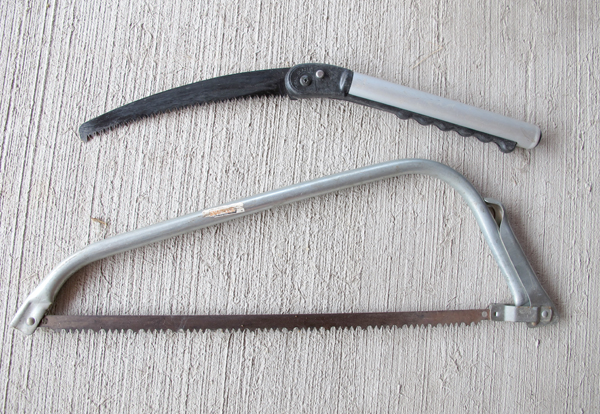 When trimming or deadheading large swaths or groupings of plants, I use hedge shears, either manual or electric (middle and upper tools in photo 5). This is a yearly chore, when I trim the lavender that occupies a good-sized area of my railroad garden (see "Miniscaping: Trimming and pruning," October, 2013). Groundcovers that have bloom stalks that rise above the foliage are good candidates for the electric hedge trimmer, such as my miniature oregano Origanum vulgare 'Humile' (groundcover on lower right, photo 1). To remove the spent flower stalks and to refresh the planting, I give the patch a "haircut" in a few minutes.
Digging tools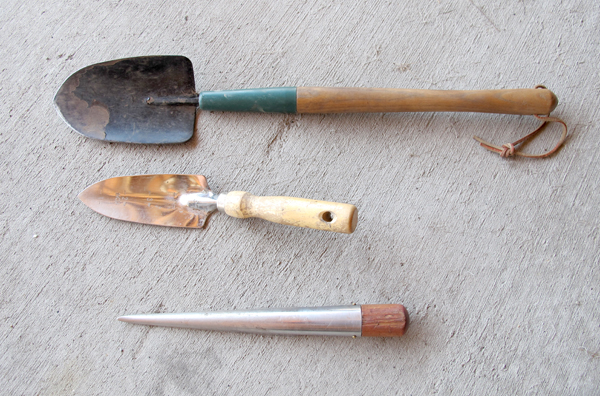 For turning over soil, planting, transplanting, and removing unwanted plants, I use a variety of shovels, depending on the scope of the work. Photo 7 shows two garden trowels. The long-handled, larger one is the stronger and most useful, in my experience. For smaller plantings, the small trowel is handy. The narrow digger in the photo can be used to move small seedlings to a larger pot to grow to transplant size.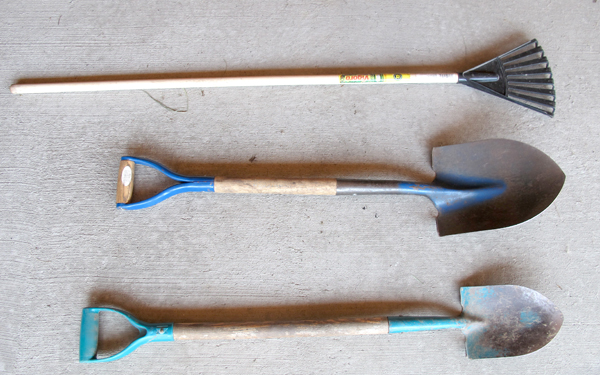 Photo 8 shows the larger shovels I use. The lower shovel is a small, garden spade that is useful for digging in smaller areas or planting one gallon, container-size plants. The large spade is good for turning over soil in a new planting area or in the early stages of building a garden railroad. The small rake in the photo is made of plastic and is lightweight. It is useful for raking leaves from groundcovers and removing debris after trimming.
The edgers in photo 1 are useful for cutting the sod at the edge of my garden railway. I cut a 2″-deep trench, which stops the grass from growing into the railroad plantings. You can use plastic lawn edging but I find this requires a string trimmer to cut the grass next to the edging, while the ditching method allows the lawnmower to cut to the edge of the trench.
Other tools
Additional tools that have come in handy include rock-forming tools. When I built the Hoot 'n' Holler, I laid up several rock cliffs. Limestone and sandstone can be scored and broken with a cold chisel and hand sledge (photo 9) to make pieces fit together better. As shown in the photo, eye protectors should always be worn when breaking rock.
Tools for hauling include wheelbarrows and buckets (photo 10). The lighter weight wheelbarrow on the left, with a plastic tray, is good for most home projects. The construction-grade wheelbarrow on the right is one I've had for 40 years. It has helped me move large rocks and many loads of gravel and soil. Buckets in several sizes are always useful. You can never have too many buckets, I say, for hauling and storage of a wide variety of loose material.
Personal protectors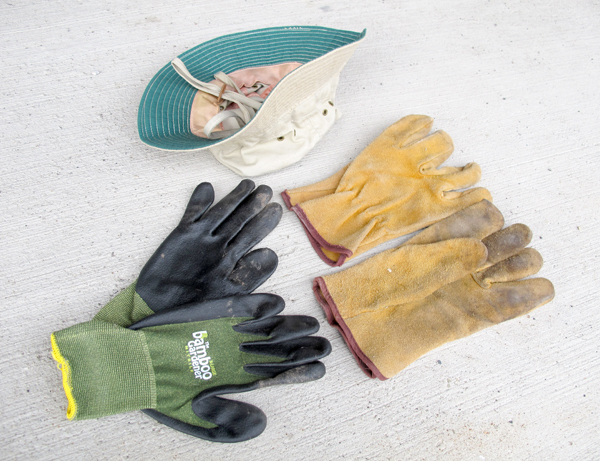 Good practices call for the right tool for the job and good gear to protect the operator from injury, which includes gloves. Photo 11 shows garden gloves on the left, with neoprene covered palms and fingers, and leather gloves on the right. The latter are best used when handling rock and working with thorny plants. The hat is a practical item to protect the face and ears from sun damage.
As we get older, additional items become helpful. Knee pads (photo 12) are good for gardeners of any age but especially as we become less able to bend and squat and find ourselves kneeling more. Garden benches (photo 13) offer the addition of handles to help the kneeling gardener rise. When the bench is turned over, the handles become legs and the item becomes a stool, allowing the gardener to work on lower plants while seated.