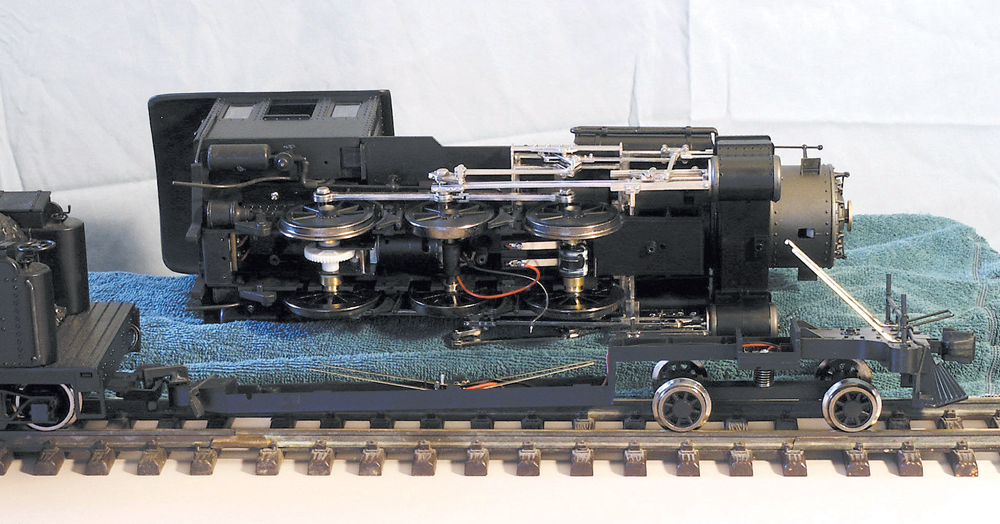 Basic maintenance is the key to reliable operation. Here are several simple things you can do to keep your engines running:
Proper lubrication is so important to reliable operation that Bachmann includes a video with many of its locomotives showing how to do it. This is no less important with other manufacturers' locomotives. Many include exploded drawings or written instructions on how to lubricate the gears properly.
Generally speaking, all moving parts should be kept lubricated, especially the gears. They should have a plastic-compatible grease applied. If they don't, they'll be prone to stripping, accelerated wear, and breakage.
Wheel bearings and valve-gear should be oiled occasionally with no more than a drop or two of sewing machine (or similar) oil. WD-40 is not an acceptable lubricant.
Oiling around isn't something that has to be done before every run. Depending on how often you run, once or twice a year is probably adequate. Less is more. Oil will pick up grit over time. Excessive use promotes more damaging particles getting to the surfaces the oil is supposed to be protecting.
Proper electrical conductivity is also essential for good operation. Cleaning needs to be done more often than lubricating if you rely on track power to run your trains. Key areas are wheel treads, and brushes or wipers that carry electricity to the motor.
My favorite tool for cleaning wheel treads is a fine Scotch-brite pad. It's also possible to use a pencil eraser to clean these and other electrical contact points. Avoid sandpaper, as it creates microscopic grooves that collect dirt and grime, after which you'll have to clean the wheels more often.
The best recipe for keeping wheels clean is to keep the track clean. Equipping your rolling stock with metal wheels goes a long way toward facilitating this, as it eliminates plastic buildup that can cause a lot of conductivity problems.