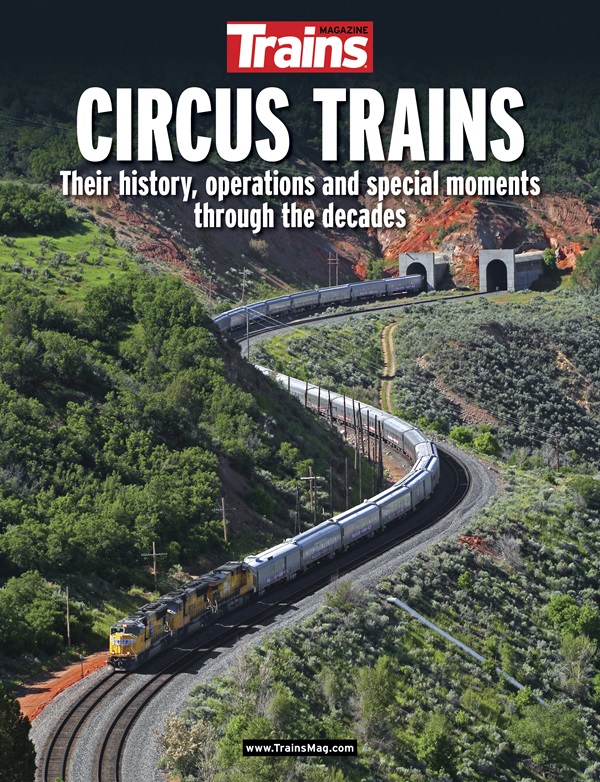 In January 2017, the Ringling Bros. Barnum & Bailey circus announced it was closing down after more than 100 years in operation. For many, the transportation of the "Greatest Show on Earth" – its performers, animals and equipment – has been just as fascinating as the show itself. Circus trains became an American icon, traveling thousands of miles each year to bring the circus to cities across the United States.
Watching the circus unload long lines of passenger cars, trying to catch the perfect photo of a passing circus train and studying the robust operations of the trains have become a past-time for many over the decades. As Eugene Witmore wrote in the 1945 issue of Trains magazine: "The lover of railroads and the lover of circuses have much in common, for without the railroad, the modern American circus could never exist."
In this free download, Trains celebrates the history of the circus train, with a series of articles that detail:
How rail became the preferred mode of transportation for the circus
An emergency repair effort for the 1987 Great Circus Train, taken on by volunteer crews from the Mid-Continent Railway Museum
The circus' bi-centennial celebrations, and the Great Circus Train's role in it
What it takes to put the massive Ringling show on the rails, including a look at the circus' Florida shop
A look inside the lives of Ringling Bros. entertainers who live and travel on the train
Get Your FREE PDF Download
Enter your email for access to Circus Trains.
By entering your email you may also receive newsletters, reader surveys and occassional special offers from Model Railroader Magazine. View our privacy policy.