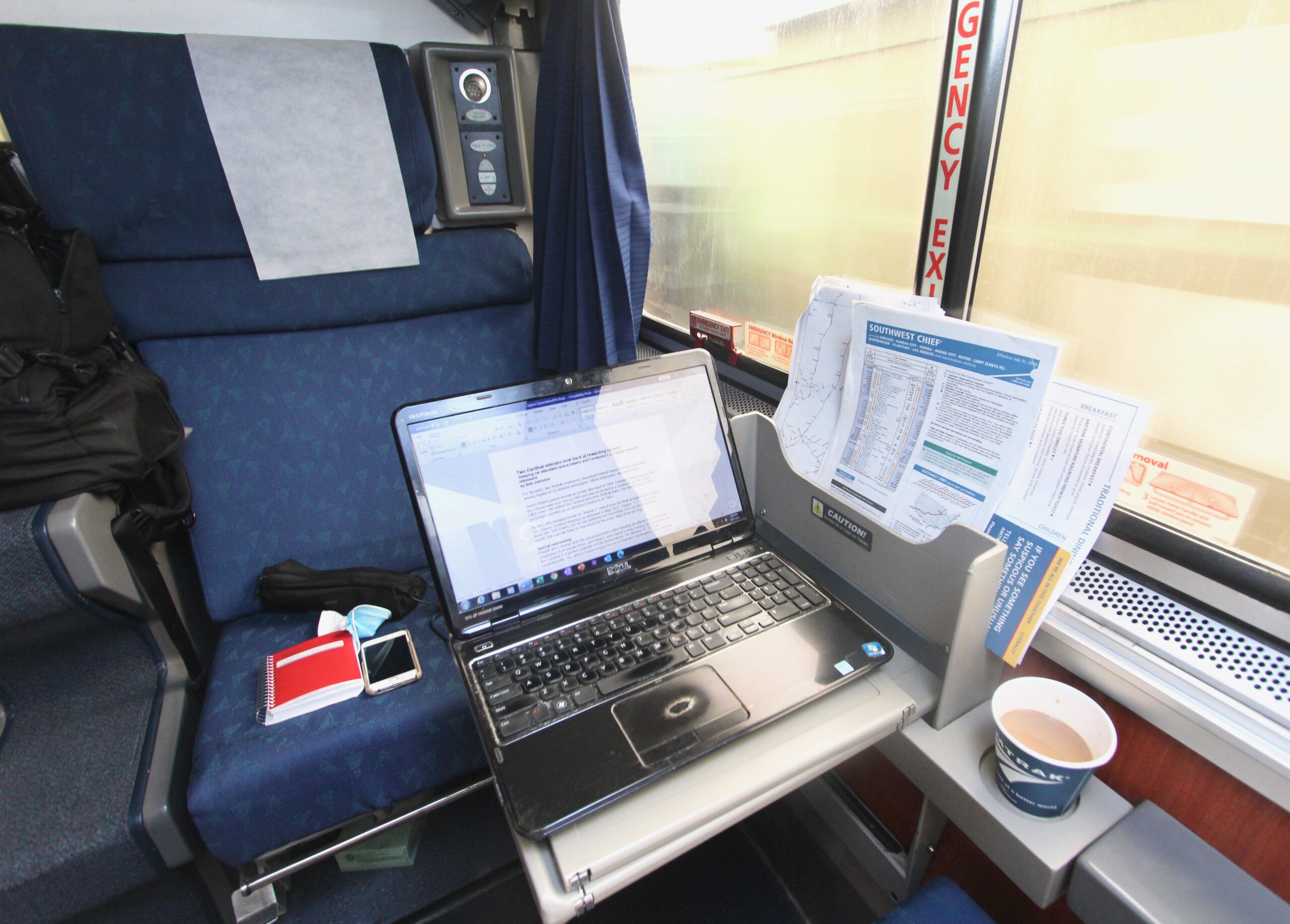 ---
In the not-too-distant past, Amtrak provided route guides and timetables with a wealth of information about not only sights and points of interest along its routes, but also what to expect on each train: Is there checked baggage service? Are pillows available for coach passengers? What kind of dining options are offered?
Through 2017, Amtrak managements through 2017 understood its "product" was not simply point-to-point transportation but something uniquely different from travel modes that require seat belts, or where keeping eyes on the road for safety's sake largely precludes doing anything else.
Amtrak officials tell Trains.com an electronic, real-time version of the previous printed schedules is under development. Even when that arrives, it is unlikely travelers not familiar with long-distance train travel will know what to bring along and how to make a journey more enjoyable.
Though not an exhaustive list (veteran rail voyagers develop their own, based on experience), here are some suggestions:
Must haves (photo at top)

The laptop is optional, but whether you are in a roomette like this one on the Southwest Chief or a coach seat, it's best to be armed with a printed timetable and maps to serve as a scorecard explaining what is rolling by—and when. A handy place to keep them in roomettes is next to the window behind the fold-down table.
For now, schedules can be accessed via a Rail Passengers Association link or the Juckins website.  Detailed rail maps, such as those from the British firm Steam Powered Videos (SPV), are available for sale from the Kalmbach Hobby Store, but highway road atlas maps of any kind are better than nothing at all. Not affiliated with Amtrak is a route guide website, but these and other sites often don't provide the "what to look for" anecdotes that Amtrak's long-gone, train-specific brochures once did.
On the seat is a notebook — always handy to help recall otherwise forgotten details after a trip. As for the cell phone, its "you are here" map function is indispensable, as is the Amtrak app's "train status" information. Speedometer apps may also be of interest, but all apps that depend on a decent wireless signal may be of limited use on rural portions of many routes; overnight trains in the west aren't Wi-Fi-equipped. There are often hours-long stretches where the dreaded "no service" advisory pops up.
Luggage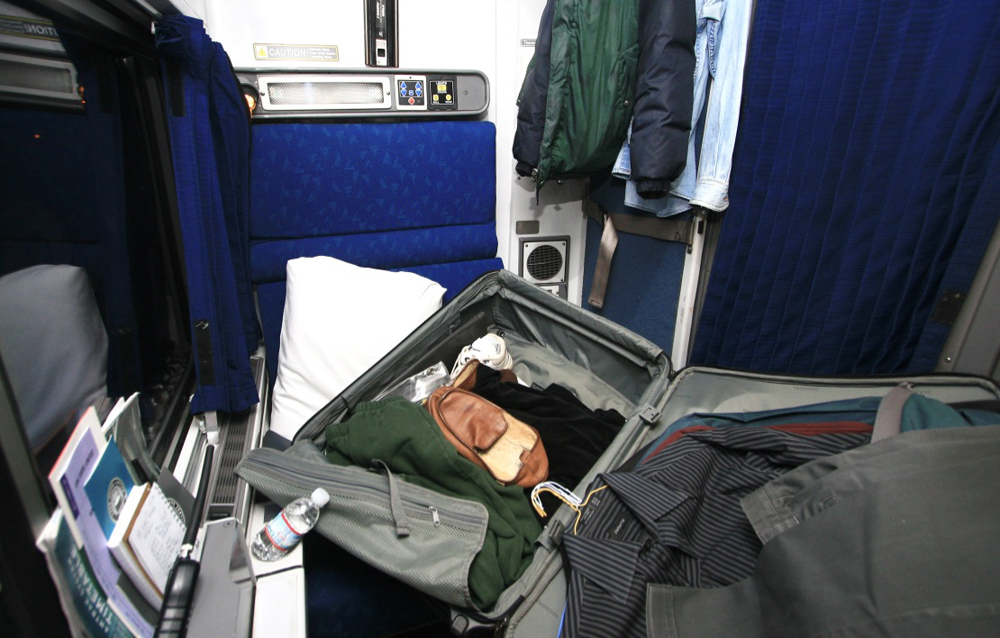 Space will be limited: Don't expect a hotel room. First-time sleeping car passengers are surprised to learn how little space there is to unpack everything needed overnight in roomettes in both bilevel Superliners and single-level Viewliners. Bedrooms in both cars aren't much better, especially when the bedroom's larger bed has been converted from a sofa. Nevertheless, the first order of business is to unpack toiletries and the next day's attire. The photo from a Lake Shore Limited Viewliner roomette illustrates the challenge. It was taken in 2009 when Amtrak still provided timetables and route guides; the scanner is also handy for directly obtaining details from the train crew as to why a train may be stopped.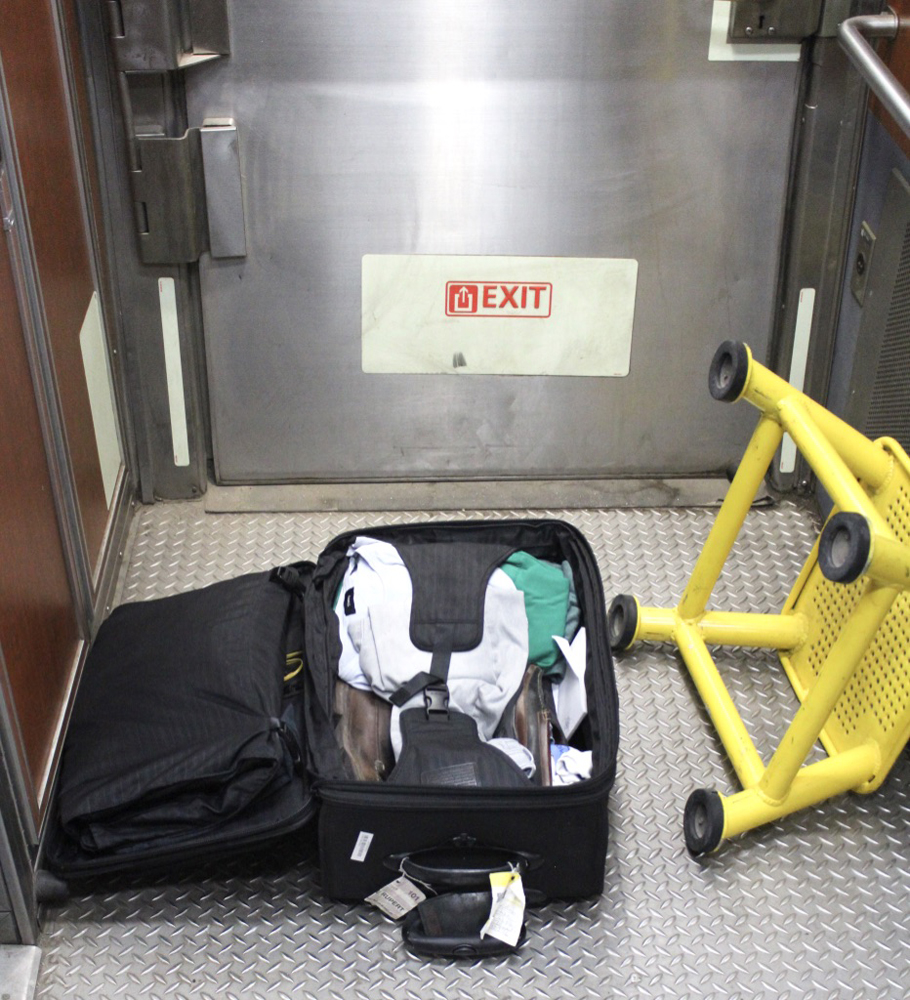 An alternative is to take the task "outside," as shown at right — that is, to an area like the lower level near the door of this Superliner car where the bag can be opened and rearranged. Perhaps not the most sanitary solution, this can obviously only be attempted after the train has left the station and there is no foot traffic in the area.
Another option is to rearrange on the upper berth (as seen below in a Silver Meteor Viewliner roomette). Superliner rooms, with limited clearance as a result of being stacked on two levels, don't offer enough headroom on a top berth for passengers to sit up in bed, so the task must be handled while standing on the roomette's floor.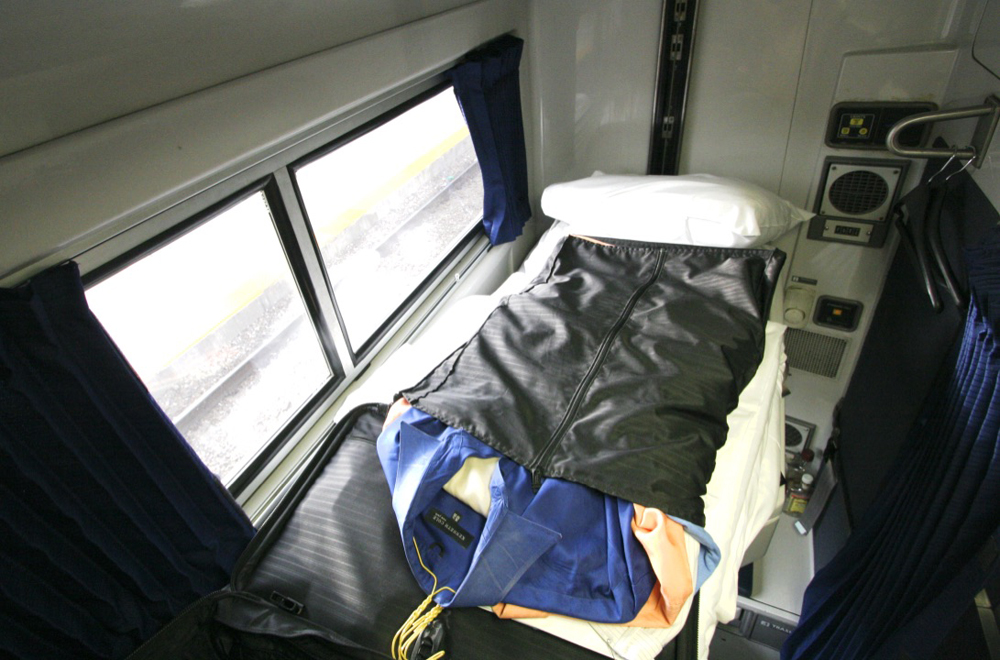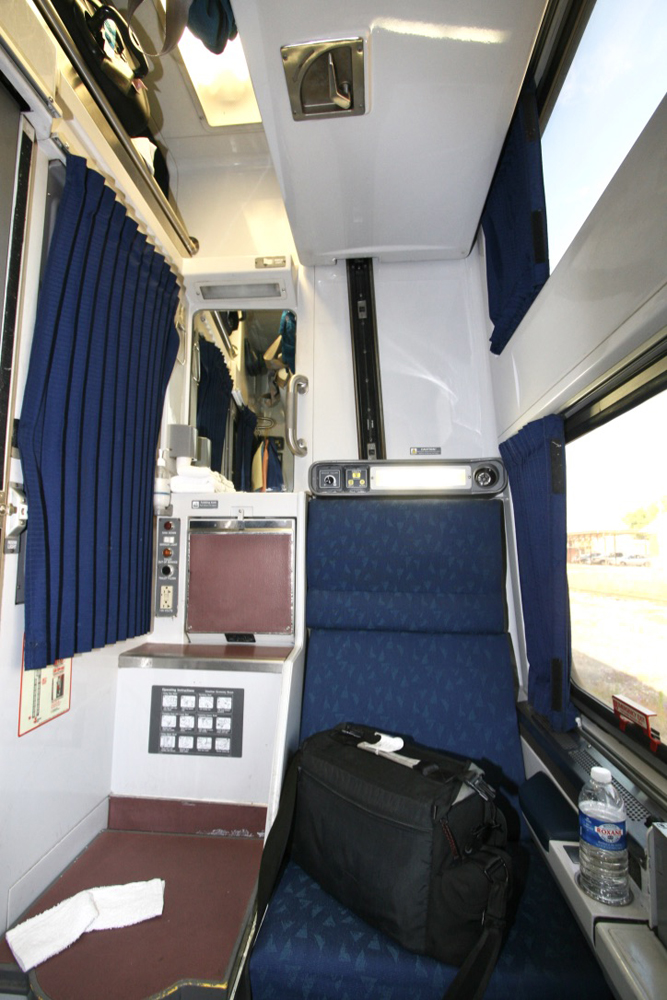 In a Viewliner, there is a small luggage compartment opposite the upper berth (top left in the photo at left), which is a handy place to store small suitcases that fit there, as well as other items needed during the trip, without cluttering the rest of the room. However, the berth must be lowered to get the suitcase up, and this can be a challenge with heavy luggage. Bags may or may not also fit under the seat, but there is nowhere else on Viewliners to store them unless the attendant offers to put large suitcases in an empty room or the baggage car.
Other than a narrow closet (in Superliner Is) or an recessed wall for hanging clothes (Superliner IIs), Superliner storage space is relegated to the lower level of each car. With Amtrak eliminating checked baggage at all but its largest or endpoint stations, this area tends to get jammed. Luggage is generally secure, although on one eastbound Empire Builder trip a few years ago a Chicago passenger's suitcase was mistakenly taken off the train at St. Paul. A security guard at the airport asked for the owner to retrieve it, but he had just departed LaCrosse, Wis. The St. Paul Amtrak agent rescued it and put it on the next day's train to Chicago.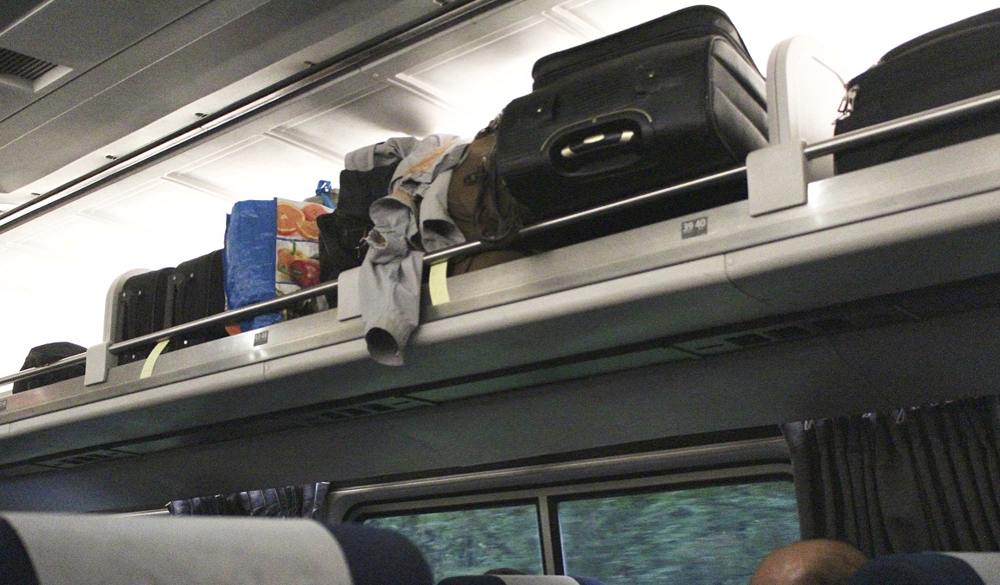 The inability to check luggage to most destinations is a significant problem for single-level coach travelers. The end-of-car luggage tower, if the car has one, quickly fills up. So most everything has to go on the overhead luggage rack, as seen above on the Lake Shore Limited's Boston section in 2019.
More hints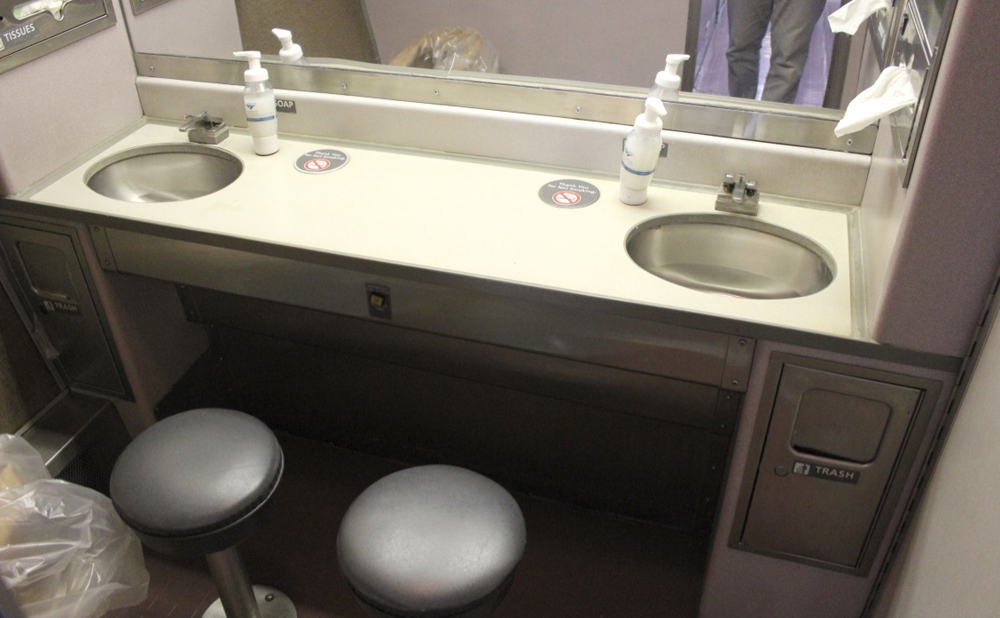 'Secret' room: The only personal space for single-level coach passengers to perform overnight and next-morning functions is at two bathrooms in each car, where reports indicate that Amtrak has stepped up cleaning procedures. But Superliner coaches have additional bathrooms on the lower level; one of them, as shown above, incorporates this "lounge" at the end of the lower hall opposite the luggage racks.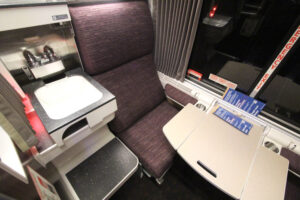 Be prepared for trips to the restroom: Sleeper passengers riding the Lake Shore, Silver Meteor, and Silver Star (and soon perhaps the Crescent and Cardinal) may be assigned a Viewliner II car. Roomettes in these new cars, as shown at left, do not have toilets under the fold-down sink, so be prepared to use facilities "down the hall." Superliner roomettes also do not have toilets, so it is a good idea to pack appropriate clothing and sandals for any nocturnal visit. Amtrak briefly offered slippers in a 2018 amenity package, but that is no longer the case.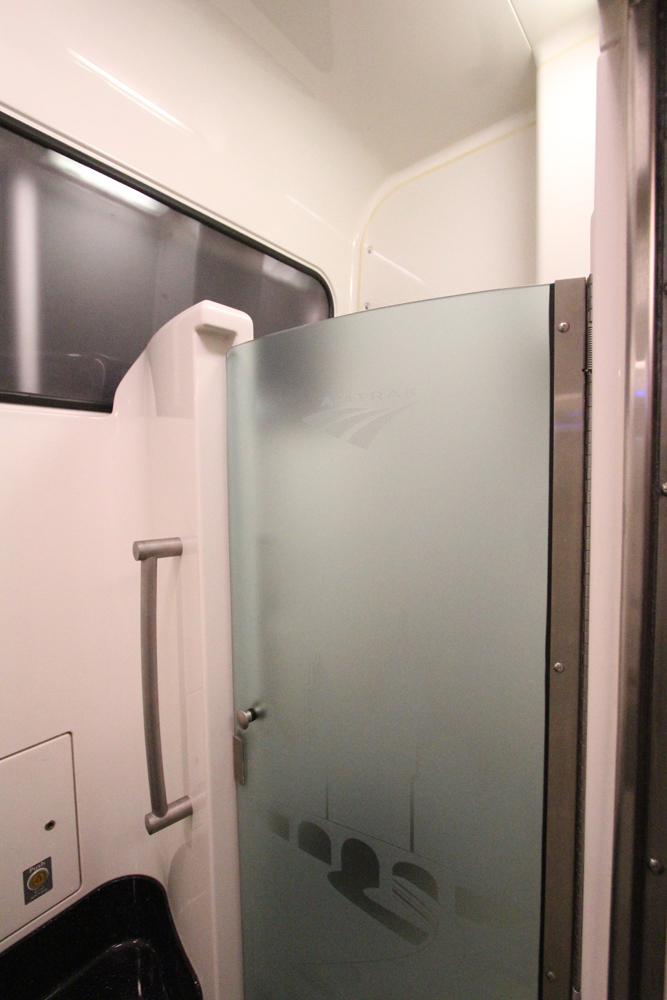 Shower anyone? Sandals are also useful for a trip to the shower. The Viewliner II version shown at right is much improved over its predecessor, but the lower-level Superliner showers are also relatively spacious compared to the in-bathroom showers in Viewliner and Superliner bedrooms. Bring shampoo, pack a small hair dryer, and make sure the attendant has supplied towels before you enter. There may be a wait for your turn prior to morning arrivals.
Making a splash: Water in Viewliner fold-down sinks, as shown below, will likely slosh out of the bowl if filled too full. The faucets have been adjusted for less forceful water flow, compared to early iterations, but be careful. And don't expect to see anything come out of that "ice water" tap on Viewliner I cars; those lines were disconnected about 20 years ago. A common mistake first-timers make is resting something like a toothbrush or wristwatch on the sink, then folding it up.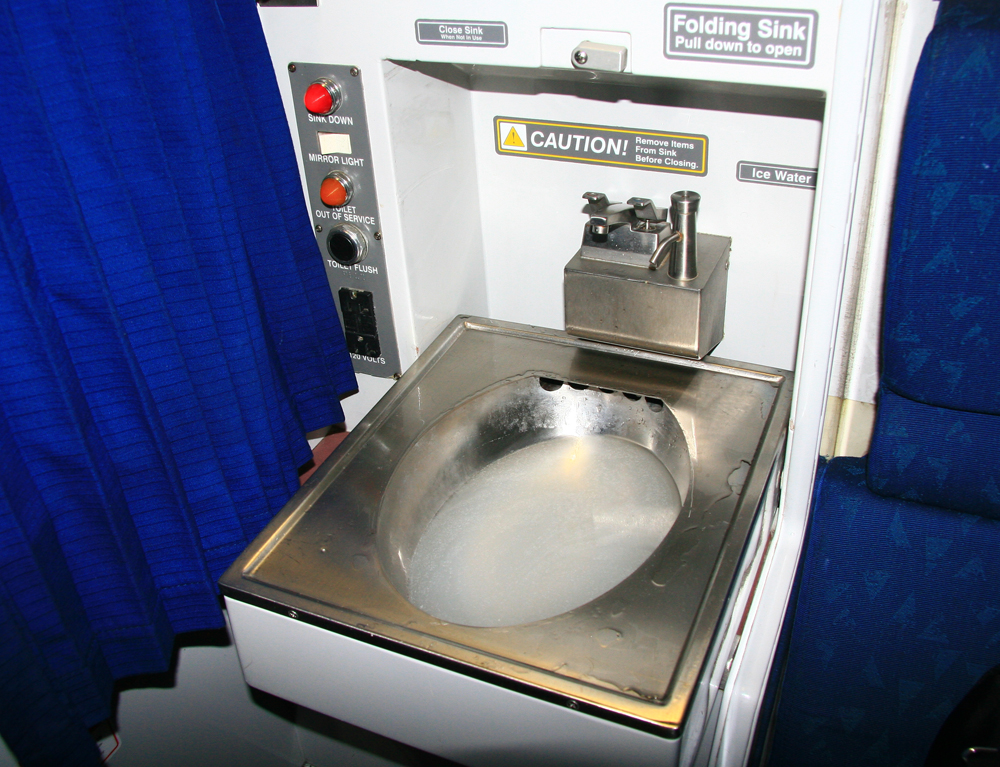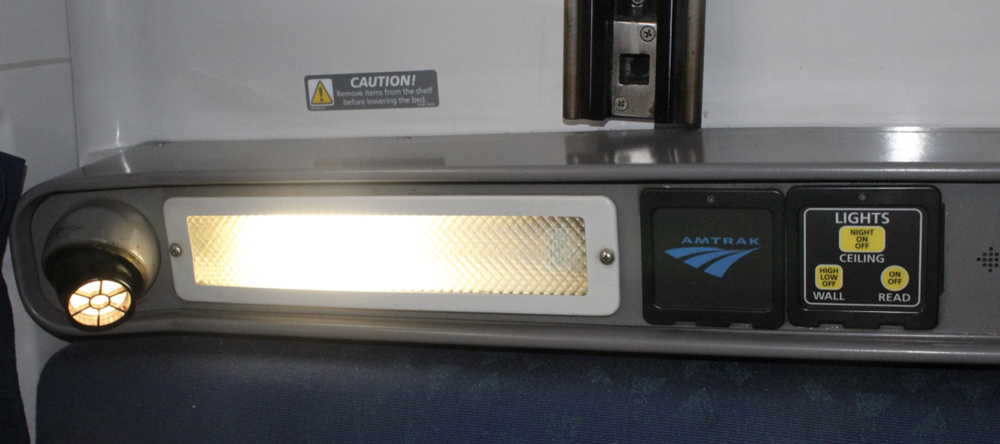 Switch mystery: Compared to dimly-lit Superliner rooms, there is plenty of light in Viewliners, but figuring out how to turn operate lights in Viewliner I rooms, as shown at right, can be puzzling. The square "wall" button refers to the fluorescent light, and the circular "read" button turns the round spotlight on and off. Be careful not to put anything on the shelf over this unit or a similar installation in Superliners, because a lowered upper berth will crush everything resting there. Cell phones are common victims.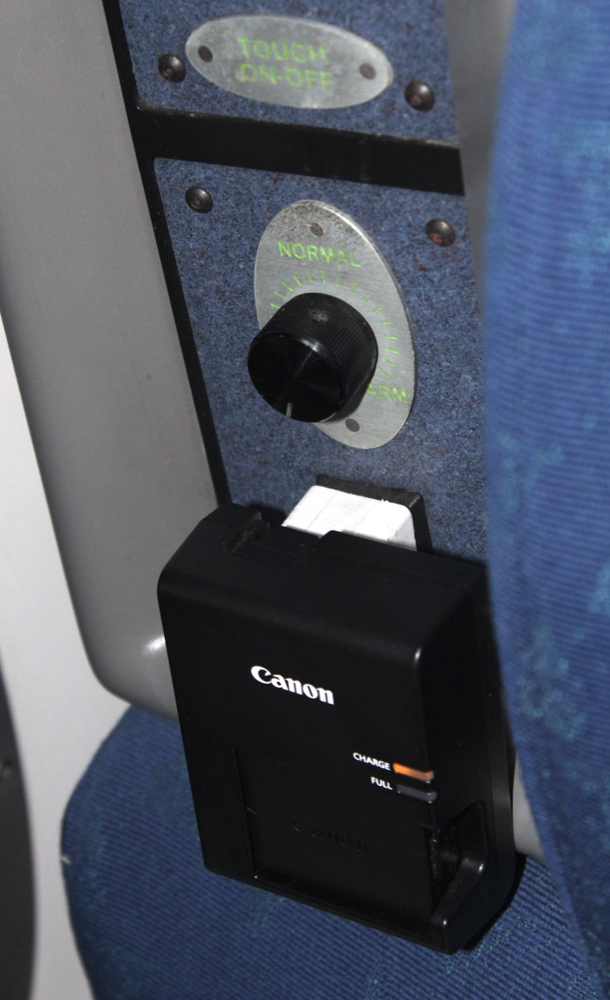 Silencing rattles: After decades of use, aging sleeping cars have developed loose-fitting doors, both to the outside hall and on connecting doors between bedrooms. This can be annoying when shaking inevitably occurs overnight. While many experienced travelers pack a roll of duct tape, a sock or towel jammed in the door usually does the trick.
Charging challenge: Every room and coach seat has at least one 110-volt socket with which to charge personal electronics. Cords always plug in without a problem, but some chargers have attached plugs, as shown at right. Because sockets on Superliner I sleeping cars are recessed, it's always a good idea to bring along a three-prong adapter that effectively extends the socket out so the device is able to plug in.
As noted, this is by no means a complete list of tips, but Trains.com readers inevitably will be able to contribute additional suggestions. Fire away!