Amtrak's California Zephyr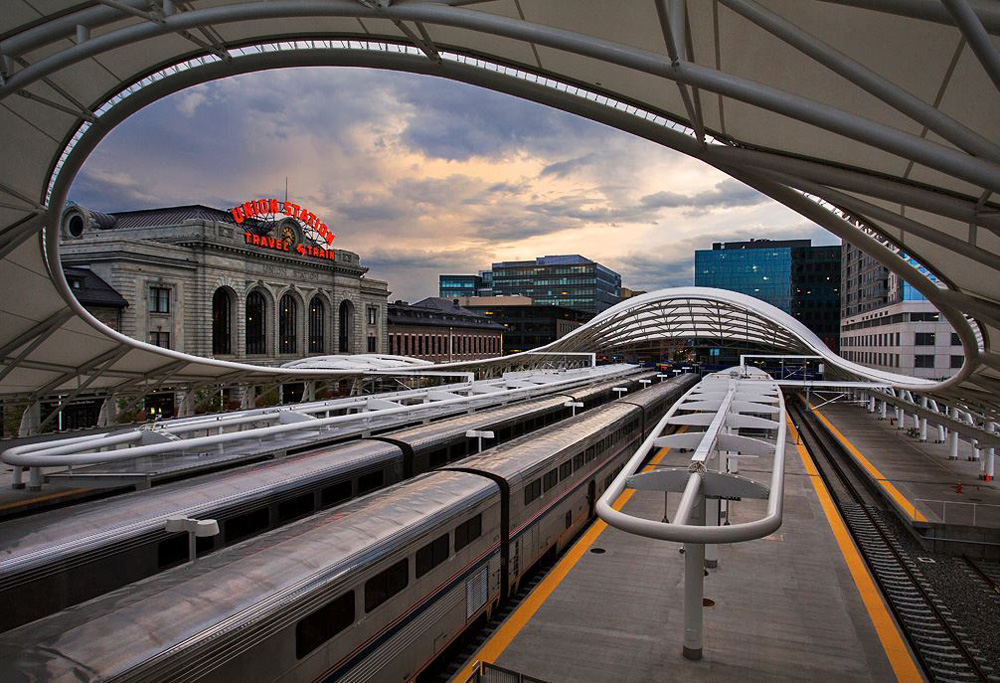 Amtrak's California Zephyr is irrefutably one of the passenger railroad's most picturesque and famed routes, for rail enthusiasts and historians alike. And thanks to the California Zephyr schedule today, passengers can enjoy a beautiful segment of the route in a single day and mostly in daylight hours year-round.
The California Zephyr's 10½-hour, round-trip experience between Denver and Fraser, Colo., begins at Denver Union Station at 1701 Wynkoop Street. The building was completed in 1914 to serve passenger trains operated by the Santa Fe, Burlington, Rock Island, Colorado & Southern, Union Pacific, and Denver & Rio Grande Western railways.
In 2012, Denver Union Station benefited from a significant renovation that converted the historic building into the intermodal transportation hub it is today. The facility includes the historic terminal building, an open-air train hall, a 20-plus-gate underground bus terminal, and is served by two rail systems operated by the Regional Transportation District, or RTD: an extensive light-rail network, and a commuter rail system including a route to Denver's airport.
The California Zephyr is the sole long-distance train serving Denver today. The rail experience departs from the Mile High City each day on the westbound Zephyr, No. 5, at 8:05 a.m. MST. The journey begins on a mix of Union Pacific and BNSF Railway-controlled track as westbound No. 5 navigates out of Union Station's stub-end passenger tracks through BNSF's Prospect Junction and Union Pacific's North Yard (MP 3.0). The early miles are through suburban communities such as Arvada.
Climbing the Rockies
Just minutes west of Leyden (MP 12.5), No. 5 climbs out of the plains of the front range through Big Ten Curve, a 270-degree curve with a track radius of 10 degrees. It is one of the first engineering marvels to be witnessed on the journey, constructed originally by the Denver & Salt Lake Railway, which would be acquired by the Rio Grande in the early 1930s, on what would later be known as its famed Moffat Tunnel Subdivision route operated by Class I successor Union Pacific today.
Following Big Ten Curve a few moments later is a horseshoe curve at Coal Creek Canyon. From here, the westbound Zephyr will pierce the Rockies through Tunnel 1, the first of 22 tunnels the Zephyr will traverse in the following 10 miles. These total 13,913 feet, or 2.5 miles of tunneling, and range in length from 164 to 1,752 feet. The terrain is remarkably rugged, with the Zephyr's head end often entering the next tunnel before the train's markers have exited the previous bore.
After passing through nearly two dozen tunnels, passengers readjust to natural light, exiting the Rockies long enough to catch a glimpse of South Boulder Creek at common photos spots such as Pinecliffe and Rollinsville (MP 42.0). Here, a segment of double track allows for a meet between an eastbound UP or BNSF Railway run-through freight waiting to descend Moffat into Denver. Otherwise, the Zephyr advances westbound at track speed on its climb to Tolland and on the approach to Moffat Tunnel's East Portal (MP 49.5). Moffat Tunnel measures 32,797 feet, or 6.2 miles, and is named after David Moffat, the financier and visionary of the original Denver, Northwestern & Pacific Railway that also would become part of the Rio Grande. Moffat is known as the influential industrialist who envisioned a western railroad extending beyond Denver.
The railroad's western link through the Continental Divide was completed in February 1928, only three years before the railway would be folded into the Rio Grande. The mountains above Moffat reach a peak elevation of 9,239 feet.
Visiting Winter Park
On average, the California Zephyr takes 10-11 minutes to travel through Moffat Tunnel before exiting its west portal at the popular ski town of Winter Park, with its station platform for the Winter Park Express (MP 56.6). For skiers and railfans alike, this is the former destination of Rio Grande's Ski Train, a weekend passenger rail service hauling skiers between Denver Union Station and the Winter Park Resort that began in 1940. In the post-Rio Grande era, an investment firm took over the Ski Train, operating it in the late 1980s through 2009 until high operating costs prompted its cancellation. Amtrak revived the tradition in 2017 and continues operating it today as the Winter Park Express.
The Zephyr does not stop at the Winter Park Express platform; instead, passengers detrain at the joint Fraser-Winter Park station 3 miles west at Fraser (MP 61.9). An on-time Zephyr will arrive here at 10:02 a.m. Fraser and the area surrounding the station platform are predominantly residential, but a rideshare service, such as Uber or Lyft, will provide access to Winter Park proper. While notable for skiing, Winter Park is very much a four-seasons destination as Coloradoans and tourists enjoy the mountain outdoors year-round. Local restaurants and breweries are great afternoon stops as you enjoy a near 6-hour layover in the mountains. When on time, the eastbound California Zephyr, No. 6, is scheduled to depart Fraser-Winter Park at 3:50 p.m. MST with an early evening return to Denver at 6:38 p.m.
Tips & Recommendations:
Use a rideshare or shuttle service and visit Big Trout Brewing Company in downtown Winter Park. Artisan shops, restaurants, and other local attractions in this tourist-oriented pavilion is a great way to occupy some of the afternoon downtime.
About 2 miles east of Winter Park, or about 4 miles east of the Fraser-Winter Park platform, is the Winter Park Express station platform, located 100 feet west of Moffat Tunnel's west portal. This is a great place to try your hand at catching a photo of a westbound freight on the heels of the Zephyr, but please remember the California Zephyr does not stop here, and you'll need to allow sufficient time to journey back to the Fraser-Winter Park station.