An Amtrak Capitol Limited day trip from Pittsburgh is one of the few Amtrak journeys with single-day, round-trip offerings featuring Class I railroading across a famous mountain pass and a second train-riding experience involving a recently restored Mallet steam locomotive. Yes, Amtrak's Capitol Limited between Pittsburgh, and Cumberland, Md., offers this and more on its 306-mile round-trip adventure.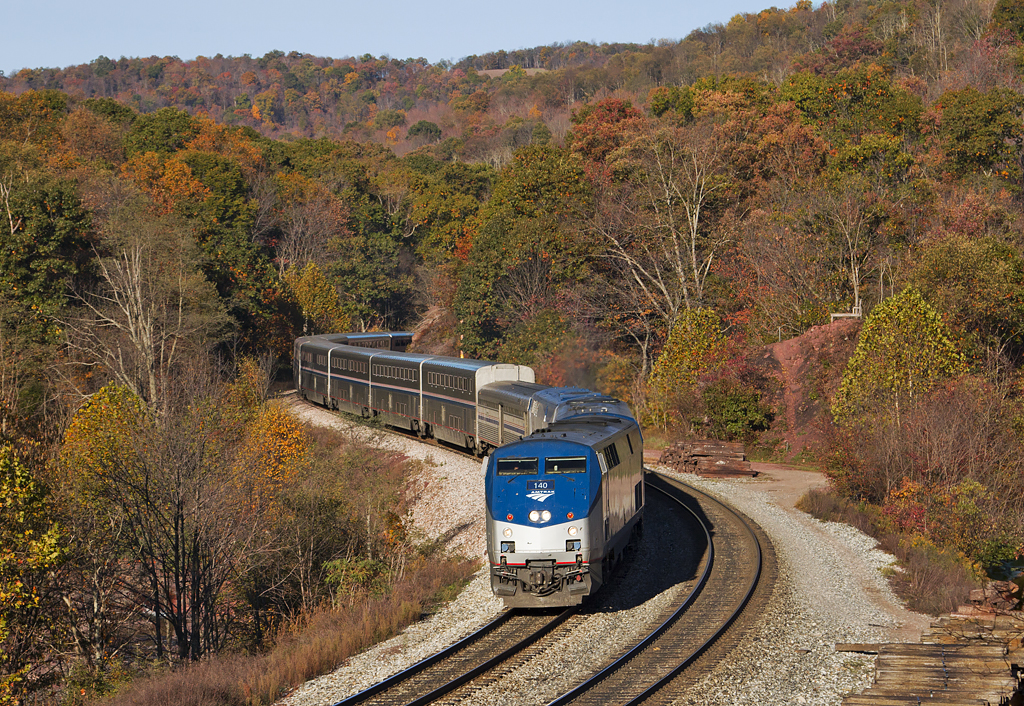 The experience begins at Pittsburgh's historic Union Station at 1100 Liberty Avenue. The city's Union Station was completed in 1904 for use by the Pennsylvania Railroad to serve several feeder lines.
Union Station would go on to serve as a significant stop for Pennsylvania passenger trains like the Broadway Limited, Manhattan Limited, Penn Texas, and Spirit of St. Louis. Today the station is served by Amtrak's Capitol Limited and Pennsylvanian trains. When on-time, the eastbound Capitol Limited No. 30 departs the steel city at 5:20 a.m. Eastern time, traveling briefly on Norfolk Southern's ex-PRR main before transferring to CSX Transportation's former Baltimore & Ohio mainline to McKeesport.
The Capitol Limited then follows the Youghiogheny River through West Newton and Connellsville (MP BF 269.7) on the route of the B&O's flagship passenger train of the same name and the Washingtonian. East of Connellsville you'll enter Pennsylvania's 20,000-acre Ohiopyle State Park and its Youghiogheny River Gorge, of which the train's route along the CSX mainline parallels to Confluence (MP BF 242.9). From here, you'll follow the Casselman River to Rockwood (MP BF 226.8), before beginning to climb the west slope of Sand Patch grade. While the near 2-percent grade is no challenge for Amtrak's GE P42DC diesels and lightweight passenger train, the grade is a heavy climb for eastbound CSX freight trains.
As you maneuver Sand Patch's famed S-curves and horseshoe bends, keep an eye out for two Western Maryland-built viaducts as part of the WM's original Connellsville extension west from Cumberland, Md. The 1,908-foot Salisbury viaduct, dating to 1912, is about three minutes east of Garrett (MP BF 219.5) and the 910-foot Keystone Viaduct is about two minutes east of Meyersdale proper. Both viaducts are open to pedestrians and cyclists today as part of the Great Allegheny Passage. Once you pass underneath the Keystone Viaduct, the Capitol Limited is within a couple minutes of entering the west portal of the 4,475-foot Sand Patch tunnel. Today's tunnel was built in 1911-1913 to replace the 1850s-era 4,777-foot tunnel. Sand Patch Tunnel (MP BF 211.0) is the summit of the grade. After exiting the tunnel's east portal, keep an eye out for the Old Mance post office on the engineer's (right) side of the train. The structure dates to 1892 and is one of the most well-documented photography landmarks on Sand Patch grade.
From Mance, the B&O's eastern slope of Sand Patch elegantly navigates the Appalachians on its descent toward Cumberland. The engineer's side of the train offers preferred views for scenery and a number of curves allow you to catch a glimpse of the train's head-end. Once you pass through Hyndman (MP BF 190.2), the Capitol Limited is within 12 miles of Cumberland, where eastbound No. 30 is due to arrive, when on-time, at 9:20 a.m. ET.
An uninspiring station at Cumberland provides shelter and basic amenities during the lull between Capitol Limited trains. When both trains are on-time, you will have almost 10 hours to explore Cumberland's rail heritage, of which is entirely accessible by foot from the Amtrak station at 201 E Harrison Street. Approximately four blocks from the station is the Western Maryland Scenic Railroad at 13 Canal Street. The three-story train station is the main boarding location for the tourist railroad's Cumberland excursion trains, notably its Frostburg Flyer, which departs at 11 a.m. ET.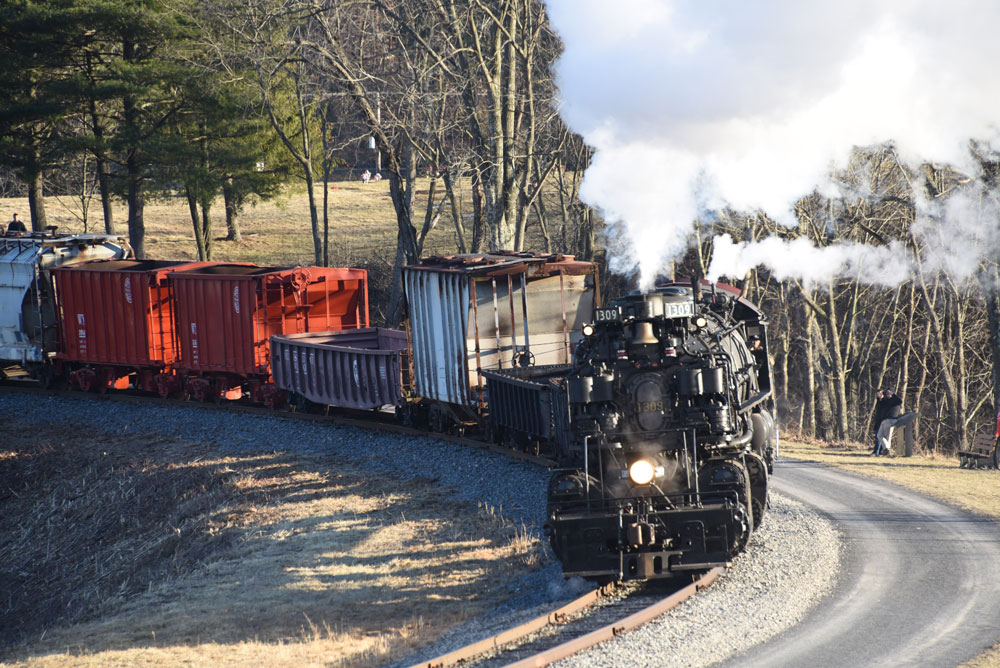 The Frostburg Flyer is a four-and-a-half hour round-trip passenger train featuring coach, open air, deluxe, dome, and first class amenities. Fares begin at $35 and range up to $125 depending on class of service. The railroad offers one-way and round-trip cab rides at different prices depending on diesel or steam steam power. An EMD GP30 powers the Flyer on Thursdays in the summer months, while the railroad's flagship restoration project – the return of Chesapeake & Ohio 2-6-6-2 No. 1309, powers the Flyer on Friday-Sunday excursions in the summer, and Wednesday through Sunday during October's fall foliage. No. 1309 is significant for being the last mainline steam locomotive built in the U.S. and delivered by Baldwin Locomotive Works in 1949. It was also the centerpiece of TRAINS' recent preservation initiatives. In its heyday, No. 1309 powered heavy coal trains in the Chesapeake & Ohio's southern West Virginia coalfields until 1957. The Mallet was relocated to the B&O Railroad Museum in Baltimore, Md., in 1972. The Western Maryland Scenic began its restoration in 2014 and the locomotive returned to operation in early 2022.
Today's Frostburg Flyer traces the former Western Maryland, climbing a mountainous pass of more than 1,200 vertical feet from Cumberland to Frostburg through the Allegheny mountains. The tourist train briefly lays over at Frostburg where passengers can tour the restored depot and visit locally owned shops. A turntable exists at the end of the railroad, although the Flyer typically operates with locomotives on each end. You will return to Cumberland at approximately 3:30 p.m. ET, three-and-a-half hours before westbound Capitol Limited No. 29 is due to arrive.
Additional free time at Cumberland can be spent appreciating the town's historical nature, including artifacts at Fort Cumberland, an 18th century landmark with ties to the French and Indian War. The Allegany Museum at 3 Pershing Street is another attraction capturing the region's historical elegance. A third historical attraction is the Headquarters of George Washington at 38 Greene Street, also in Cumberland's historic downtown district. It is the site of a log cabin twice occupied by George Washington during his time as a Colonel in the French and Indian War.
In addition to these historical attractions, downtown Cumberland offers several local restaurants ideal for dinner prior to boarding westbound No. 29. The author recommends either the Baltimore Street Grill at 82 Baltimore Street or Ristorante Ottaviani at 25 N. Centre Street.
Once you board westbound Capitol Limited No. 29 for the return assault on Sand Patch's east slope, you will return at Pittsburgh's Union Station, when on-time, at 11:48 p.m. ET.
J. Delbatis is a railroad author who has no personal or business connection to the businesses mentioned in this article.
Tips & Recommendations:
AAR 08 (160.230) is the primary CSX scanner frequency on the Capitol Limited route for those listening to train crew chatter with portable radio scanners.
If the Capitol Limited is behind schedule and it causes you to miss the Western Maryland Scenic's Frostburg Flyer, consider renting a vehicle and photographing trains in the Cumberland area, or chasing the Flyer to Frostburg via local roads. The route is mostly accessible.
Verify the WMSR is operating before your ride to Cumberland and pay attention to whether it's a diesel or steam day if this is of importance to your travels.