Pacific Harbor Line summary
The Pacific Harbor Line (PHL) is a Class III short line railroad that operates in Southern California. It's owned by Anacostia Rail Holdings, a privately held firm that manages multiple short lines throughout the United States. Though only using over 19 miles of standard-gauge track, the railroad serves the busy ports of Long Beach and Los Angeles.
History
The Pacific Harbor Line's predecessor, the Harbor Belt Line was established in the 1920s to provide switching service at the ports in Los Angeles and Long Beach. It was jointly owned by the Port of LA, Pacific Electric, the Atchison, Topeka and Santa Fe Railway, the Southern Pacific Railroad, and the Union Pacific Railroad. By the mid-1980s, independent decisions from the Class I railroads resulted in inefficiencies at the growing ports. To combat this issue, the ports, railroads, marine terminals and ocean carriers came to an agreement to reform the ex-HBL into a neutral switching railroad. The Anacostia Rail Holdings Company was selected in 1995 to head all operations. The PHL began full service to the Port of Los Angeles in February 1998, followed in August that year at the Port of Long Beach.
Operations
In partnership with BNSF Railway and the Union Pacific, the Pacific Harbor Line provides rail transportation, maintenance, and dispatching to the ports. More than one million units of carload freight annually is hauled in and out of the largest container port in the United States. Switching is provided for nine on-dock intermodal terminals, in addition to dispatching for about 140 intermodal trains per day. The growing confidence in the short line's ability to serve the Class I railroads while remaining neutral has resulted in BNSF and UP turning over much of their on-dock intermodal operations to the PHL. This business has become a mainstay of the railroad.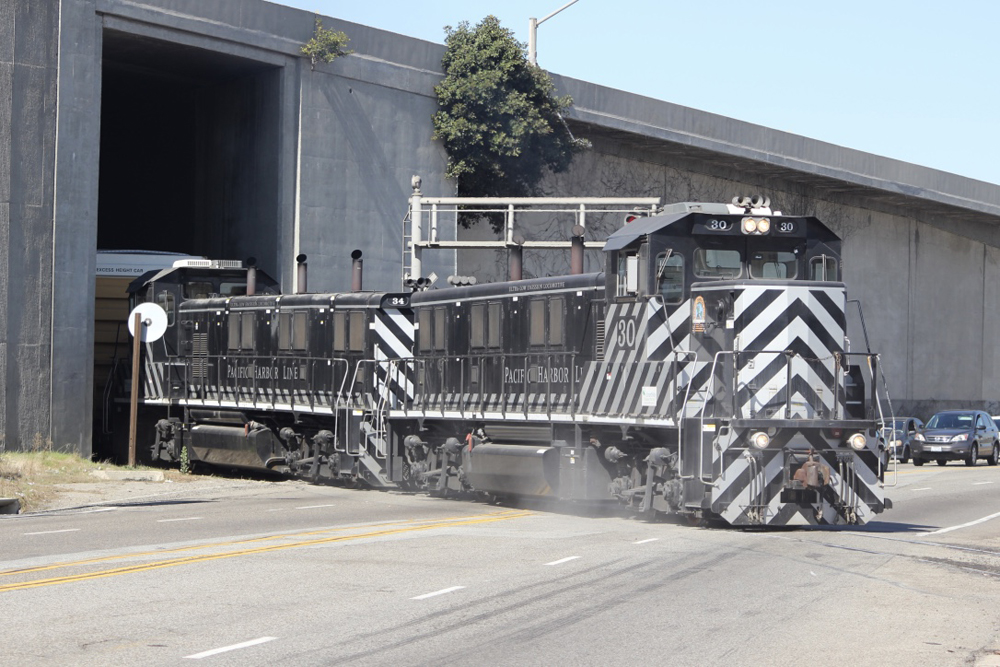 The Pacific Harbor Line rosters a vast range of 25 diesel locomotives with additional leased units. Many pay tribute to the former Santa Fe by carrying the "Zebra" stripes color scheme. Since 2014, Anacostia has partnered with the Environmental Protection Agency's SmartWay Transportation program to reduce emissions and fuel usage in their fleet. The PHL was the first railroad in North America to upgrade its entire locomotive fleet to Tier 3 standards. The short line also has a history of testing new Progress Rail locomotives, having previously tested the company's Tier 4 switcher and taking delivery of the EMD Joule battery-electric locomotive.
The PHL interchanges with BNSF and UP which uses the Alameda Corridor to reach both ports from Redondo Junction.
Read more about the Pacific Harbor Line in Trains' September 2022 issue.