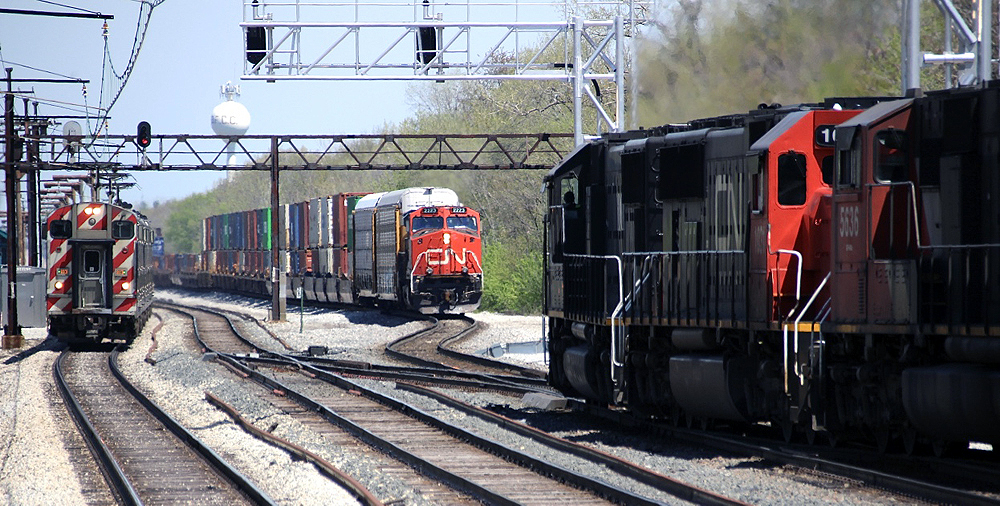 Looking north from the platform of the Matteson Metra station on May 2, 2020, an outbound Metra Electric train approaches as one Canadian National train comes off the connection from the former Elgin, Joliet & Eastern, while another waits on the former Illinois Central to make its way down the connect. (Trains: David Lassen)

PHOTO 1 on Map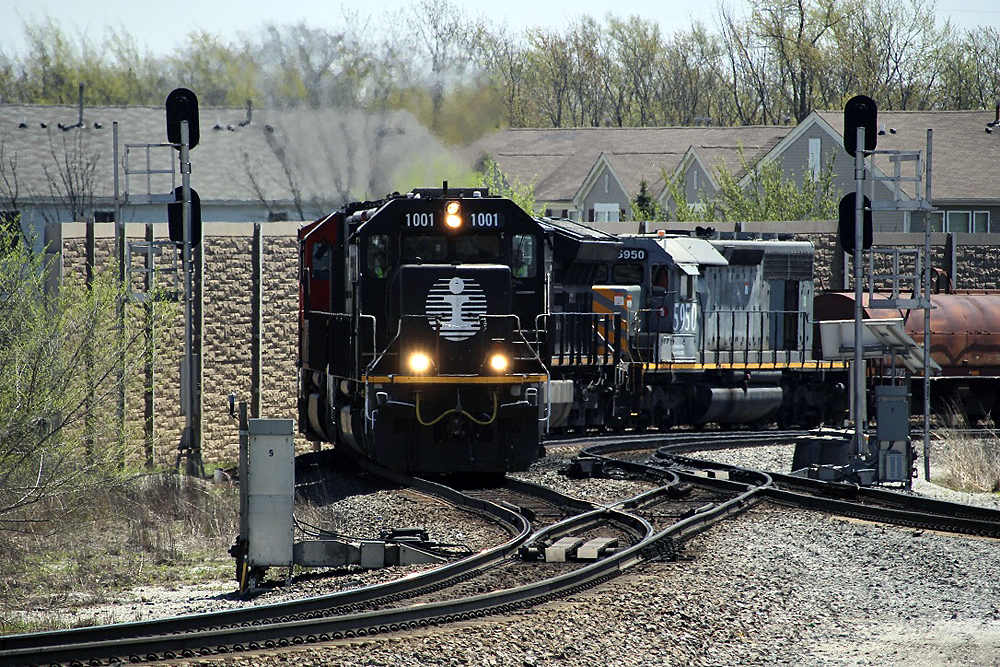 Also from that May 2, 2020, visit, an IC SD70 still wearing the Illinois Central "Death Star" paint scheme — a surprisingly common sight at Matteson — leads a train up to the IC from the EJ&E connection. Bringing up the rear in the consist is an ex-Grand Trunk SD40-3 still wearing the paint scheme of former owner Kansas City Southern. (Trains: David Lassen)

PHOTO 2 on Map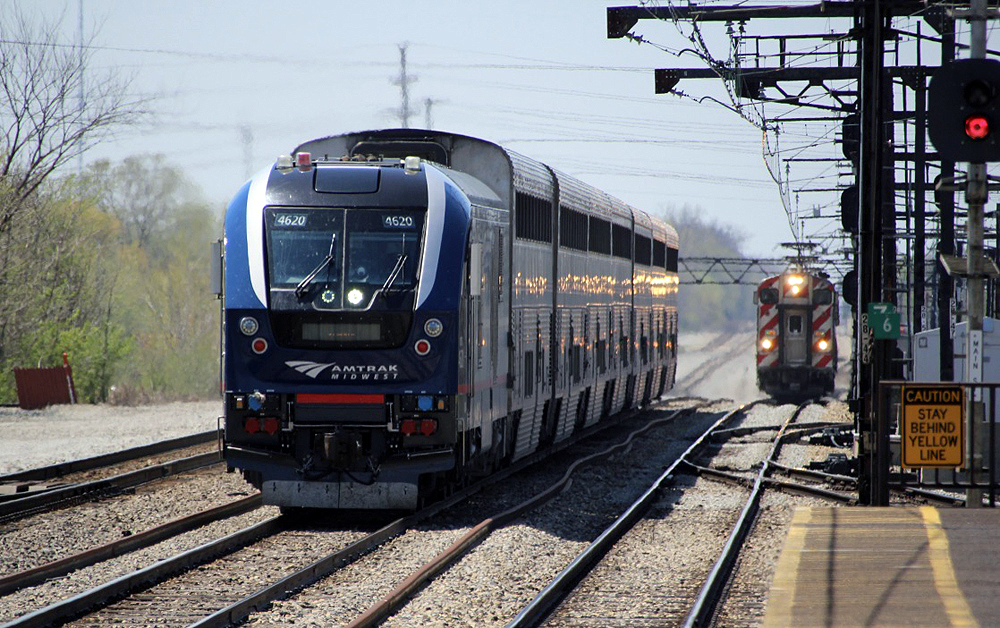 Amtrak's northbound Saluki zips past an approaching Metra Electric train as it makes its way from Carbondale, Ill., to Chicago, in another shot from May 2, 2020. (Trains: David Lassen)

PHOTO 3 on Map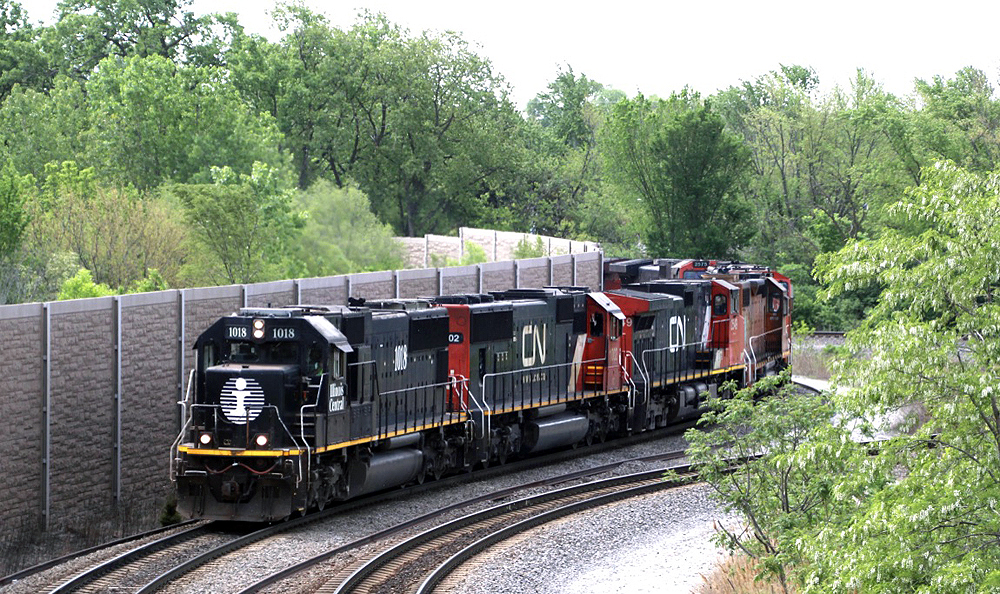 From the Park Forest railfan viewing platform, an eight-engine train led by an Illinois "Death Star" SD60 snakes from the northbound former Elgin, Joliet & Eastern line to the eastbound former IC on May 21, 2021. (Trains: David Lassen)

PHOTO 4 on Map


I outsmarted myself here. To illustrate a different angle with another train coming off the EJ&E, I moved to the lower platform at the railfan viewing area — and missed the clear shot showing this three-car inspection train I would have had if I'd remained at the top. (At 8,800 hp with three passenger cars, this may well be the most overpowered train in CN's Precision Scheduled Railroading era.) (Trains: David Lassen)

PHOTO 5 on Map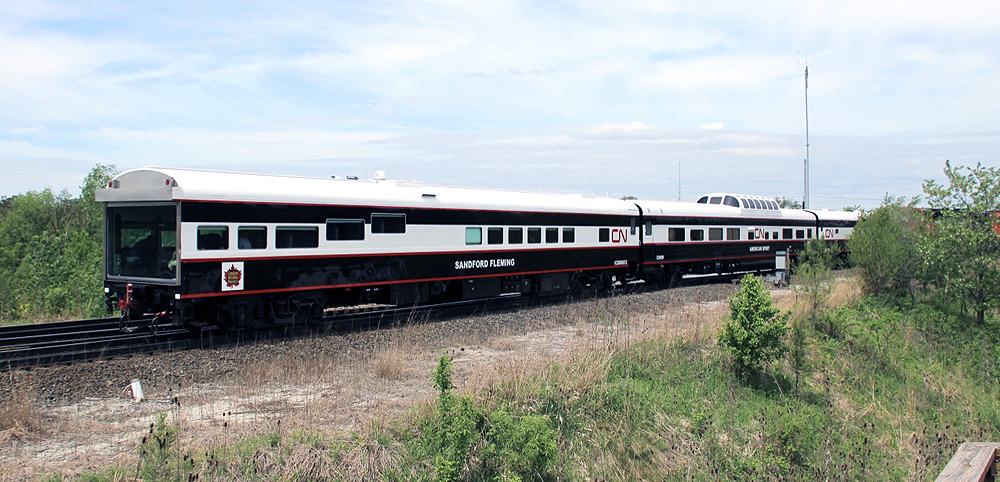 Looking north from the same location, dome car American Spirit and theater car Sandford Fleming bring up the rear of the CN inspection train as it rolls toward the IC main line. (Trains: David Lassen)

PHOTO 6 on Map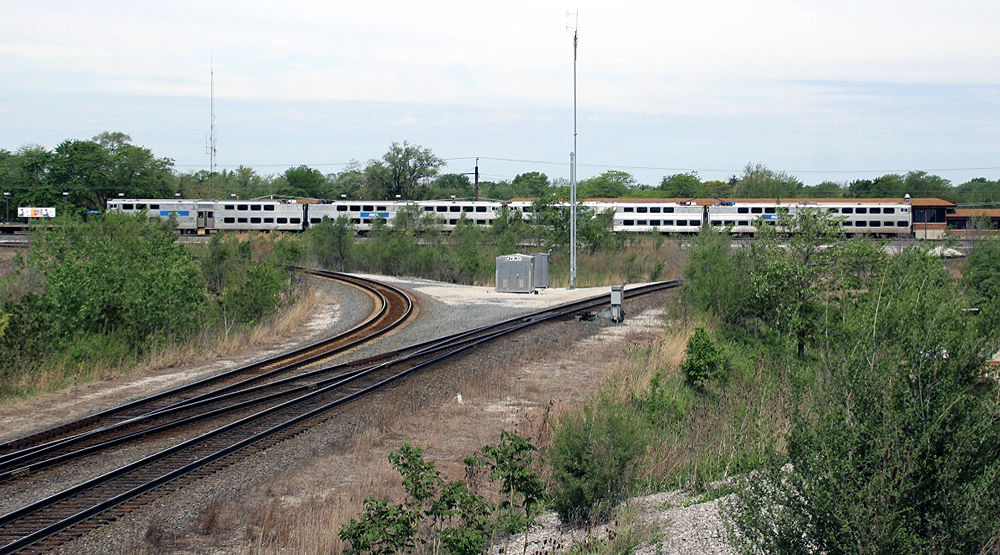 The view of the Metra Electric station, as well as the two legs of the wye connecting to the IC, from the railfan platform. (Trains: David Lassen)

PHOTO 7 on Map

Before the Matteson connection was built, this line from the northbound IC to the eastbound EJ&E was the only way to interchange between the two lines. Two UP units lead a train off the IC on Nov. 28, 2020. (Trains: David Lassen)

PHOTO 8 on Map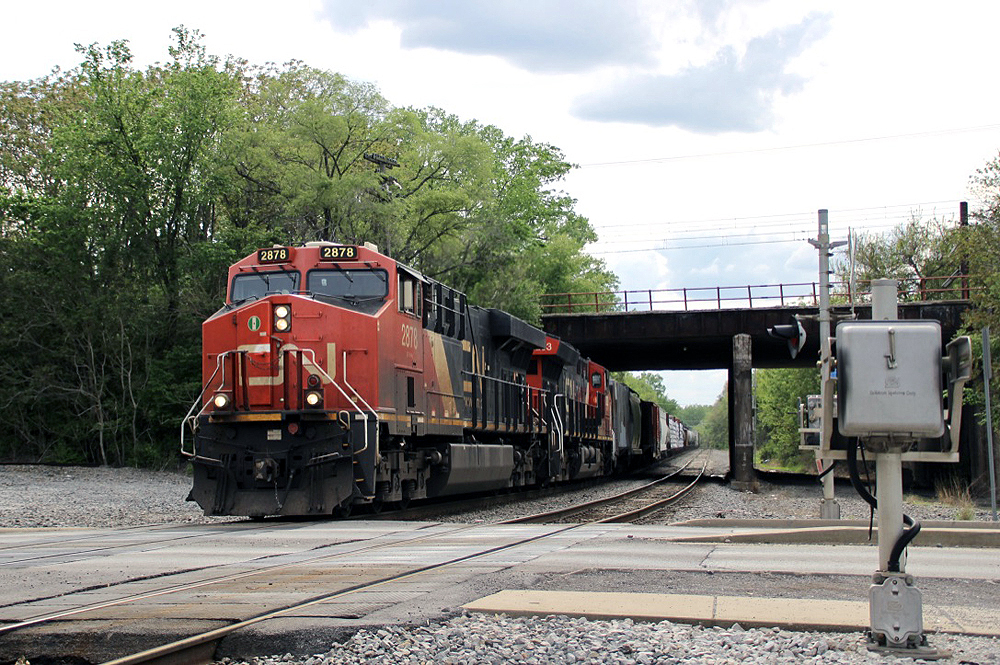 A southbound on the EJ&E crosses under the IC and Metra lines at Main Street/Central Park Avenue. (Trains: David Lassen)

PHOTO 9 on Map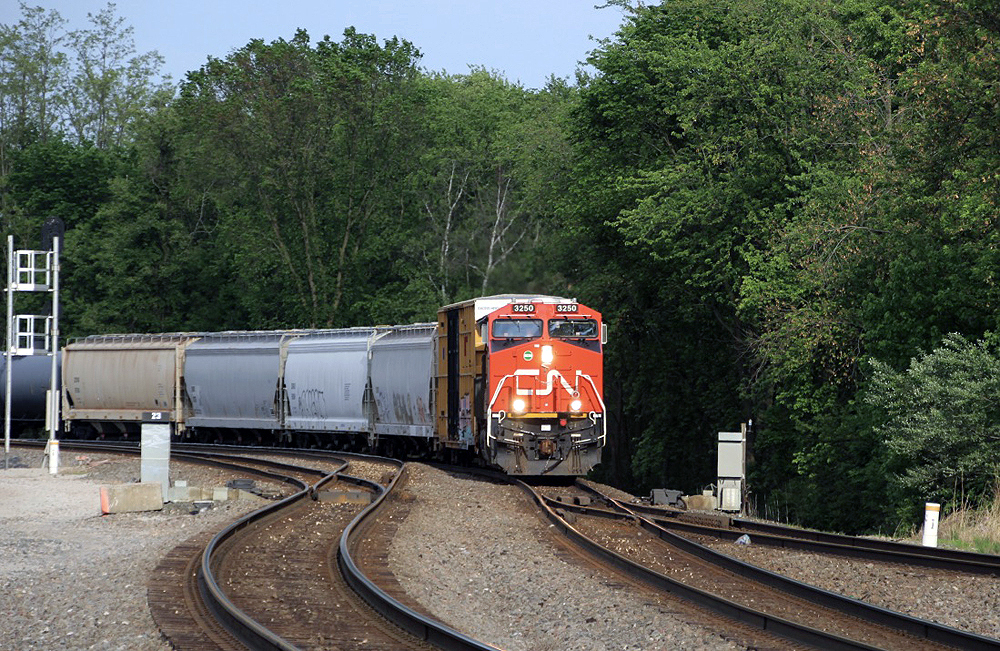 A northbound on the former EJ&E approaches the connection to the southbound IC line, which was once the only track connecting the two lines. The switch on the other track is one of the lines for the connection to the IC that was completed in October 2011. (Trains: David Lassen)

PHOTO 10 on Map

Introduction to the Matteson, Illinois, railfan hotspot
Matteson's status as a truly significant railroad junction dates only to October 2011, when Canadian National completed a new connection between its north-south former Illinois Central line, and its recently acquired Elgin, Joliet & Eastern, the belt line that gave it a way to avoid much of Chicago's congestion. (There's a brief animated video nicely explaining the connection by Harbour, the general contractor for the project, available here.) As such, there is always the potential for a lot of activity here — although in my experience, it tends to be one of those feast-or-famine locations where things can be very busy, and then absolutely dead for long periods.
As interesting as Matteson can be, it is not for those who suffer from FOMO (the Fear Of Missing Out). There are essentially three major locations to work from a photographic standpoint — and each one has its plusses and minuses. At two, you are essentially guaranteed of not seeing some trains. At the third, you can see everything (albeit barely), but the photo opportunities are not great.
Let's take the last of those locations first. The community of Park Forest has built a very nice elevated railfan viewing platform just to the east of the Matteson Metra station, with a covered seating area (nice on a hot day) and a few signs offering explanations of the Matteson connection and other aspects of railroading. You can get good shots here of trains on the connection, and if you get to the far east edge of the platform, you can also see a little bit of the former EJ&E main line. You can also see everything on the former IC and the Metra Electric line, but some scrub brush that's slowly growing up in the wye at the west end of the connection makes it tough to get a good photo on those lines (see photo 4). So, this is your best place to watch, but not to shoot.
Personally, I prefer the platform of the Metra station. Trains coming south snake through a small S curve before heading on to the connection, if that's where they're going; trains heading both north and south are visible well in advance. I like the head-on shot of trains coming up on the connection, and there's always the possibility of getting a shot with both a Metra Electric train and a freight (or Amtrak — this is the route of the Illini, Saluki, and City of New Orleans). Drawback: You'll hear but won't see anything that passes straight through on the EJ&E.
And finally, there's a grade crossing for the EJ&E a little south of the station on Main Street/Central Park Avenue. You'll get EJ&E trains here, and anything that comes off the connection and heads west. Those that come off the connection and go east you'll only see from a distance, and you'll get a very minimal view of trains passing over the EJ&E on the IC or Metra. But the view of trains approaching from the east, in particular, is worthwhile.

Getting to the Matteson, Illinois, railfan hotspot:
Matteson is a little more than 30 miles south of downtown Chicago, via interstates 90 and 57. Exit at Lincoln Highway and head east about 2.5 miles, then turn south at Main Street. This will take you right to the station. There's a parking lot off main street that costs $1.75 for up to 15 hours. There's another, larger lot on the other side of the station, which is where you'll want to park if you want to be closer to the railfan platform. Oddly, that one is $1.25. Alternately, you can take the Metra Electric line right to the Matteson station.
Food and restaurants in Matteson, Illinois:
There's a huge number of fast-food and quick-service restaurants on Lincoln Highway, along with gas stations, hotels, and a really nice new grocery store (Pete's) if you want to get your own provisions. Not a lot to speak of at Matteson itself. There is a deli and mini-market right across the street from the station, and about a block away there's a Creole restaurant I want to try now that the pandemic is winding down.
Likely trains in Matteson, Illinois:
Along with all the CN traffic, the Metra Electric, at this writing, is offering 26 round trips on weekdays and 12 on weekends. And as of mid-July, there will once again be three Amtrak trains in each direction. On-time performance is an issue here, so the Amtrak app is a good tool to know when they might show up (check the train times for Homewood, just 5 miles away).