Zephyr passenger cars last trip — Looking beyond a sea of Amtrak Phase IV, the stainless-steel design and neon lights spell out California Zephyr on the tail end of Amtrak's westbound No. 5 of the same name at Chicago Union Station. It's a scene reminiscent of the 1950s with the same equipment that carried the Zephyr's markers west from suburban Chicago headed for the great west. But on Nov. 3, 2017, it's, unbeknownst to us, the final cross-country journey for three California Zephyr railcars, the Silver Lariat, Silver Rapids, and Silver Solarium. Our residency in these three passenger cars for the next 50 hours, as railcar owners Burt Hermey and Al Bishop, re-create a transcontinental experience with explicit detail to Zephyr-era etiquette. At a punctual 2:00 pm, the Zephyr departs beneath downtown Chicago, emerging into a misty November sky. The experience has started.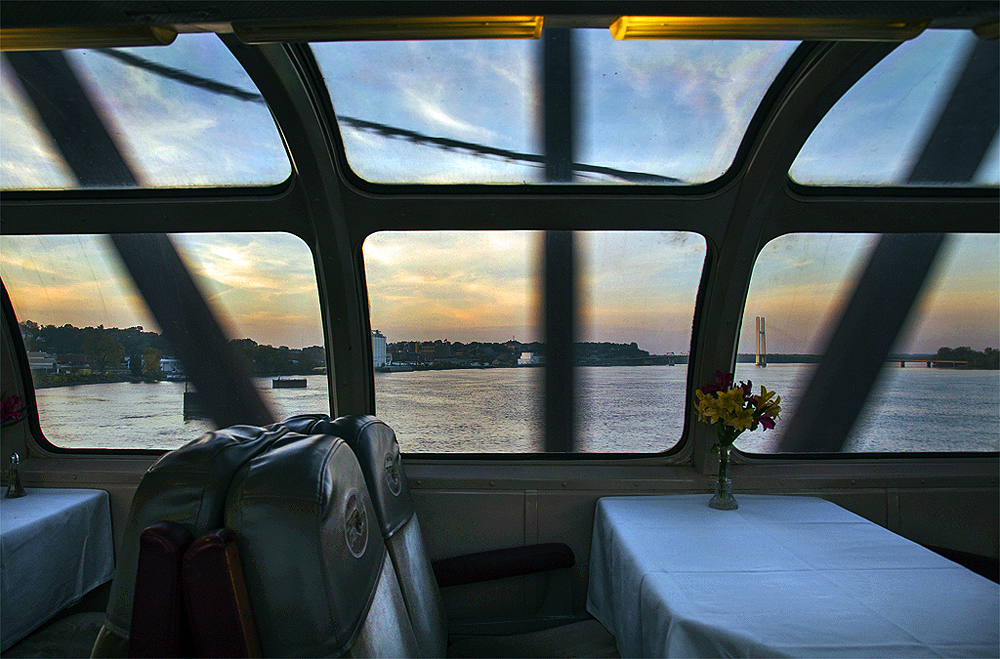 To appreciate the authenticity of the accommodations, it's worth noting all three railcars were built by the Budd Company in 1948 for use on the California Zephyr. The Silver Lariat was built for the CB&Q in dome coach service, the Silver Rapids as a Pennsylvania Railroad California Zephyr transcontinental sleeper, and Silver Solarium as one of six CB&Q sleeper and observation dome cars. The trio would operate together in California Zephyr service through most of the 1950s until the Silver Rapids was removed from the consist in the late 1950s when the Pennsylvania Railroad withdrew from the Zephyr transcontinental sleeper agreement. The Lariat and Solarium continued on the famed passenger train until its discontinuation in 1970.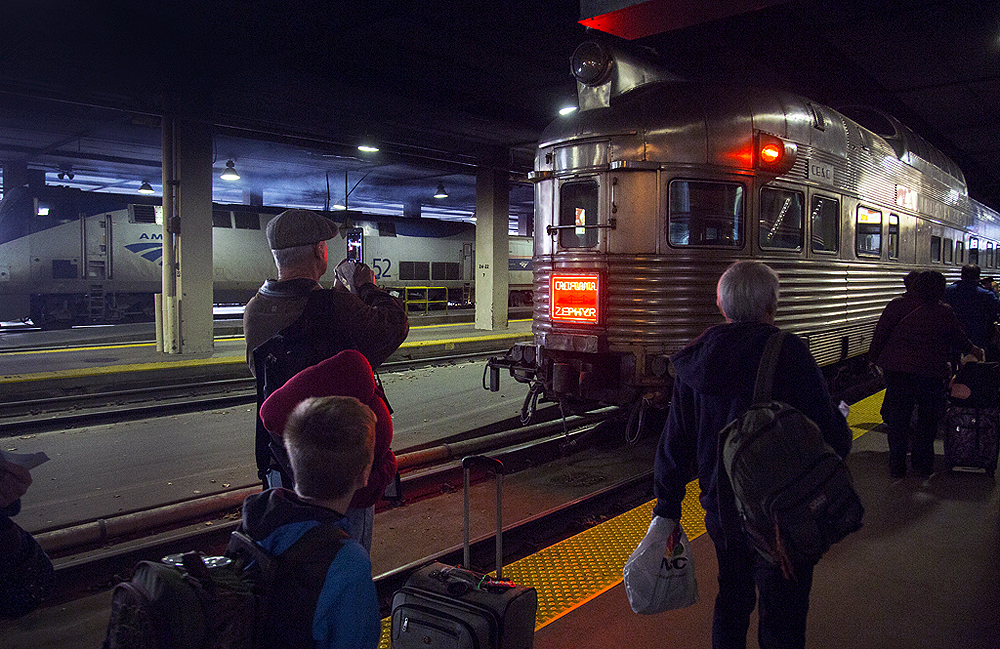 Ownership of the three railcars would be transferred to Amtrak in 1970 where they would operate under the passenger railroad's guidance through most of the 1970s. One-by-one, each of the silver fleet would end up with private owners by the early 1980s. Ultimately, Burt and Al's company, California Zephyr Railcar Charters, in partnership with Rail Journeys West, who owned the Silver Solarium, would reunite the trio in mainline private varnish trips on the tail-end of Amtrak and charter trains. Throughout much of the first 15 years of the 21st century, these passenger cars completed countless trips across Amtrak, catering to first class clientele and logging thousands of additional mainline miles 65 years later, including many trips on the original route, and train, they were intended.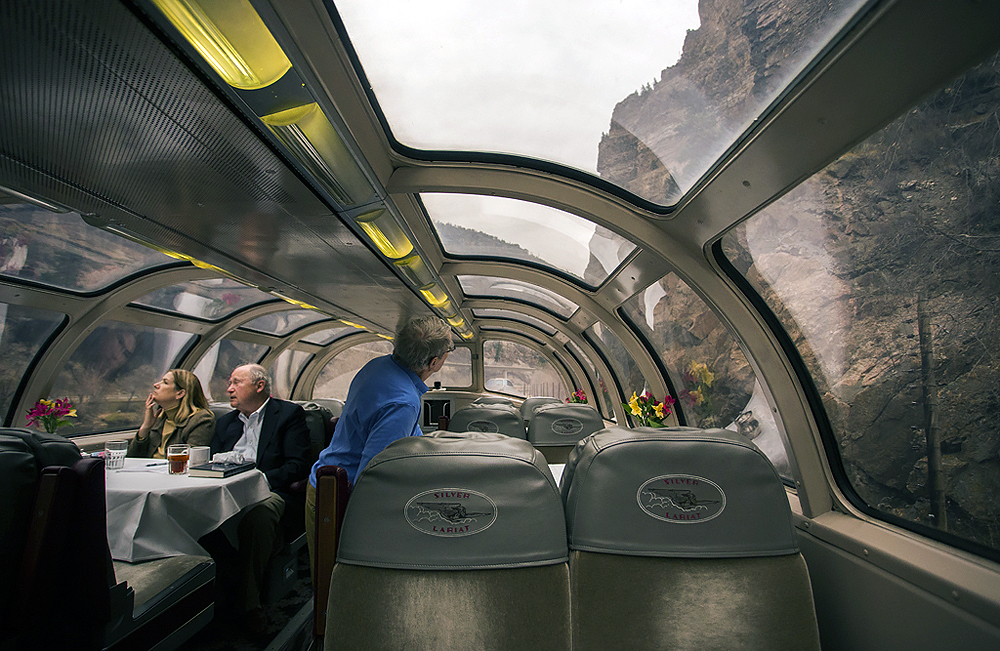 The railcars are returning home to Los Angeles after hosting passengers onboard the Collis P. Huntington Railroad Historical Society's widely known, though now defunct, New River Train in West Virginia. Dome car views showcasing mountain vistas and fall foliage have been exchanged for farmland as the Zephyr traces the original CB&Q main, now in BNSF Railway's hands, west in afternoon light. It's mostly a deadhead move, but there's about 12 of us onboard, a mix of friends and acquaintances, as well as Burt and Al's staff who, even though we are fully content with dome-car views and reliable Wi-Fi, checks in periodically with offers of food and beverage. Just as the sun rests across the flatlands revealing the day's longest shadows, our track speed reduces enough to be noticeable, and we cross the Mississippi River at sunset, trading Illinois for Iowa and, signaling the end of our first day(light) trip. The timing couldn't have been better.
Dusk fades to darkness and after dining across Iowa, we settle into our respective roomettes aboard the Rapids. The continuous welded rail is smooth, and the only jostling comes from the occasional crossover. For the Zephyr, it's business as usual to Omaha. From here west, I slept uninterrupted for what I anticipate 430 miles, awaking the next morning at Denver Union Station. The hour-long layover is too short to sightsee, but an adequate enough of a pause to appreciate the station's architecture and rail landscape. From Denver west, it's an appropriately scheduled morning trip across the Rockies via the Denver & Rio Grande Western's Moffat Tunnel route now owned by Union Pacific. This is arguably the trip's pinnacle, traversing the Rockies and tracing the remoteness of the original railroad engineers who carved this segment tunnel by tunnel. It's 273-miles to Grand Junction, Colorado, and with breakfast served in the Solarium's dome seating area, the trip presses on with a near on-time departure from Denver.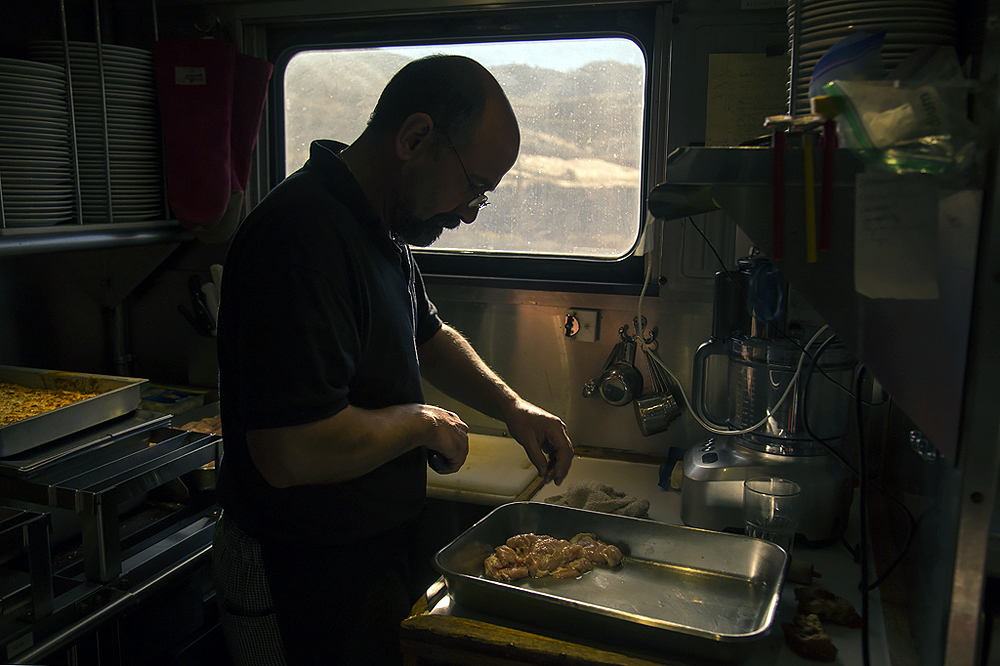 After an inconvenient switching move departing Denver Union Station, the Zephyr regains track speed and begins gaining elevation. The views are interrupting breakfast and it's difficult to draw attention away from the dome. Aside from Amtrak's California Zephyr, it's hard to imagine there isn't a broader marketplace for regularly scheduled leisure rail travel of this caliber given the views and on-board amenities and American consumers' ever-growing appetite for unique experiences. But the inner workings of co-existing with freight trains on a freight-owned corridor make it seem-far-fetched. Little did anyone know that Canada's Rocky Mountaineer would migrate south of the border three years later in 2021 with a regularly scheduled, first-class experience along this very mainline route.
This morning's station stops at Fraser-Winter Park and Granby provide enough pause to top off the coffee. It's too early for a hefty snow base and we've missed the vibrant golden hues of the aspens by six weeks, but the crisp, blue, sky pairs well with the textured jaggedness of the Rockies. From here, we enter Glenwood Canyon, a 16-mile canyon shaped by the muscle of the Colorado River. The canyon houses Interstate 70, the Rio Grande, and the river. The best seat in the house is the Silver Solarium's dome, or for a more contemporary feel, Amtrak's Sightseer lounge a few cars ahead. The railroaders who guide passengers and freight through here each day are accompanied by some of the Rockies' best offerings.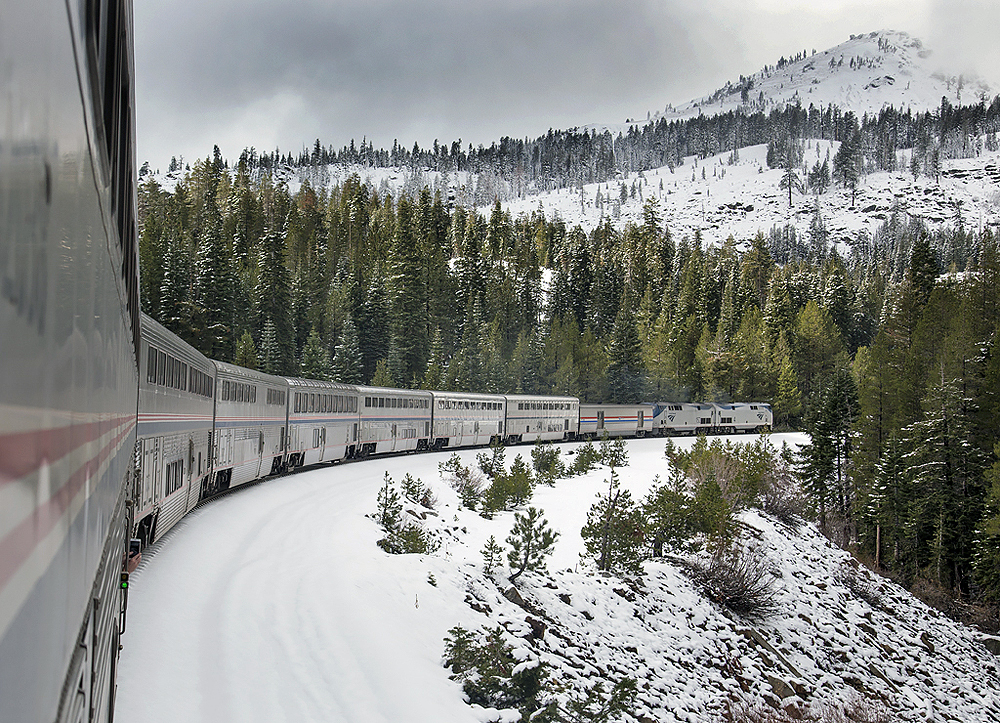 West of Glenwood Springs, our momentum is curbed by the planned-afternoon meet with our Chicago-bound counterpart, eastbound California Zephyr No. 6. Periodic sections of single-track allow for train meets on Moffat, but today's wait for No. 6 is the first opposing train. Sadly, freight volumes are a modest 8-to-10 trains per day now, of which most are UP manifests and unit coal trains. BNSF Railway trackage rights trains add variety, but not enough to significantly bolster train counts. Most of UP's traffic is run-through and it uses the less grade-intensive Overland Route in Wyoming and Utah. A few minutes pass and No. 6 comes into view, passing our train with its markers carried by another private varnish, the Sierra Hotel. Amtrak engineers exchange roll-by inspections and we're soon rolling again. One word to recap the operating performance of the entire trip: punctual. It's about 75 miles to Grand Junction Colo., and the Rockies' best scenery is largely behind us. But we've only surpassed a little more than half of our 2,348-route miles. Much of the journey remains.
Zephyr finale: Grand Junction, Colo., to Emeryville, Calif.
Reaching Grand Junction in the late afternoon hour uncovers a line of stored UP diesels consisting of sun-faded EMD GP15s and surplus four-axles of storied predecessor railroads. A new outbound Amtrak crew boards to guide us to Utah, through Prince Canyon, and northwest to Salt Lake City. Two and a half hours of daylight remain, the last post-6-o'clock sunset for the year, as our train plies westward on the eve of Daylight Savings Time.
Passenger train speeds fluctuate from 65-to-79-mph averages as we enter Utah's high desert. Bernd Mueller is our chef, and the aroma of tonight's supper has persuaded a visit to the galley. Late evening light is prime and after capturing a few glints of our train navigating graceful curves near Thompson Springs, Utah, I retreat to the Solarium. 20 hours remain in the journey and it's hard to imagine that by tomorrow, we'll be offloading luggage by the San Francisco Bay.
While the Rio Grande's march over Soldier Summit, Price Canyon and its presence in Helper, Utah, is well-storied and exceptionally photogenic, the westbound Zephyr travels this segment under darkness, and given the day's excitement over Moffat, this section seems less inspiring in the dark hour. Post-dinner cocktails and camaraderie reflecting on prior Zephyr journeys result in an early night. All is quiet well before reaching Salt Lake City.
In the most lonesome hour of the night, I find myself awake and aware that our train has stopped. I'm assuming we are in Salt Lake City, but a peak outside reveals it's just as dark as it is in the roomette. I chalk it up as some type of freight delay and fall asleep. It would not be until breakfast that I learned our pause on the outskirts of Elko, Nevada, was due to gaining an hour during Daylight Savings Time. We had stopped along the high desert of the Southern Pacific's Overland Route until closer to our scheduled arrival time at Elko after gaining the hour. This was the longest lull, for any reason, outside of station stops, since departing Chicago.
Breakfast is served before reaching Reno, Nev., and we've already separated from the Western Pacific main just west of Winnemucca, Nev. We're following the SP west in the early morning hour. I find myself studying today's highpoints. The extent of my California railroad knowledge includes the Santa Fe's southern transcon in the Mojave Desert, SP's Tehachapi loops, and Amtrak's Pacific Surfliner. It's new experiences from this point forward.
It's a beautiful crisp afternoon in Truckee, Calif., as lake-goers pause at the platform for a glimpse of the Zephyr. There's not a cloud in the sky. But 15 minutes later on our initial climb to the summit of the Sierras at 7000-plus-feet, we've traded snow for sun and temperature is plummeting with each incline. It's evident why the line is equipped with a number of snow sheds and elevated signal bungalows.
Donner's engineering is impressive and UP's ability to keep freight moving on a corridor with an already measurable snow base in the first week of November demands respect, though I find this afternoon's trek over the pass, and the anticipation leading to Donner, less exhilarating than Moffat a day prior and 1,000 miles ago. Perhaps I'm bias to the Rio Grande.
As we gracefully descend the Sierras on the approach to Roseville, Calif., our journey is in its final hours. We are tidying our roomettes, grabbing snacks, and visiting the vestibule during our brief stop in Sacramento. From here, we are bidding our farewells to newfound friendships, while Burt and team are coordinating arrival logistics with the Amtrak operations folks in Emeryville. With more than 2,340 miles behind us, we gracefully arrive at Emeryville within a few minutes of the as-advertised arrival time.
Zephyr: post-platform and author's recap
It seems inadequate to recap a two and half day trip reliving the bygone days of America's passenger elegance in only a few hundred words, but the truth is, of all the memories experienced at different railroads, I'm exceptionally fond of my 50-hour residency on the Zephyr. And as time passes, I've grown more appreciative. During our trip, Burt and Al had invited Joe Mazur and his wife Debbie to join us. Mazur is the President and CEO of the Cuyahoga Valley Scenic Railroad. The three Zephyr railcars were sold to the Ohio tourist railroad in September 2018, 10 months after our trip.
Today, California Zephyr Railcar Charters no longer exists as an operator of private railcar trips, but still consults. The decision to sell the railcars to the Cuyahoga Valley allowed Burt and Al to pursue other opportunities at a time when Amtrak, coincidentally, rolled out stricter policies and increased costs for handling private varnish on its trains. It wasn't that Amtrak took a position forbidding private varnish, but it expanded its policies and added new rules under former President Richard Anderson. The passenger railroad also increased mileage tariffs and ancillary charges that it believed could be absorbed by operators and their clientele. And there's validity to that approach, but the unexpectedness in which these revised rules and rate hikes were published created skepticism for some in how Amtrak valued its private varnish customers, prompting some owners to sell their railcars. This thinned the herd for mainline mileage, while it created opportunity for tourist railroads.