Santa Paula station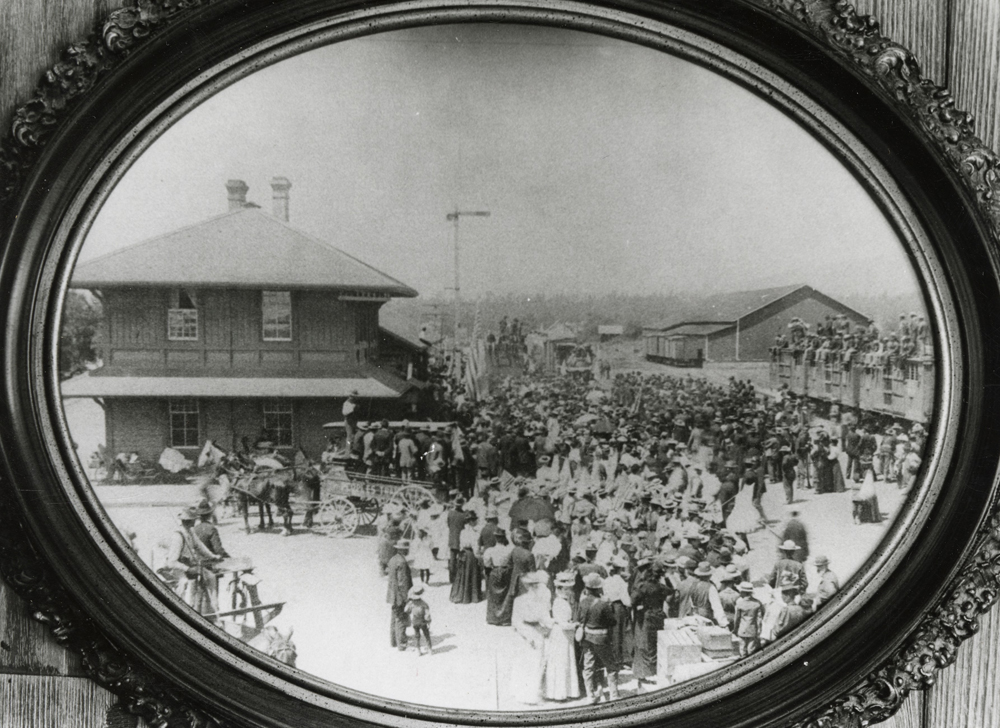 ---
In the 1880s, Santa Paula was a bustling little farming community in Southern California's Santa Clara River Valley. A hub of local agricultural products, it was an ideal area to grow fruit and vegetables, with its mild temperatures and cool breezes flowing in from the nearby Pacific Ocean. It still is today.
Southern Pacific constructed its north-south San Francisco-Los Angeles main line to meet its route between LA and the San Joaquin Valley at Saugus. Any through train going up the Coast Line stopped at or traveled through Santa Paula. In 1887, the railroad built a two-story freight and passenger station here, the first in Ventura County.
Change, as we know, is inevitable, and a new, shorter route along the Pacific coast was built a few years later. Starting near Ventura, just up the road from Santa Paula, SP would send its trains through the Simi and San Fernando valleys straight to the City of Angels.
The original line through Santa Paula, Fillmore, and Piru was downgraded to a secondary main, then to a double-ended branch. It saw fewer and fewer trains, most of them locals serving the many online fruit-packing houses. Severe storms flooded the eastern end in the 1970s, washing out right-of-way and bridges between Piru and Saugus. Traffic didn't warrant reconstruction and shortly after SP cut service to no farther east than Santa Paula.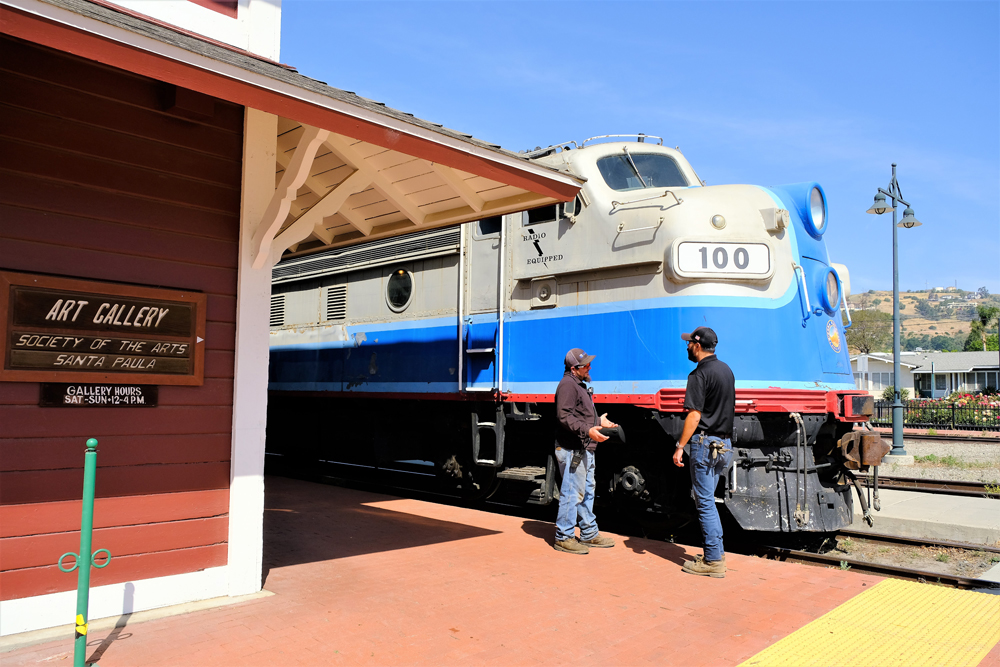 ---
Eventually the Ventura to Piru segment was purchased by Ventura County Transportation Commission in 1995, the goal being to eventually rebuild the line back to Saugus and entice commuter agency Metrolink to operate over it. In the meantime, a lease was signed with Fillmore & Western, a non-common carrier that was a frequent location for television, movie and commercial productions, punctuated by excursion trains, and Christmas specials.
When the 20-year-lease expired in 2021, a competitive selection process began to find a new operator. Sierra Northern Railway, a shortline operator of the original Sierra Railroad in California's Gold Country among others, won the bid. Now a bona fide common carrier known as the company's Ventura Division, the railroad has re-established an interchange with the Union Pacific. The line is slowly coming back as a revenue-producing member of the national rail network and a valuable asset to the entertainment industry. It's also continuing its role in the entertainment business.
Through it all, the former SP station has stood at 963 E. Santa Barbara Street in Santa Paula even though passenger trains quit the line in 1934 and the depot was declared surplus by the 1950s. The city of Santa Paula picked it up and refurbished it. It was designated a Ventura County Historical Landmark in 1972.
Today the station houses the city's chamber of commerce, as well as offices belonging to the Sierra Northern Ventura Division. Railbikes, a recent addition to the railroad, are also based here, with riders purchasing tickets inside and then heading trackside to begin their adventure.
The Santa Paula station has come full circle. It's not only a great place to visit, it is a spectacular example of 19th century construction still in active use today. Yes, there are other former SP stations in the area. Some, like the one in the eastern Simi Valley, are totally refurbished; others, such as the one in nearby Saticoy, are in a state of arrested decay. But none of them are a working part of 2023 railroading.
Today, there are no train orders to hoop up and residents don't congregate here anymore when they hear a train coming into town. But it's still a great place to work. The station is cool in the summer and with the help of a heater, warm in the winter. The view out the bay window is pure railroading. I should know, I look out of it every day while doing my job.