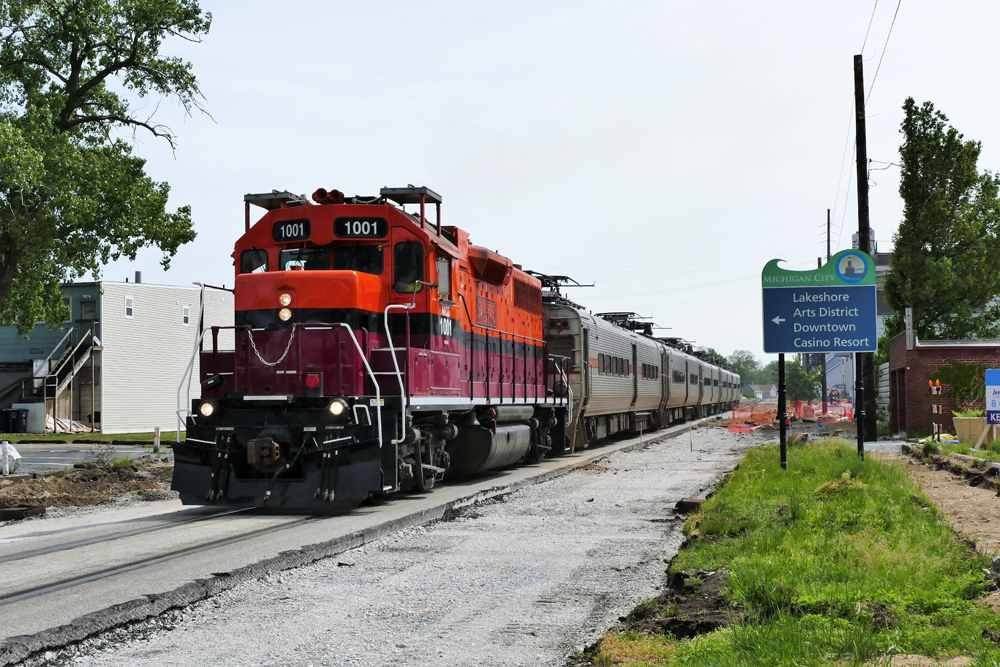 ---
PORTER, Ind. — As one major construction project remains on schedule, another is about to begin for the Northern Indiana Commuter Transportation District.
The Times of Northwest Indiana reports that at a Monday meeting in Porter, the district's board of directors was told that the South Shore Double Track project, building a second main line between Gary and Michigan City, Ind., should see the Michigan City-Dune Park portion complete by the end of the year. After that, it will shift west for work on the Dune Park-Gary section. At the same time, work is about to begin on the West Lake Corridor, an 8-mile spur line to Dyer, Ind.
"Drive to Michigan City from here and you will see nothing but hundreds of construction workers," Michael Noland, NICTD president and general manager, told the meeting. He also told board members that by the time they meet again in July, both projects will be "in full construction mode."
Buses replaced trains between Michigan City and Dune Park in late February, as the project brought an end to most of Michigan City's celebrated street running [see "Double-track construction set …," Trains News Wire, Feb. 22, 2022]. The street running and construction project are also featured in the July 2022 issue of Trains Magazine.
Since construction work began, the buses have carried almost 23,000 passengers between Michigan City and Dune Park. When work on that stretch is complete, the bus bridge will shift to the Gary-Dune Park section.
The full double-track project is slated to be finished in 2024.
Main construction work is set to begin in June on the West Lake Corridor, a three-year project, $945 million project for a line from Hammond, Ind., to Dyer. Work will begin in Hammond, where the line must be elevated to cross the Grand Calumet River and freight railroads before reaching ground level downtown. At Monday's meeting, the board approved about $6.6 million in improvements for the corridor station to be built in Munster, Ind., as well as work on associated infrastructure.
More information on the Double Track project and West Lake Corridor is available at the projects' respective websites.