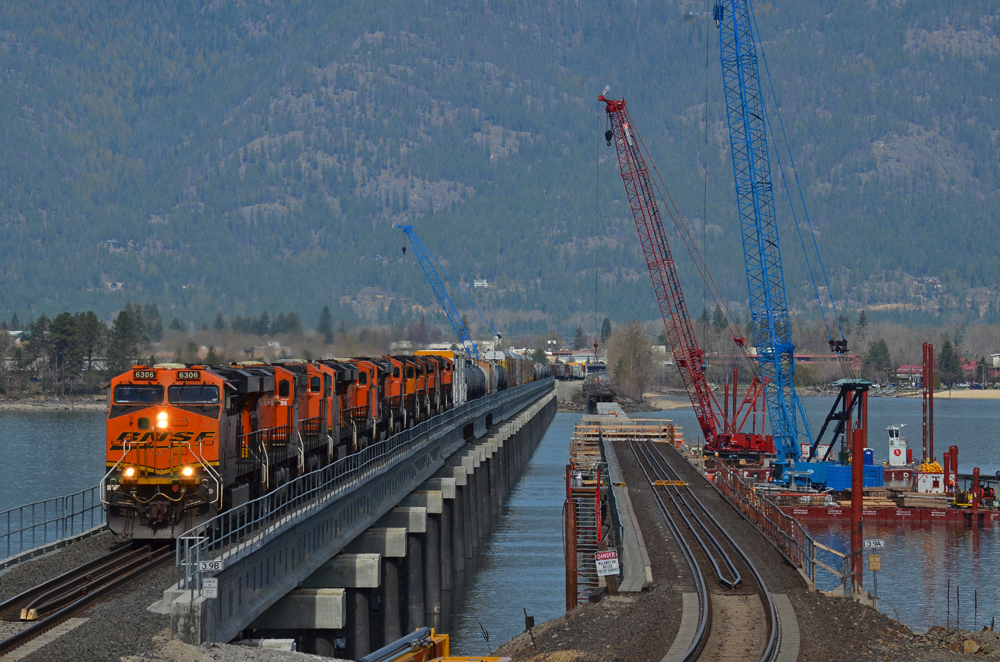 ---
SANDPOINT, Idaho — With BNSF Railway  and Montana Rail Link trains now using the new 4,873-foot long Lake Pend Oreille bridge opened in late November 2022 outside Sandpoint, Idaho, the adjacent bridge opened by Northern Pacific in 1904 is undergoing reconstruction.
BNSF says the work involves "replacing all 59 of the remaining original 1904 bridge spans, including the no-longer-operational swing span." That swing span was the only thru-truss section on the old bridge, and a familiar sight to generations of railfans who have photographed trains crossing the lake for more than a century.
Existing concrete piers are receiving what BNSF describes as "some minor reinforcement above the low-water line." These upgrades are a follow-up to work performed during 2008-09, when new decks and new steel piers with pre-cast concrete caps were installed at both ends of the old NP bridge.
The 1904 bridge, previously designated as Bridge 3.9, is now identified as Bridge 3.9A. The adjacent bridge that opened late last year [see "BNSF opens new bridge …," Trains News Wire, Nov. 22, 2023] is identified as Bridge 3.9B.
Once trains begin using the ex-NP bridge again later this summer, BNSF will have two parallel main lines operating over Lake Pend Oreille. Approximately 1 mile of second main track will ultimately be added between the bridges and Sandpoint Junction, enabling more efficient flow of traffic through the often-busy connection where Montana Rail Link (slated to become BNSF's MRL Subdivision) ties in with BNSF's Kootenai River Subdivision. Passengers using Amtrak's Empire Builder will notice changes being made to the platform and other amenities in order to fit the new track between the existing main and Sandpoint's historic ex-NP depot.