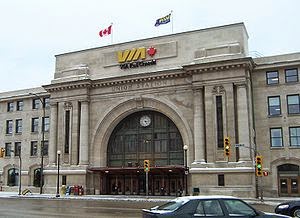 WINNIPEG, Manitoba — The Winnipeg Railway Museum, which has displayed a collection including a landmark steam locomotive at the city's Union Station for 30 years, is facing closure and relocation from its longtime home.
The CBC reports the museum has been told its location at the 110-year-old station requires significant work to be brought up to code, and even then, there's no certainty the museum could stay put.
The museum operated by the Midwestern Railway Association and Winnipeg Model Railway Club displays 37,500 feet of rail artifacts along tracks 1 and 2 of the station, now owned by VIA Rail Canada. Among the rolling stock on display is the Countess of Dufferin, a Baldwin 4-4-0 built in 1872 that was the first steam locomotive in Canada's prairie provinces.
Museum spokesman Gordon Leathers told the CBC that the group has been told it would have to do "some major, major renovations on it that, quite frankly, we can't afford." Even then, the City of Winnipeg has plans to convert the station into a transit hub that would include the use of tracks 1 and 2, which would require the museum's relocation.
The museum is beginning the process of searching for a new home. In the meantime, it will remain open at Union Station through Dec. 31. "We're still at the very start of this," Leathers said, "so we do have to put out our feelers and see what we can do and what people can do to help."