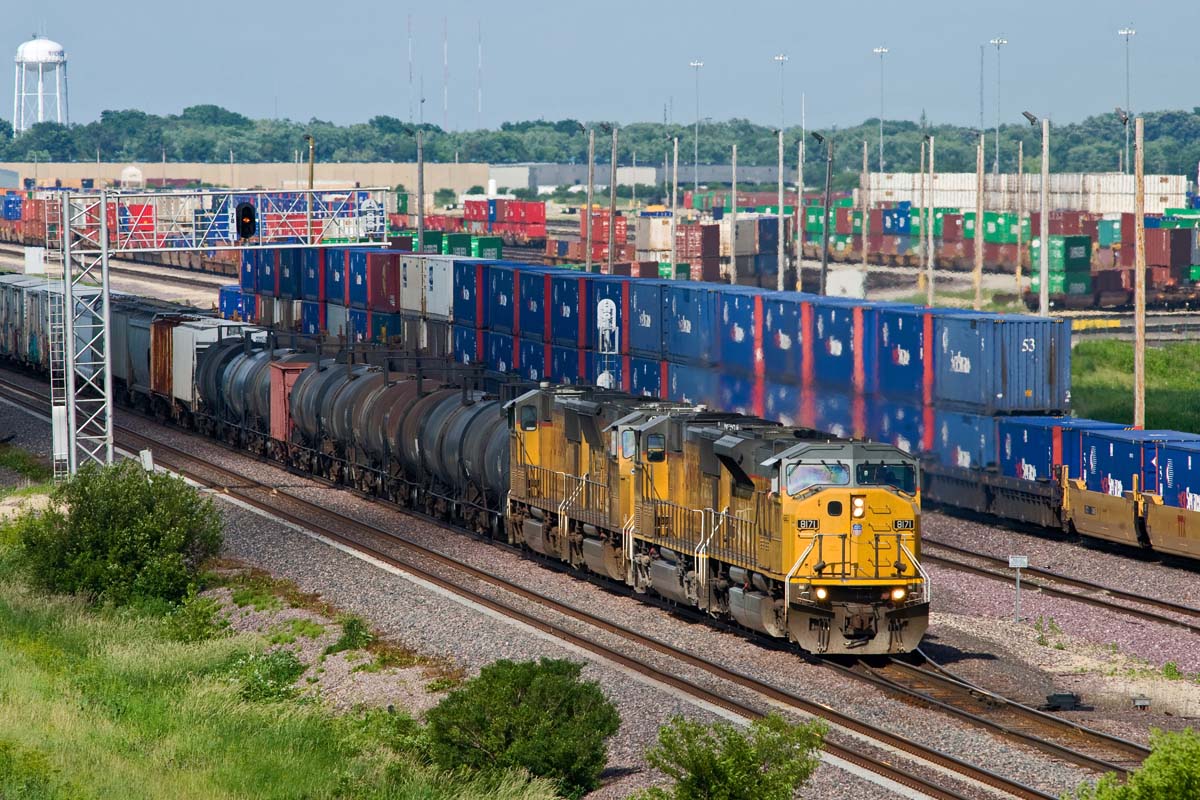 CHICAGO — Union Pacific may temporarily reopen its idled Global III intermodal terminal in Rochelle, Ill., to help relieve congestion at its Global IV terminal in Joliet, Ill.
UP informed customers Wednesday it will temporarily halt shipments of international containers from all West Coast ports to its Global IV terminal for up to a week, beginning on Sunday night [see "Union Pacific suspends inbound international container shipments …," Trains News Wire, July 14, 2021].
"We believe this change will allow the transportation supply chain to begin working off the backlog of Global IV destined trains, while freeing up railcar assets to support import loading needs on the West Coast. We are working closely with the ocean carriers and collaborating wherever possible to improve the health of the supply chain," UP spokeswoman Robynn Tysver says.
Union Pacific is not alone in facing such issues. BNSF Railway also is struggling to handle the West Coast demand surge and congestion at inland terminals.
Due to labor shortages and pandemic-related protocols, shippers have been slow to pick up and return containers to intermodal terminals, which has in turn crimped chassis supply and drayage capacity – and created a backlog at terminals.
Global III, which once could handle 720,000 lifts per year, was closed in 2019 as part of a streamlining of UP's intermodal facilities in the Chicago area. [see "Union Pacific to streamline Chicago-area intermodal terminals …," News Wire, May 2, 2019]. As part of the terminal consolidation, UP facilities now focus on a specific business segment: Global IV became the primary international terminal, Global II handles domestic shipments, and Yard Center is devoted to auto parts and north-south traffic. UP also expanded Global II and Global IV.
"International supply chains have been straining under the weight of economic growth since the early stages of the COVID-19 recovery. Container processing at port terminals in Southern California has increased and Union Pacific's rail shipments to and from the ports have risen and are near record highs. Union Pacific is concurrently experiencing significant congestion at our inland intermodal terminals, most notably in Chicago," Tysver says.
"Union Pacific has been working proactively with the ocean carriers to encourage more rapid out gating of boxes at inland terminals. Recently, Union Pacific held an ocean carrier symposium to discuss the supply chain challenges, identify areas of constraint, and review actions to relieve congestion," she says. "One solution Union Pacific has offered has been opening our Global III facility as an interim import container storage location."
BNSF Managing Flow of Trains
To deal with its intermodal issues, BNSF has taken steps over the past several months to meter the inbound flow of international traffic to some of its inland intermodal terminals, particularly in Chicago and Memphis.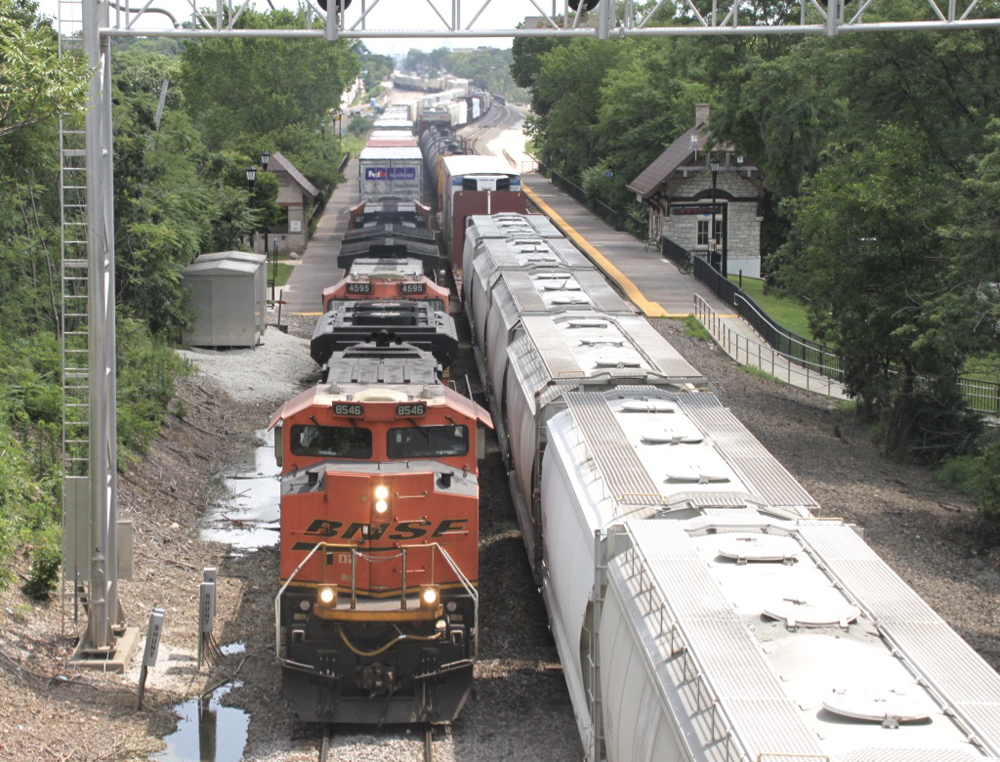 In some instances, BNSF has sent some S-symbol international stack trains out of route so that they take longer to arrive in Chicago or Memphis. For example, some international stack trains originating in Southern California have veered north off the Southern Transcon at Amarillo, Texas, and run to Pueblo, Colo., where they then turn east and head for Kansas City. From there they head to either Chicago or Memphis.
In other cases, BNSF has parked international stack trains in sidings on the Southern Transcon as well as its bypass route through Kansas, sometimes leaving power on the trains and other times stripping the locomotives off the trains for use elsewhere. Some of the trains have been parked for more than a week awaiting terminal space in Chicago and Memphis.
"Cargo volumes have soared as consumer demand for goods remains high and this is challenging resources along the West Coast," BNSF spokeswoman Amy Casas says. "We are all facing the challenge of containers tendered on the west end of our network in greater volumes than are being pulled from our gate at certain inland hubs. Ultimately, this challenge requires pipeline management. BNSF remains committed to working closely with the ocean carriers and our customers to ease constraints and restore supply chain fluidity."
As a way to keep terminals fluid, BNSF also has expanded off-terminal parking and boosted lift capacity by 20%.
"Our intermodal facilities have been heavily impacted by historically high container dwell and chassis shortages that are driven by extended over-the-road drive time and customer unloading times that have been as much as 48 hours longer than normal," BNSF CEO Katie Farmer wrote to the Surface Transportation Board last month.
BNSF does not control the chassis pools at its intermodal terminals.
"Thus, while we have increased our lift equipment and aggressively used available offsite lot capacity, our fluidity nevertheless relies in part upon the capacity and performance of our trucking and ocean carrier partners, as well as our beneficial cargo owners effectively managing their own pipelines and efficiently turning chassis pools," Farmer wrote.
Chicago is the largest single destination for cargo that arrives at the ports of Los Angeles and Long Beach, the busiest port complex in North America. The Port of Los Angeles handled record container volume in June, while the neighboring Port of Long Beach saw volume decline in June from record May levels.
In a news conference yesterday, Gene Soroka, executive director of the Port of Los Angeles, said BNSF and UP are hustling empty equipment, locomotives, and crews back to the West Coast to help move the surge in containers.
But he says the entire intermodal supply chain is under strain due to trade imbalance and a 100-year surge in consumer buying. "There is no one lever we can pull. There is no one cause that is to blame for the ill of the supply chain on a global basis, much less here in Los Angeles," Seroka says.
Port officials continue to work closely with BNSF and UP. "Believe me, those folks at the highest levels are working around the clock to solve the rail issues," Seroka says.
A spokesman for the Port of Long Beach offered similar recognition of the difficulty of the problem.
"It's been an extremely busy 12 months for the entire supply chain, and we recognize that UP is making this move to mitigate the issues it's experiencing at its Chicago hub," Lee Peterson, media relations manager for the Long Beach port, wrote in an email. "It's not unheard of for railroads to put some routes on pause in order to catch up. We're confident that the supply chain will adjust and overcome any backlogs."
Questions About UP's PSR Changes
When UP idled Global III as part of its shift to a Precision Scheduled Railroading operating model, no one envisioned the pandemic or the supply chain disruptions it would bring.
"The fact that BNSF is not immune gives UP and PSR some cover," says independent rail analyst Anthony B. Hatch. BNSF remains the sole Class I railroad to not adopt Precision Scheduled Railroading.
"But PSR is naked and alone in the eyes of the STB," Hatch says.
Intermodal is exempt from STB regulation, but STB Chairman Martin J. Oberman has encouraged railroads to find solutions to congestion at intermodal terminals.
UP needed to simplify its intermodal operation in the Chicago area, Hatch says, but the railroad had "unlucky timing" with the closure of Global III.
Intermodal analyst Larry Gross says UP gave up surge capacity with the closure of Global III. "I think the key word is resiliency. When UP right-sized for the then-current volumes they sacrificed surge capacity for the unexpected," Gross says. "It's not fair to UP to say they are at fault, because they didn't anticipate the pandemic. But there is always something going on in the supply chain and they need to be prepared. Tariff changes, polar vortex, fire blockade, etc. If you don't have any additional capacity in your hip pocket, even moderate disruptions put you in a world of hurt."
Gross says truckers who showed up at Global IV with their own chassis have been turned away at the gate because UP has been unable to spare lift operators to grab the container out of the stack. "So one potential safety valve was stymied, because the No. 1 priority was keeping the trains running as opposed to getting freight all the way to where it belonged and they didn't have the resources to do both," he says.
"This is not to pick on the UP; it is a general PSR issue," Gross adds. "I think the same could be said about most other railroads. It's probably time to give the old 'wheeled' terminal a good look with the idea of converting to grounded operation."
 — Updated at 8:35 p.m. on July 15 with comment from Port of Long Beach.