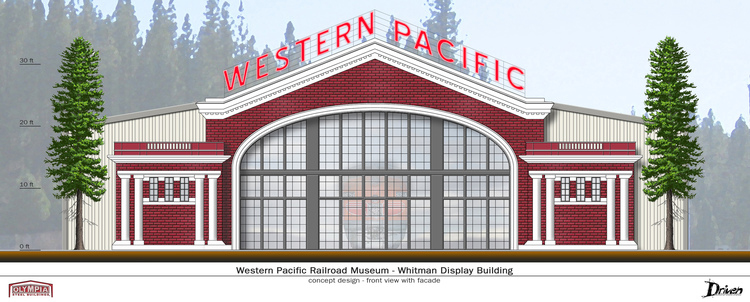 ---
PORTOLA, Calif. — The Western Pacific Railroad Museum has received a $1 million grant from the U.S. Department of Agriculture Rural Development Fund for phase one construction of its Frederick Whitman Multi-Purpose Building.
The grant, received with the assistance of U.S. Rep Doug LaMlfa (R-Richvale, Calif), will help fund construction of a 100-foot by 200-foot, climate-controlled building capable of storing 10 to 16 pieces of equipment, hosting community events, and functioning as a disaster evacuation center.  Named for Western Pacific's longest-serving president, it will feature a façade based on the Western Pacific Ferry Terminal in Oakland, Calif. The building will feature five tracks for equipment display and ADA-compliant restrooms.
The Feather River Rail Society is currently completing requirements for release of the funds and putting together local contractors to finalize design and permitting details.
More information on the museum is available at its website.