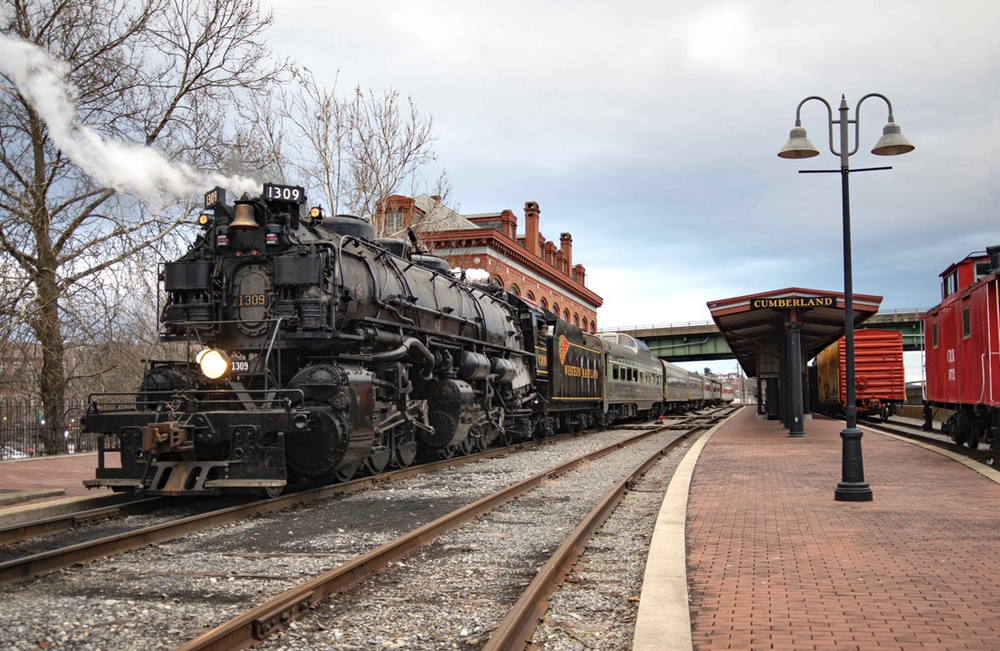 ---
CUMBERLAND, Md. — The Western Maryland Scenic Railroad will hold a steam-powered fundraiser Oct. 14 to benefit restoration of the Railroaders Memorial Museum's Pennsylvania Railroad K4s-class 4-6-2 steam locomotive No. 1361, based in Altoona, Pa.
An evening dinner train will be pulled by WMSR's ex-Chesapeake & Ohio Railway 2-6-6-2 engine No. 1309 (Baldwin, 1949), temporarily wearing No. 1361's three-chime PRR Blue Ribbon whistle. Offering one-price, no-assigned-seating, all-first-class accommodations in coach, lounge, and dome cars, the train will follow WMSR's customary 16-mile route from Cumberland to Frostburg, Md., via the former Western Maryland Railway main line.
Capacity is 200 passengers and the fare is $361. Tickets are available at the WMSR website, www.wmsr.com.
Other features include a pre-departure reception, two night photo opportunities, raffles for cab rides in No. 1309, a cash bar, and live music. Patrons will have the opportunity to visit the cab and blow 1309's (1361's) whistle.
"There are similar synergies between our museum here in Altoona and the Western Maryland Scenic Railroad, with positive new directions at both organizations," says Railroaders Memorial Musuem Executive Director Joe DeFrancesco. "We want to show the ticketholders who are willing to support the museum and the K4 what we hope and dream to do in Altoona, creating an attraction, bringing people into Altoona for tourism [while] connecting the dots between the various rail heritage sites such as East Broad Top, the Everett Railroad, and Cumberland."
DeFrancesco credited Wes Heinz, WMSR executive director, for proposing the idea. "It is a testament to Wes's support of preservation that the Western Maryland Scenic Railroad is really going to bat for the museum and 1361," DeFrancesco says. "We are hoping to attract our regular donors to buy tickets. If the train is sold out, it will be a very successful fund-raiser. We will announce how much we raised upon the conclusion of ticket sales.
"It'll be a gala on the rails," DeFrancesco says. "We're hopeful that people will take advantage of this very unique experience to ride behind one steam engine to support another. It's a perfect example of how the preservation community can come together to support worthwhile causes. There's definitely strength in numbers."
Heinz says in a press release from the two organizations that Western Maryland Scenic's "recent success in completing our own locomotive restoration has set us to help other like-minded organizations, and we couldn't be happier than to welcome supporters of 1361 aboard. In the future, we could likely host 1361 in the Allegany region, and fundraisers like this will be key to making that a reality." [Editor's note: Allegheny, Allegany, and Alleghany are accepted spellings in various parts of the region.]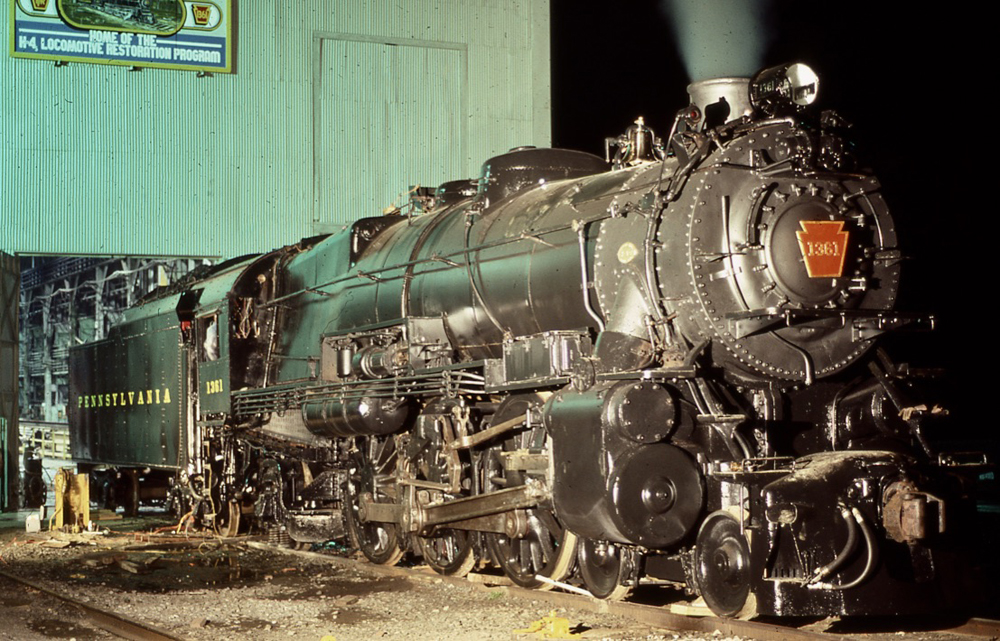 Built in Altoona by PRR's Juniata Shops in 1918, No. 1361 is in the midst of a $2.6 million overhaul to restore it to operating condition. The 150-ton passenger locomotive was retired in 1956 and the next year was put on display at the nearby railroad landmark, Horseshoe Curve.
It was one of 425 K4s-class engines built by Juniata (350) and Baldwin Locomotive Works (75). The type dominated the carrier's passenger-locomotive fleet for nearly 40 years, until the last were retired in 1957. Only two survived; the other is No. 3750 (Juniata, 1920) at the Railroad Museum of Pennsylvania in Strasburg, Pa.
In 1985, the Altoona museum removed No. 1361 from Horseshoe Curve and restored it to operation briefly, in 1987-88.
In June 2021, RMM Board Chairman Wick Moorman and DeFrancesco announced a new push to reactivate the engine [see "PRR K4s engine No. 1361 to be restored …," Trains News Wire, June 25, 2021]. The project got a major boost toward the next stage of restoration when the Pennsylvania Railroad Technical & Historical Society raised more than $100,000. turning over the proceeds earlier this summer. [See "PRR group raises $100,000 …," News Wire, June 28, 2022].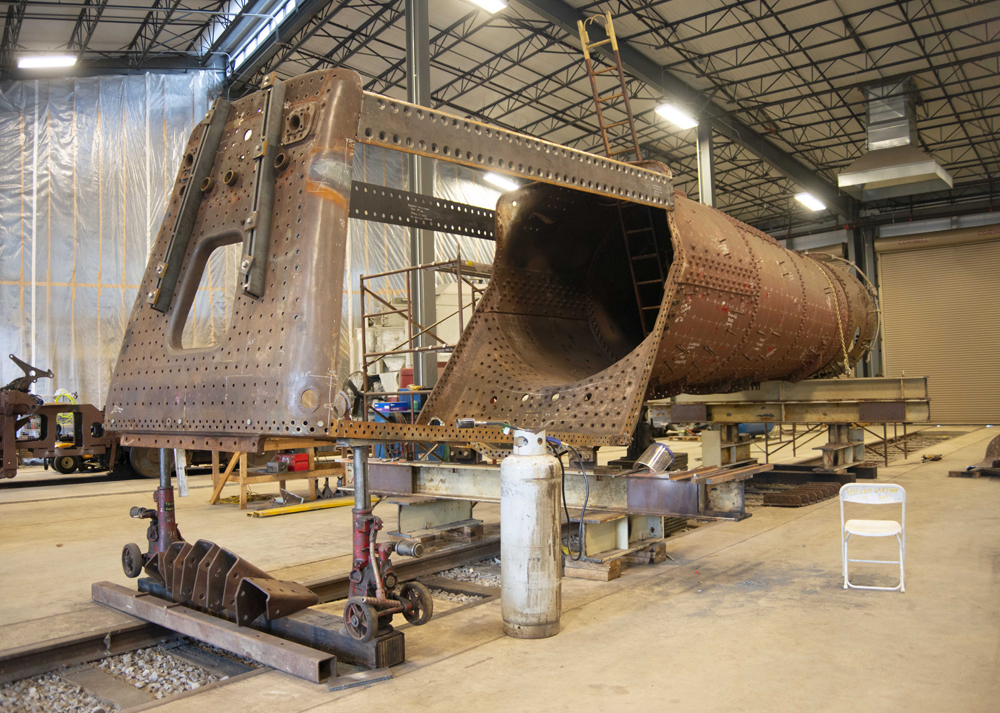 The next step is to fabricate a new Belpaire-style firebox to replace the original, which no longer meets federal boiler safety standards. The Technical & Historical Society grant is being used to purchase steel to form the outer-wrapper components of the new firebox. Once the fabricating of those parts is complete, they will be delivered to Altoona for fitting and installation.
A widely known steam-locomotive consulting firm, FMW Solutions LLC, is providing oversight and fabrication assistance, guiding a team of local volunteers.
Located about 65 miles apart, Altoona and Cumberland share roughly similar railroad histories. The museum tells the story of PRR's sprawling 218-acre shops complex, which once employed 15,000 workers, while Cumberland was home to Baltimore & Ohio Railroad's less-extensive Cumberland Shops. Both PRR and B&O built their shop facilities at the base of the Alleghenies, where each road launched its respective climb up the Allegheny Escarpment to reach the Midwest.