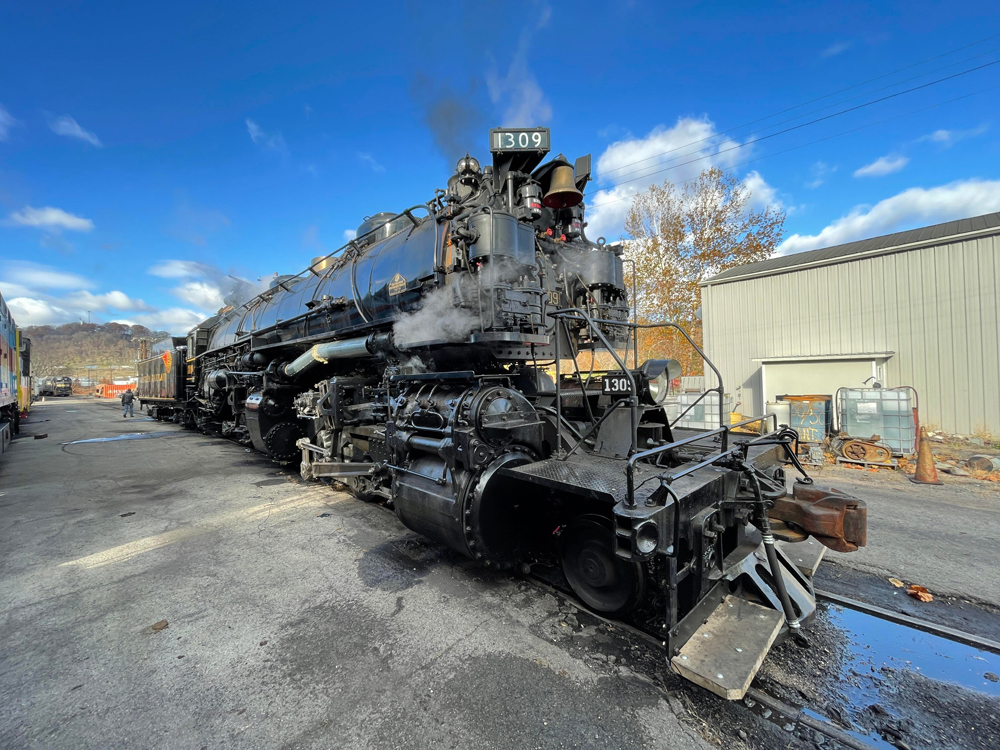 CUMBERLAND, Md. – On Friday, May 6, before the Western Maryland Scenic Railroad's first 2022 public excursion behind Baldwin 2-6-6-2 No. 1309, the railroad celebrated the life of steam railroading luminary, Jack Showalter. Inside the former Western Maryland Railway's Cumberland station, officials and guests saluted the people behind No. 1309's recent restoration, and shared memories of Showalter, whose Allegany Central Scenic Railroad operated steam excursions on the 16-mile ex-WM line between here and Frostburg, Md., beginning in 1989.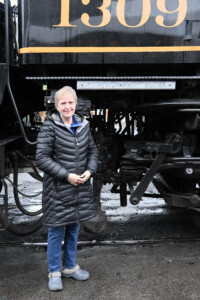 At the suggestion of Chuck Ayling, a retired computer programmer from Roanoke, Va., No. 1309 now carries an aluminum plate reading "For Jack Showalter" on each side of its cab. Ayling rode Showalter's trains in Virginia and Maryland from the 1970s through the 1990s and admired his entrepreneurial spirit and eagerness to share his trains – including the locomotive cab – with anyone who showed interest.  Ayling made a significant donation toward No. 1309's rebuilding.
In remarks at the station, Bob Flanigan, Frostburg mayor and WMSR board member, said that he met Showalter while on duty as a young police officer more than 30 years ago.  "What are you doing tomorrow, son?" he remembered Showalter asking, and to his reply, "It's my day off," he said, "Come ride with us!"
WMSR Board President Mike McKay called the railroad "the backdrop to our community" and praised Wesley Heinz, WMSR's executive director, as "the right man in the job" to lead the crew finishing the restoration of No. 1309.  McKay, a Maryland state representative, serves as liaison between the railroad and the statehouse in Annapolis, Md. He credited Gov. Larry Hogan for the state's outstanding support of the WMSR.
Jack's daughter Sally Showalter-Kammauff, spoke about her father, whom she called "a true son of the Chesapeake & Ohio."  Showalter worked for the railroad at its Clifton Forge, Va., freight depot and locomotive shops for decade during the 1940s and '50s.
"My father visited the 1309 many times in the B&O Museum," she says, "dreaming of the day when she would be restored and brought to western Maryland, where she would be right at home."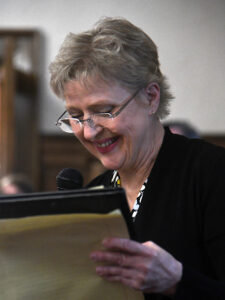 Honoring everyone who had worked alongside her father on his trains over the years, Kammauff read a list of dozens of names.  A great number of those former volunteers stood in the crowd. They had originally come together sharing a love for steam; the friendships that they formed under Showalter's aegis and tutelage have lasted throughout their lives.
Of her father, Kammauff says: "The community that produced my father was completely centered around the Chesapeake & Ohio.  When I say 'a true son of the C& O', I am speaking not just of his service, but of his family's service and of his deep and abiding love for the railroad and its importance to his community. The original Alleghany Central was certainly founded on my father's affection for steam, but it was even more so a love letter to his own beloved Dad and to his community – a way to develop his hometown and make the world a better place.  Plus, he made a few incredible friends along the way."
The seven-year restoration project that culminated in No. 1309's first revenue passenger runs in December 2021 suffered more than its share of setbacks. It finally succeeded with help from donations from many Trains readers, as longtime editor Jim Wrinn spearheaded a "Steam the Last Baldwin" campaign.
"Without Jim's enthusiasm and energy, the job might still be unfinished," says Howard Pincus, Railroad Museum of New England chairman. Pincus installed a plaque honoring Wrinn in the cab of No. 1309 on May 5. "It seems entirely appropriate," he says, "that we mark Jim's achievement not just once but for as long as the locomotive runs."