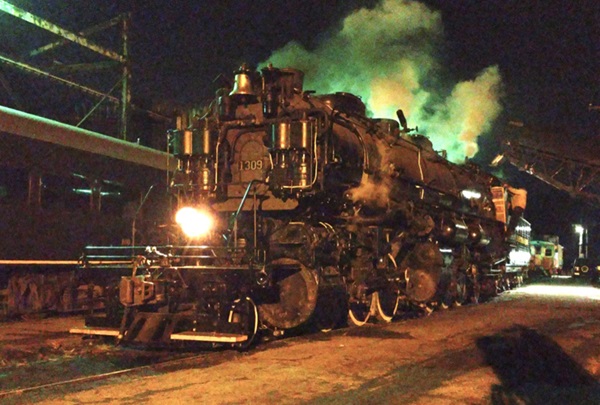 CUMBERLAND, Md. — Western Maryland Scenic Railroad 2-6-6-2 No. 1309 will operate for Polar Express rides in December, if not sooner, the railroad's new executive director says.
Wesley Heinz told the Cumberland Times-News that "Sometime between today and Polar Express [rides scheduled for Dec. 17], No. 1309 will make it out onto the line. We are pushing as hard as we can."
The former Chesapeake & Ohio locomotive, the last Baldwin built for domestic operation, made its first run under steam at the end of 2020 with the help of more than $275,000 in donations raised through a Trains Magazine campaign [see "'Last Baldwin,' Western Maryland No. 1309, makes first move …," Trains News Wire, Dec. 31, 2020]. Some work remained to be done at the time, and in March, the Western Maryland Scenic said the locomotive was waiting its final Federal Railroad Administration inspection [see "Digest: No. 1309 fully operational …," News Wire, March 23, 2021].
The railroad began daily operations last Thursday, after dealing with extensive trackwork that was ordered by the FRA in February [see "Digest: Maryland county to take over …," News Wire, March 15, 2021]. Heinz, named executive director earlier this month after holding the position on an interim basis, is adding more family-focused rides, including an Ice Cream Train and Pumpkin Patch Limited. Heinz said 30% of the tickets for the Polar Express rides, which begin Nov. 26, are sold even though the railroad has not yet begun widespread marketing.
More information on the railroad's excursion is at the Western Maryland Scenic website.