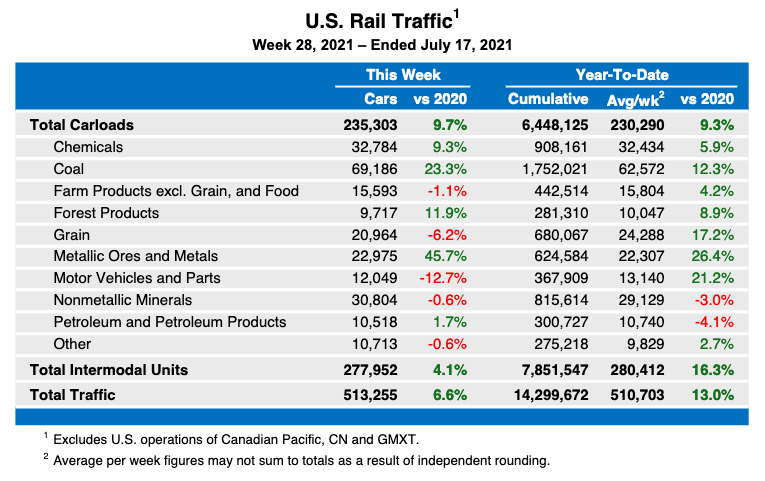 WASHINGTON — A week after U.S. rail volume took a rare dip toward 2020 levels, the latest statistics from the Association of American Railroads once again show a comfortable increase in 2021 traffic over the comparable week a year earlier.
For the week ending July 17, overall rail traffic totaled 513,255 carloads and intermodal units, a 6.6.% increase over the same week in 2020. Those figures include 235,303 carloads, a 9.7% increase, and 277.952 intermodal units, up 4.1%. Auto traffic, impacted by the computer-chip shortage slowing production, is down 12.7% from the same week a year ago.
A week ago, overall traffic was up just 0.6% over the 2020 figure, although the July 4 holiday likely played a role in that figure [see "Rail traffic slips from previous week …," Trains News Wire, July 15, 2021]. The latest figures show overall traffic up 13.6% over the previous week.
Year-to-date figures, through 28 weeks, show total traffic up 13% over 2020, with intermodal units up 16.3% and carloads up 9.3%.
In Canada, where fires in British Columbia have had a major impact on rail operations, traffic rebounded somewhat. The 70,017 carloads for the week represented at 3.5% decline over year-earlier figures, while the 63.748 intermodal units marked a 5.7% decrease. A week earlier, overall traffic was down 6.2% and intermodal traffic was 20.9% from 2020 figures.