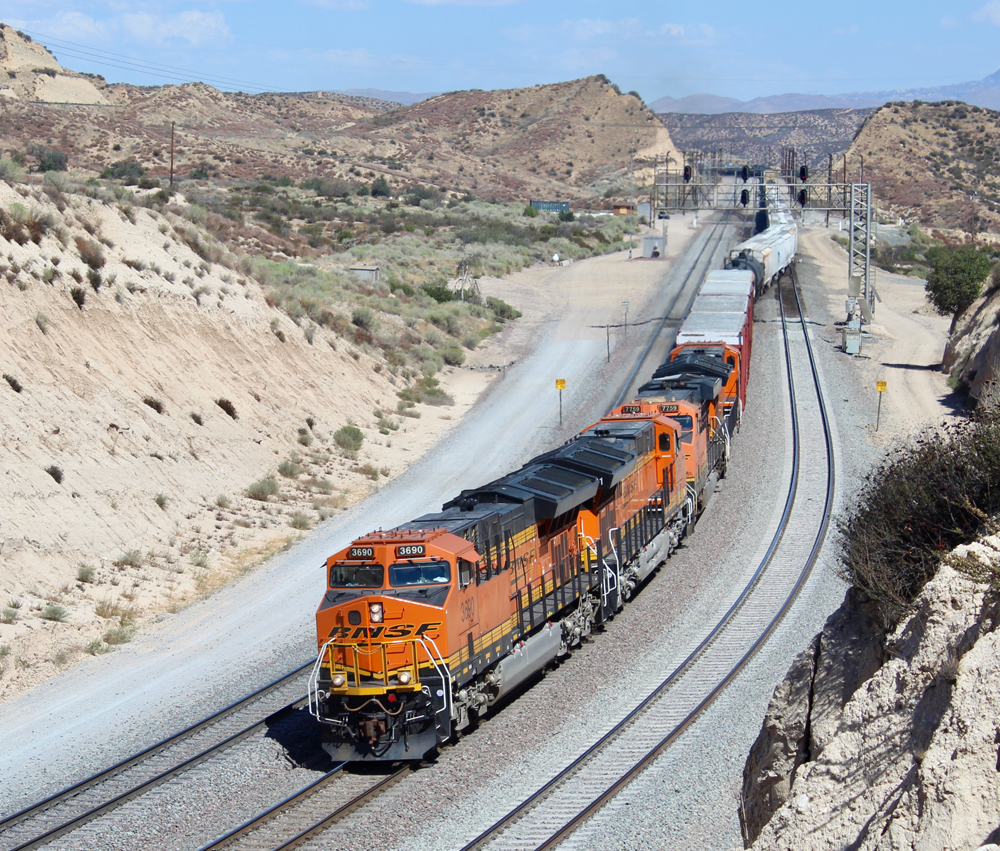 ---
NEW YORK — Wabtec is on a mission to help railroads wean themselves off the diesel-electric locomotive to reduce and ultimately eliminate greenhouse gas emissions.
"We are absolutely taking a moonshot at zero emissions," Gina Trombley, Wabtec's executive vice president of sales and marketing and chief commercial officer, told the RailTrends 2021 conference this month.
Wabtec hopes zero emissions, along with technology to automate operations and make shipments visible across the supply chain, eventually will lead to a 50% shift of truck traffic to rail. "A 50% shift to rail nets you 5 billion gallons of fuel efficiency, 60 million tons of carbon, 18 million fewer truck loads," Trombley says. "I like this moonshot. I like it a lot."
Besides making technology investments on its own, Wabtec is working in collaboration with Genesee & Wyoming and Carnegie Mellon University to develop ways to eliminate greenhouse gas emissions, get more utilization out of the railroad, and reduce accidents and injuries while creating transportation jobs.
All of the Class I railroads have announced their science-based emissions reduction goals, Trombley notes. "The big question," she says, "is what's possible?"
With 75% of active locomotives in the North American fleet produced by Wabtec or predecessor GE Transportation, the company expects to play a big role in the transition to greener locomotives.
"The future of decarbonization … is a silver bucket. There's no silver bullet," Trombley says, borrowing a phrase from Janet Drysdale, Canadian National's vice president of sustainability.
First step: Reducing emissions
Emissions from the existing locomotive fleet can be reduced through greater use of alternative fuels, including biodiesel and renewable diesel.
There's also still room to squeeze more efficiency out of existing locomotives through modernization programs that can reduce fuel consumption by 10% to 15%, Trombley says. Norfolk Southern's DC-to-AC conversion program, she notes, allows the railroad to reduce its roster by 25% to 30% with no loss of total fleet tractive effort. Equipping locomotives with TripOptimizer can produce additional fuel savings.
Wabtec also has a more efficient Tier 4 locomotive in the works. "Our next-gen Tier 4 that we'll put out there is more efficient than the one that is out today, and the one that's out there today already gets you another 8% of fuel, 8% of carbon," she says.
Some railroads — notably Canadian Pacific — have been reluctant to buy cleaner-burning Tier 4 locomotives because they are not as reliable as predecessor models or modernized older units. But Trombley says Wabtec has turned the reliability corner.
"The cleaner a locomotive gets, the more complicated it gets, the tougher it is for it to be reliable. What we've managed to do over the past couple of years in partnership with the railroads is create that fleet that is the cleanest but also … better from a reliability perspective than the existing fleet has been," Trombley says.
Getting to zero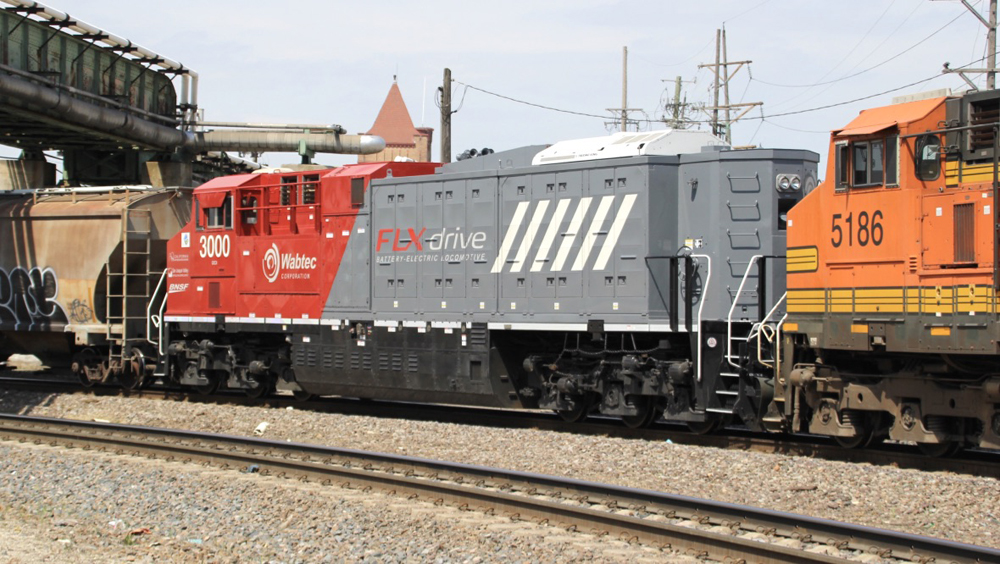 The development of improved battery technology is key to Wabtec's zero-emissions efforts because both the FLXdrive battery-electric and future hydrogen fuel-cell locomotives will rely on carrying electricity on board. Advanced batteries are critical, Trombley says, which is why Wabtec is partnering with General Motors on battery and fuel cell technology.
"We like battery because it's foundational. You're not going to have a fuel cell locomotive without energy storage on board," Trombley says. "So getting the battery right is a critical foundational element to get to a fuel cell."
The FLXdrive battery-electric prototype proved the technology during three months of testing earlier this year on BNSF Railway between Stockton and Barstow, Calif., where it improved fuel efficiency of the consist – the FLXdrive and two conventional diesel electrics – by 11%.
"It proved to be a game changer," Trombley says of the unit, which had batteries with a capacity of 2.4 megawatt hours.
The hybrid consist requires a lot of computing power to manage the flow of electricity and to put the most traction to the wheels. "During the steam to diesel transition, the toughest thing we had to do was figure out how to control the power coming out of the engine to the motors," Trombley says. "One of the most important things about getting this next-gen technology is control. It's how you control the energy going in and out of the batteries, how you optimize it not on the locomotive but across the consist."
Wabtec has a 7 megawatt-hour FLXdrive production model in development at its plant in Erie, Pa. The first buyers are Australian mining railroad Roy Hill and CN, for use on its Bessemer & Lake Erie subsidiary. "Our expectation is that on good routes — with a little bit of topography — it will get about 30% savings on the train," Trombley says.
"We're super excited about launching a battery electric locomotive with CN on the Bessemer line in western Pennsylvania," Trombley says. "It's kind of cool because it's our hometowns. It runs from Erie to Pittsburgh, where we're headquartered."
Deploying new locomotives also involves changes in how to use and fuel them. Wabtec is talking with railroads about how their operational needs will shape the locomotive fleet of tomorrow. "Every day we're having fleet strategy discussions," Trombley says.
The 7 megawatt-hour FLXdrive will take between 4 and 5 hours to fully charge at a power station, compared to just 15 to 30 minutes to refuel a conventional diesel locomotive. By 2025, Wabtec wants to add moving charge capabilities using a pantograph and catenary. Wabtec and railroads aim to determine the right combination of train speed and charging speed to limit the length of catenary, which costs $1 million per mile per track.
"You're going to want to balance how fast you're moving with how quickly it can charge," Trombley said in an interview. Potential locations for charging catenary might be at the base of a long grade or at sites where unit trains are loaded.
Trombley would not disclose the anticipated price difference between a FLXdrive locomotive and a Tier 4 unit, but says the overall economics are good on hilly routes that take advantage of a hybrid consist's ability to recharge the FLXdrive battery by capturing dynamic braking energy when rolling downgrade. "I think it's compelling," she says of the operational cost savings.
Hydrogen can power locomotives two ways: Burned in an internal combustion engine or used in a fuel cell battery-electric locomotive.
Hydrogen can be viewed as a bridge fuel that moves the industry toward zero emissions, Trombley says. The alternative fuel discussion is as much a supply-chain discussion as it is a lower-emission story. Can suppliers make enough hydrogen, biofuel, and renewable diesel — and what is the carbon footprint of those manufacturing processes?
Wabtec is in touch with CP about its hydrogen fuel cell locomotive project. Trombley applauds CP's efforts and says the Calgary-based railway is well-positioned to partner with Alberta, which is working to develop locally produced hydrogen.
G&W's Buffalo & Pittsburgh, the 728-mile regional, will serve as a testbed for Wabtec's new locomotives. "Their diversity of operations makes them well suited as a partner," Trombley says.
Going green in yards
Wabtec aims to develop battery-electric locomotives for yards, as well as automation technology to make yards safer and more efficient.
It's easier to deploy new locomotive technology in yards, where the fleet is in captive service and does not range far from home. The environmental benefits are big because yard power tends to be the oldest and worst emitters in the fleet, Trombley says.
Converting yards to battery-electric will improve local air quality and reduce noise by 70%, boosting the quality of life in communities that surround yards. But because of lower fuel savings, the economic payback of converting yards is lacking and likely will require government grants.
RailTrends is sponsored by independent analyst Anthony B. Hatch and industry trade publication Progressive Railroading.
— Updated at 6:45 p.m. CDT to correct observation on NS DC-to-AC program to note a smaller roster with no decrease in tractive effort.