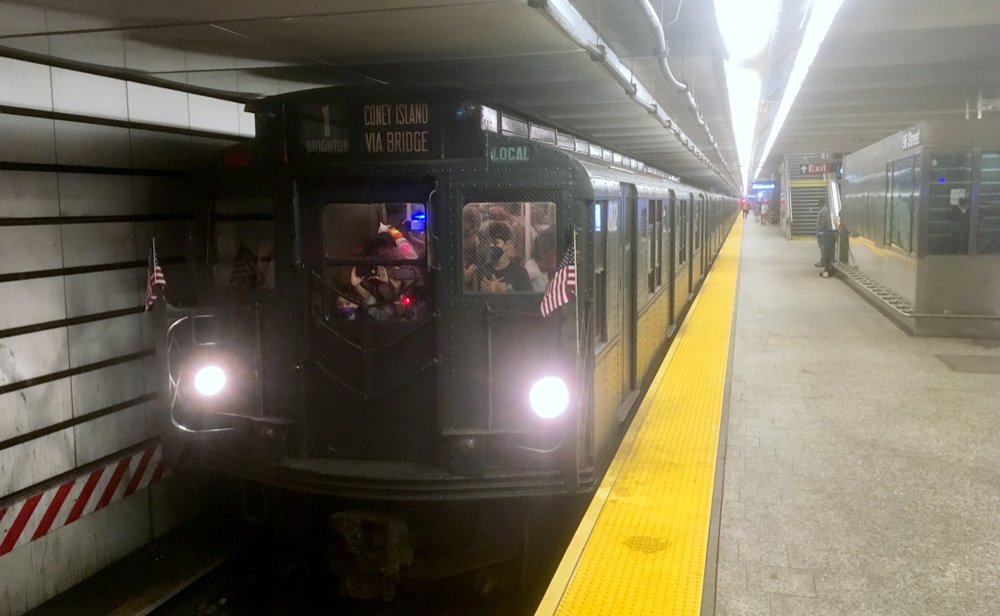 ---
NEW YORK — Historic R-1 through R-9 subway cars built for the IND (Independent) line in the 1930s operated to Coney Island on Sunday in the second of three excursions planned for this summer using equipment from the New York Transit Museum.
The R-1 through R-9 "City Cars" operated with in combination with the "Standards" of the Brooklyn Rapid Transit/Brooklyn-Manhattan Transit Corp., which operated in revenue service for 50 years. This combination never occurred in revenue operations, but the car types were joined for museum operations. Notable in the consist for the Sunday trip was car No. 103, the first NYC Transit car with a drop ceiling.
Sunday's excursion began at 96th Street, the newest station of the long-promised Second Avenue Subway, at 10 a.m., for the two-hour, non-stop trip to the remodeled Stillwell Avenue terminal in Brooklyn — rebuilt about 20 years ago with a curved solar-panel roof, with work done in stages to allow continued revenue service. Passengers had the opportunity to exit the train to walk on the historic boardwalk, visit the Luna Park amusement park, or have a frank at the nearby Nathan's Famous Hot Dogs stand. The train then headed northbound at 4 p.m. on the 175th IND 8th Avenue station.
One summer excursion remains — the "To the Rockaways By Rail" trip on Saturday, Aug. 13. The Transit Museum website indicates that trip is sold out.