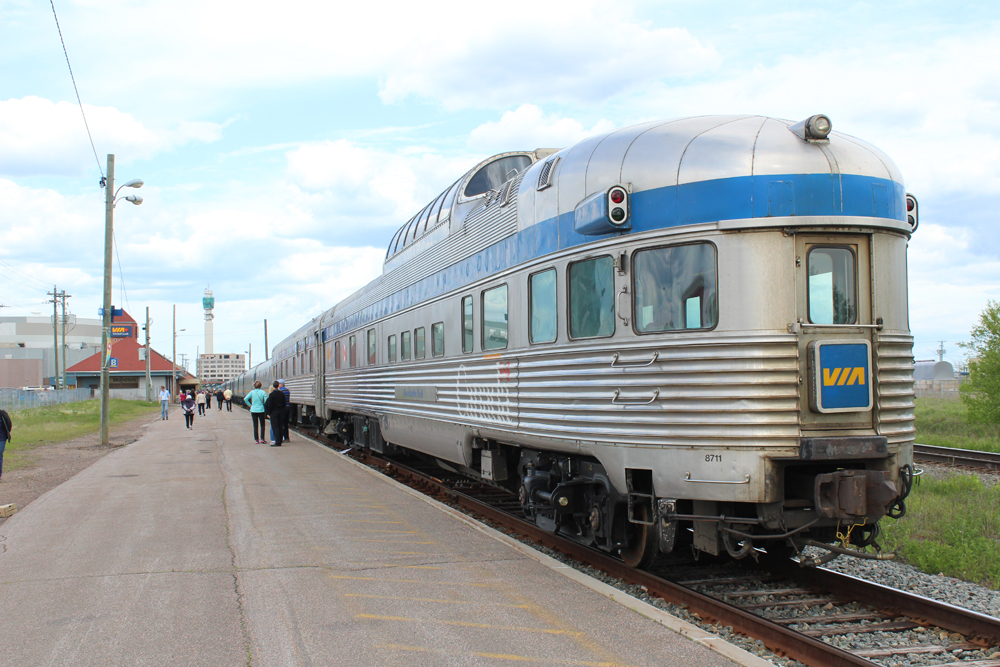 ---
MONTREAL — When a passenger operator is forced to survive on a budget insufficient to provide service capable of satisfying its country's travel needs, while on-time reliability remains hamstrung by host railroads, it is almost impossible for the person in charge to make a difference.
The abrupt departure of VIA Rail Canada CEO Cynthia Garneau after three years is seen by many Canadian observers as recognition of that reality [see "VIA Rail Canada CEO Garneau resigns," News Wire May 21, 2022].  But the move was likely set in motion in March when Transport Minister Omar Alghabra announced at a VIA facility, without Garneau in attendance, that his department would essentially usurp her role as "High Frequency Rail's" primary overseer.
Corridor involvement to be limited
The theoretical, if not practical, idea of a separate Quebec City-Montreal-Ottawa-Toronto route mostly under VIA control affords the promise of more frequencies unencumbered by Canadian National-dictated dispatching and capacity limitations.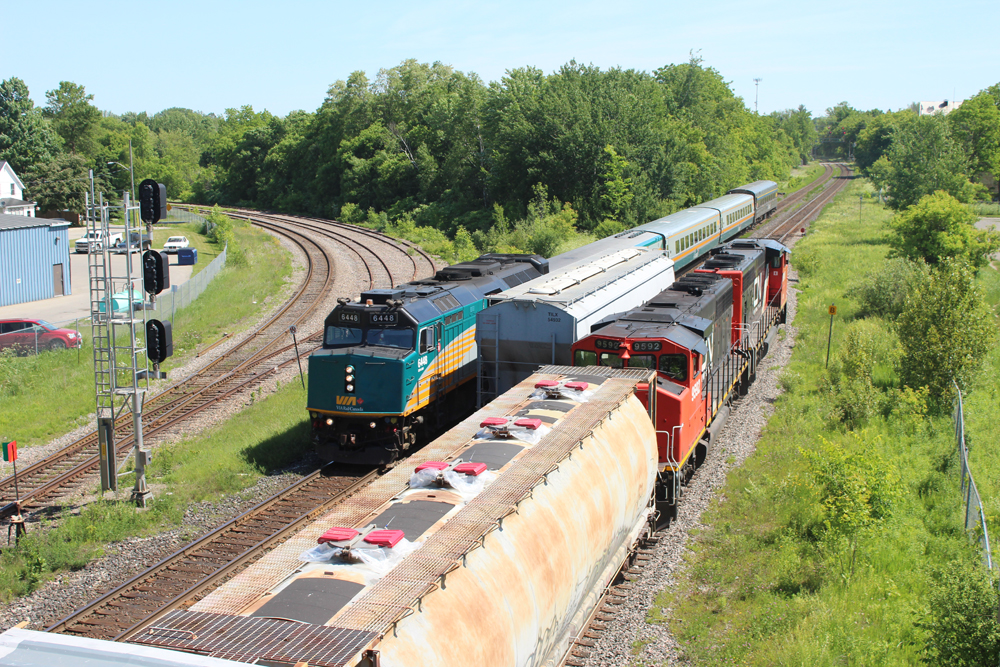 Now that initiative, first championed in 2016 by Garneau's VIA predecessor, Yves Desjardines-Siciliano, will instead be managed by a "Transport Canada/VIA HFR Joint Project Office." The new arrangement was devised to entertain "expressions of interest" from private investors who might bear some of the risk on what has been estimated as a $12 billion investment [see "Transport Canada inches forward …," News Wire March 10, 2022].
Toronto-based investigative reporter Greg Gormick notes that as Transport Canada effectively takes control away from VIA, the High Frequency Rail Project is now getting C$491 million ($383 million in U.S. dollars) for planning and engineering studies in 2022's "Government of Canada Budgets and Main Estimates." This compares to a combined total of C$78 million ($60.8 million U.S.) allocated to VIA alone for the previous six years.
"VIA capital investment over its 45-year life has been little more than a government yo-yo, with spurts in 2001-2002 for P42 locomotives and Renaissance equipment, nothing in 2005-2006, and economic stimulus funding in 2010-2012 for corridor improvements," Gormick tells Trains News Wire. He says research for his forthcoming book, Railroaded: the Life, Near-Death and Future of Canada's Passenger Trains, also reveals that "no VIA president has ever departed or 'retired' of their own free will. The senior executives and directors all serve 'at pleasure,' which means by the political whims of the federal government."
CEO faced challenges

Garneau was installed by Prime Minister Justin Trudeau's Liberal Party to replace Yves Desjardins-Siciliano, the Conservative holdover who first proposed High Frequency Rail. Interestingly, Desjardins-Siciliano is now CEO of Siemens Mobility Canada, the company providing trainsets to replace VIA's aging LRC (Light, Rapid, Comfortable) Bombardier equipment dating from the early 1980s.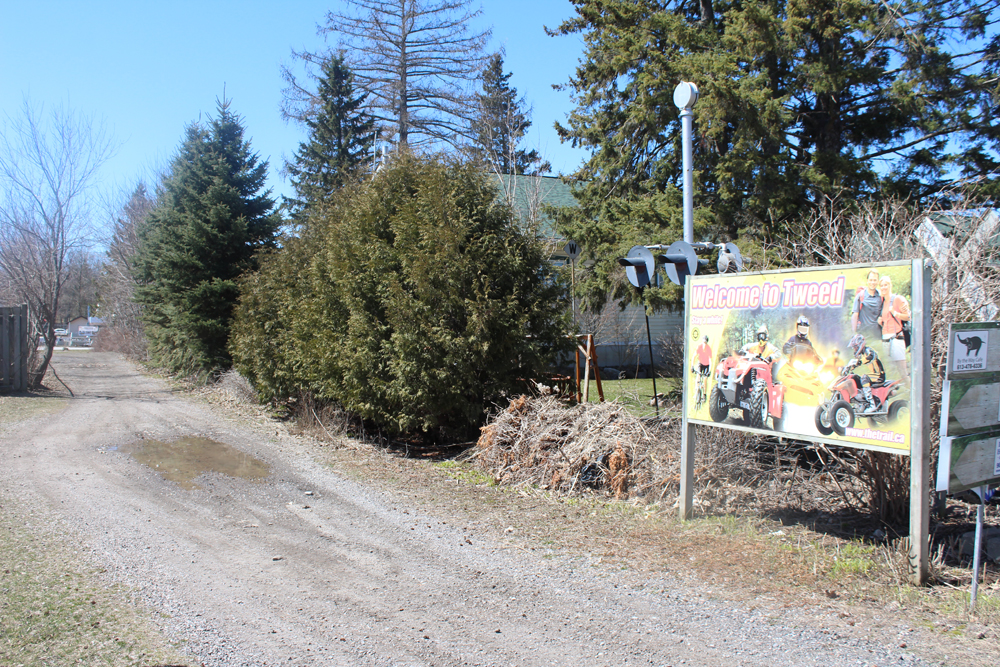 A separate right-of-way was deemed necessary largely because Canadian lawmakers won't require CN to make room for punctual passenger trains. Meanwhile, VIA was expected to rebuild post-pandemic patronage generally within the same budget constraints it has has always endured.
"Garneau faced a difficult challenge from the get-go," says Ted Bartlett, president of the Transport Action Atlantic advocacy group. "She was new to the company and its culture, had no railroad background nor any experience in an organization carrying passengers, and had been at VIA only 10 months when the Covid 19 pandemic struck."
Bartlett also tells News Wire, "Her tenure will not be remembered as being positive for Atlantic Canada. Our group was unable to obtain a meeting with her — not even a virtual one — during those three years, further reinforcing our perception that, in VIA's view, Canada ends at Quebec City."
Stringent Canadian health regulations prompted the company to suspend all service for months outside of the Quebec-Windsor corridor. Slow restoration — initially only once per week for remote service and long-distance trains — exacerbated VIA's limited recognition in public consciousness. When trains don't operate at least daily, travelers are prone to look for reliable and convenient alternatives elsewhere and are likely to stick with them.
"VIA is almost invisible in Canada. They don't run anything to speak of outside the Montreal-Toronto corridor," former Amtrak president David Gunn tells News Wire from his home in Nova Scotia. "Two trains per week to Halifax (from Montreal) and two to Vancouver (from Toronto) is sad to watch; and VIA doesn't even defend its own interests."
Will patronage return?
Now that Canadians and many international visitors are ready to travel again, the company on June 3rd will restart a third weekly Ocean round trip with a mix of Renaissance and Budd-built HEP-1 cars. More corridor frequencies will return June 9 and all remote-service trains will resume triweekly operation by the end of June [see "VIA's Canadian restores dome access …," News Wire, March 14, 2022]
Unlike Amtrak, VIA has succeeded in bringing back enough equipment to accommodate a demand surge that may result from pent up wanderlust and high gas prices, but VIA's fares are expensive. For anyone attempting to plan a trip who is unfamiliar with the carrier's routes and onboard service, the company has not restored printable timetables on its website that show when and where trains go.
A recent News Wire spot check of Ocean and Canadian availability throughout the summer shows very few sleeping accommodation or economy-class sellouts. Extra spending on promotion might pay dividends to fill that capacity, but perhaps a budget straightjacket didn't allow VIA to play catch-up by aggressively changing its marketing and pricing model in a bid to capture business. Observers believe this situation may have contributed to Garneau's resignation.
As Gormick colorfully concludes, "VIA remains a rudderless beast that once again could wind up resembling a beached whale, given the often conflicting and changing sailing orders it receives from Ottawa."