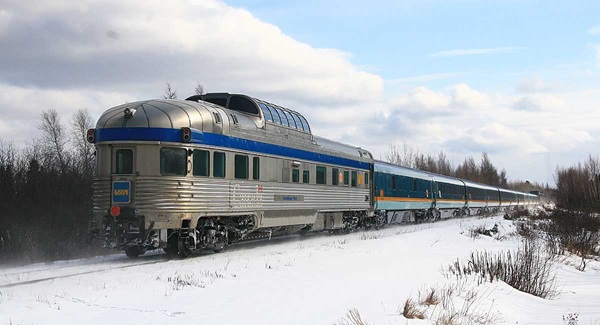 HALIFAX, Nova Scotia — VIA Rail Canada has delayed plans to increase frequencies of its Montreal-Halifax train, the Ocean, until at least Nov. 15, Halifax Today reports.
A weekly roundtrip was restored on the route, suspended since March 2020, resumed Aug. 11 [see "VIA's Ocean to resume once-weekly round trips …," Trains News Wire, July 12, 2021. At the time, Oct. 1 was the target date for returning the train to its pre-pandemic level of three weekly round trips, but at the time, VIA's reservation system offered a caveat: "While full inventory remains available on these trains after Oct. 1, as we approach the date, we will update customers as it becomes clear what service will actually be possible based on the evolution of the pandemic." That same statement has now been updated with Nov. 15 in place of the October date.
The president of public transportation advocacy group Transport Action Atlantic, Ted Bartlett, expressed dismay that the Ocean was remaining on a limited schedule while VIA's corridor service is approaching pre-pandemic levels.
"They're expecting us to believe that COVID is a bigger risk in the Maritimes than it is in Ontario and Quebec, which is certainly poppycock," he said on radio station News 95.7. "VIA has done this without any respect for the travel needs of Atlantic Canadians."