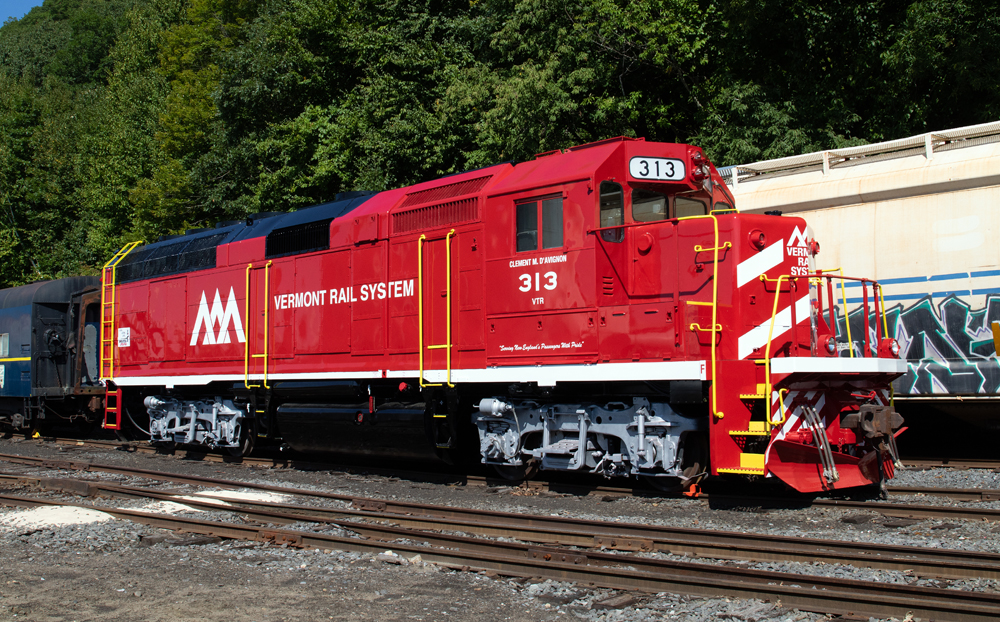 ---
BURLINGTON, Vt. – Vermont Rail System, operator of five railroads in Vermont and New York, is rolling out freshly painted locomotives in its new image. But you will need to look closely to notice the minor change being introduced as the company paints power for the first time in a decade.
The repaints will carry the Vermont Railway's bright red with white stylized mountain peaks logo that was introduced when the company began operations on abandoned Rutland Railway trackage in 1964.
The new spotting feature? Hood lettering and logos now read "Vermont Rail System" rather than "Vermont Railway." Vermont's "VTR" reporting marks remain in use on the repaints. System president Selden Houghton says no other scheme was considered for the repainting program.
Beginning in 1997, the owners of the privately-held Vermont Railway, Green Mountain Railroad, Clarendon & Pittsford, Washington County, and New York & Ogdensburg have used Vermont Rail System as a trade name for the five railroads. Since then, most of the system's locomotive fleet has worn Vermont Railway red. Clarendon & Pittsford diesels are the same red, but with CLP logos. Green Mountain units were green, essentially the old Rutland's scheme.
Locomotives of the five railroads rotate among the properties. VRS has not repainted a locomotive in more than 10 years, although two ex-Florida East Coast SD70M-2s were painted elsewhere in 2017. In the meantime, older EMD GP40s and GP40-2s have been sold off and the system has relied increasingly on leased GATX and LLPX GP38-2s.
This year, VRS purchased some of the leaser units, and those are among eight units that are being painted by contractors at the Green Mountain shop in North Walpole, N.H.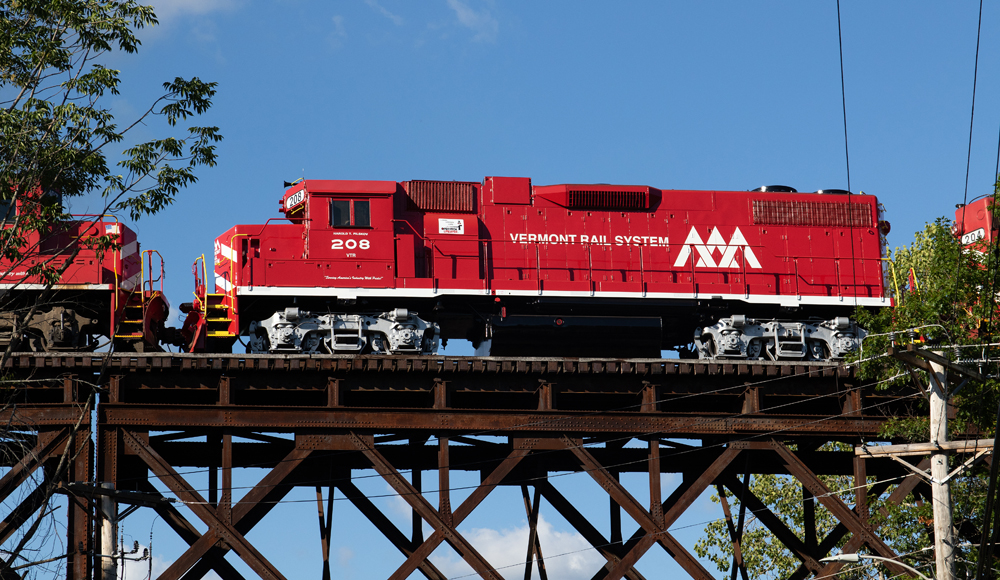 The first engine out of the shop was recently acquired GP40FH-2 No. 313, one of 15 cowl/hood hybrids built by Morrison-Knudsen for NJ Transit in 1987. It later was leased to Montreal-area Agence Metropolitaine de Transport for commuter service, and subsequently was owned by Iowa Pacific Holdings, which ran it on the Chicago-Indianapolis Hoosier State and on the Saratoga & North Creek in New York. No. 313 is awaiting further mechanical work before entering Vermont Rail System service. It will be used primarily for passenger trains, according to Houghton.
Following the 313 in the paint booth was GP38-2 No. 208, a former LLPX lease unit that began life in 1972 as a Penn Central locomotive. It emerged from the North Walpole shop on Sept. 7, and moved north the following day behind the road power of Bellows Falls-Rutland, Vt., train 264. The 208 made its first public appearance on a Burlington dinner train on Saturday, September 8.
Six more locomotives are scheduled to be repainted this year. Likely candidates are units still carrying leasing company colors, as well as GP38-2 No. 201, which wears its original EMD factory paint from 1972! Houghton says that the GP38-2 is the company's preferred locomotive model, so the 50-year-old Geep should have more years of service in bright red.
Two Green Mountain Railroad diesels will keep their GMRC green, according to Houghton. These include a former Norfolk & Western GP9M and 70-year-old RS1 No. 405, built for the Rutland Railway, which has operated its entire life in Vermont. VRS's lone non-EMD unit, No. 405 usually serves in limited passenger excursion service, but it been working as the Bellows Falls switcher for the past several weeks.