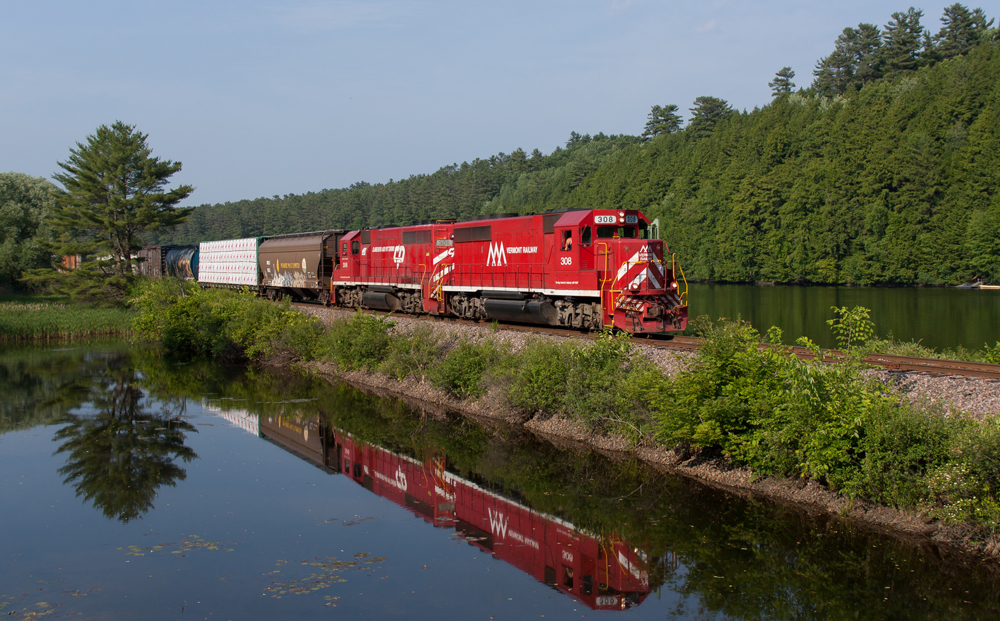 ---
WASHINGTON – CSX Transportation has ironed out a wrinkle in its proposed acquisition of New England regional Pan Am Railways by reaching an agreement with Vermont Rail System and the Vermont Agency of Transportation.
In exchange for a combination of new trackage rights, haulage rights, and interchange agreements, Vermont Rail System and Vermont transportation officials will drop their opposition to the merger, the railways said in a Dec. 31 regulatory filing with the Surface Transportation Board.
CSX requested that the STB impose the settlement as a condition of the merger, which is currently undergoing board review.
Vermont officials had opposed CSX's acquisition of Pan Am Railways due to the naming of a Genesee & Wyoming subsidiary as neutral operator of the Pan Am Southern. CSX will step into Pan Am Railways' 50% stake in Pan Am Southern, the joint venture with Norfolk Southern that provides NS with a route into New England.
Genesee & Wyoming's Pittsburg & Shawmut will operate Pan Am Southern under the Berkshire & Eastern name. The Pan Am Southern consists of about 425 miles of rail lines and trackage rights routes, including the B&M main line between Mechanicville, N.Y., and Ayer, Mass., that provides NS access to the Boston area via its so-called Patriot Corridor.
Pan Am Southern also includes the north-south route along the Connecticut River between White River Junction, Vt., and branches in Connecticut via Springfield, Mass. Pan Am Southern operates over G&W's New England Central on trackage rights between White River Junction and East Northfield, Mass.
Vermont officials said the initial arrangement would leave VRS surrounded by G&W railroads and limit competition for shippers in the Green Mountain State [see "Vermont short line, transportation agency say CSX-Pan Am merger would harm competition," Trains News Wire, Aug. 30, 2021].
Under terms of the agreement involving CSX, NS, and G&W, New England Central will grant Vermont Rail System permanent overhead trackage rights between Bellows Falls and White River Junction, Vt. The trackage rights will effectively connect VRS's former Rutland trackage at Bellows Falls with the Washington County Railroad that runs from White River Junction to Newport, Vt., near the Canadian border.
VRS also will get limited trackage rights over NECR from Bellows Falls to Pan Am Southern at Millers Falls, Mass., and East Northfield, Mass. From those points, VRS will have operating rights to reach East Deerfield Yard for interchange with Pan Am Southern. The rights between East Northfield and East Deerfield, however, will require consent from the Massachusetts Department of Transportation, which owns the line.
The limited trackage rights to and from East Deerfield Yard are intended for occasional use, not daily operation. A discretionary trackage rights agreement covering the same trackage allows VRS to interchange at East Deerfield up to 26 times per year, but not more than three times per month or once per week.
The agreements also include "excessive dwell rights" that permit VRS to pick up cars that have dwelled at East Deerfield Yard for more than 48 hours.
Norfolk Southern's haulage agreement with VRS also is modified under the agreement. NS will be permitted to interchange with VRS at East Deerfield Yard in addition to the current interchange at Hoosick Junction.
In a similar agreement, VRS will be permitted to interchange with CSX at East Deerfield Yard through a haulage agreement on the same terms as current interchange moves between CSX at Rotterdam Junction, N.Y., and VRS at Hoosick Junction.