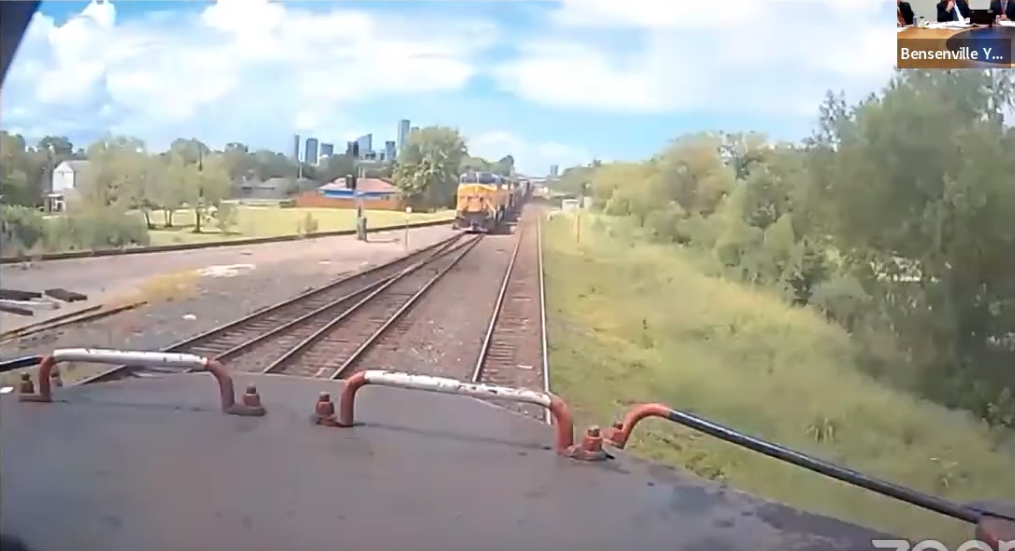 ---
WASHINGTON — Union Pacific has taken issue with a video that Canadian Pacific and Kansas City Southern showed federal regulators of a KCS grain train "breezing through Houston."
The railroads played the video, shot from the lead locomotive, for the Surface Transportation Board on the sixth day of their merger hearings earlier this month. CP and KCS were aiming to show that Houston can handle the eight additional trains they plan on running through the terminal within three years after their merger.
But UP says the video painted an incomplete picture that suggested there's minimal traffic on KCS trackage rights routes through Houston.
UP and BNSF Railway contend that the additional trains will bring the complex Houston terminal to its knees without capacity projects that Canadian Pacific Kansas City should fund. The increase, they said, would in some areas significantly top peak daily train counts from 2016.
"They are courting disaster," UP wrote in its final brief, which was posted to the STB website on Monday.
UP told the STB that CP and KCS won't acknowledge the capacity problem. "Applicants' efforts extended to the hearing, where they presented a video purporting to show a KCS train breezing through Houston in 74 minutes," UP wrote. "Applicants' presentation was either intentionally misleading or exceptionally uninformed."
The video covered the run of the CP-KCS interline grain train from the east end of UP's Englewood Yard to West Junction, the last interlocking Laredo-bound trains face in the terminal.
UP says the video showed "only a sliver of the KCS train's run through the Houston area." Left out: The train waited almost 2 hours at Dawes, Texas, on the eastern edge of Houston, for trains ahead to clear before it could proceed into the terminal, and then incurred another nearly 2-hour delay while waiting for a UP local to serve customers near Rosenberg, Texas, where KCS exits UP trackage rights.
"Applicants' video was also deceptive in suggesting there is minimal train activity on the trackage rights lines in Houston," UP wrote. "Train cab video shows activity within about one-third of a mile of the cab, but train signals keep trains more than one-third of a mile apart, so the video naturally does not show trains ahead of the KCS train. Also, the video shows activity in one direction — straight ahead — so it does not show trains being blocked by the KCS train."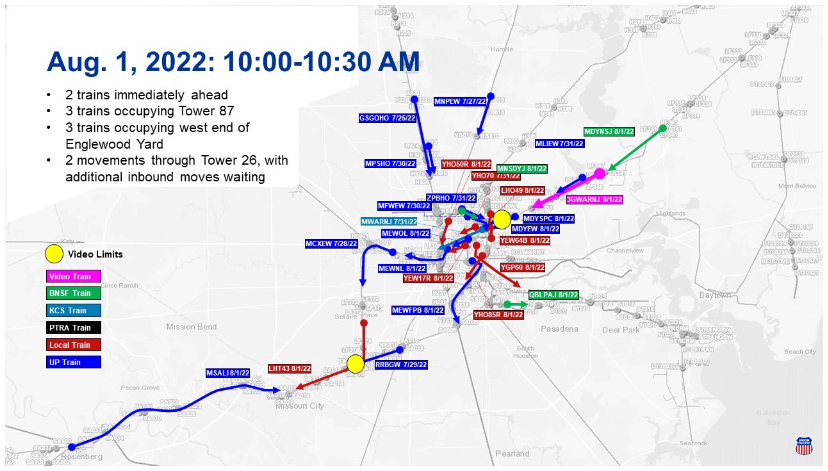 ---
UP's filing included diagrams developed from dispatching records, which showed trains operating on and around the KCS trackage rights route at the time the grain train was near or in the terminal area. "As the diagrams show, Applicants' video gave the Board a highly misleading impression of the congestion and complexity rail carriers face when operating through Houston," UP wrote.
The first diagram shows 15 UP road freights, seven locals, six BNSF road freights, two KCS trains, and a pair of Port Terminal Railroad Association trains in and around Houston. Of those, two trains were immediately ahead, three trains were occupying the Tower 87 junction, another three were at the west end of Englewood Yard, and two trains were moving through Tower 26, with additional moves waiting.
Nonetheless, the grain train ran between Beaumont and Rosenberg in eight hours, which was faster than the 2022 average of 9.2 hours, UP said.
UP also said CP and KCS showed "a lack of knowledge about the challenges of adding capacity in Houston."
CP CEO Keith Creel referred to Englewood Yard as a "field of dreams" where UP could quickly lengthen receiving and departure tracks to accommodate long trains that currently tie up one or both of the two mains while yarding.
"UP is planning such a project, but Applicants are apparently unaware that the project cannot proceed until significant environmental issues are resolved," UP wrote. "Reflecting their cavalier approach to the entire question of capacity in the constrained Houston complex, Applicants did not bother to study the detailed facts that will affect their operations in Houston."
The area around Englewood Yard is contaminated with creosote. Southern Pacific operated a tie facility on the site for years, and UP is in the midst of a 30-year remediation project. Area residents have filed a $100 million lawsuit against the railroad regarding exposure to toxins.
CP and KCS say they've studied capacity on UP trackage rights routes between Beaumont and Robstown, Texas, including Houston, and concluded that there is room for additional traffic.
"The specter put forward by UP and BNSF — analogizing to the 1997-98 Houston service meltdown — is scare-mongering that is entirely self-serving and divorced from the realities of present circumstances," CP and KCS said in their final brief. "Unlike in UP/SP, CPKC will not be reconfiguring the entire Houston rail network with terminal consolidations and other extensive changes on top of a fragile SP network. CPKC will merely be increasing – in a measured way over the course of three years – the number of through trains it runs across the 'expressway' routes to which Tex Mex was granted 'equal' rights in 1996."
Existing frameworks for capacity expansion projects on shared trackage are adequate for identifying and funding necessary work, CP and KCS say.