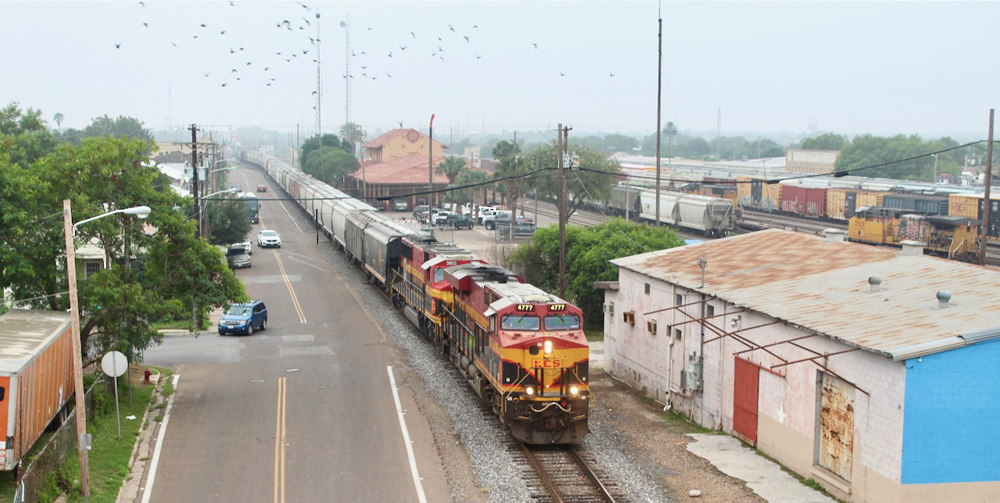 ---
WASHINGTON — Union Pacific has asked federal regulators to ensure that a merger of Canadian Pacific and Kansas City Southern does not undermine competition at the Laredo, Texas, gateway.
Laredo, the most important Mexico border crossing, is where UP interchanges with KCS de Mexico and stands to lose traffic to the combined Canadian Pacific Kansas City system.
UP, in a Monday filing with the Surface Transportation Board, also urged regulators to require CPKC to pay for capacity improvements on UP trackage rights routes it uses across southern Texas, as well as to consider the impact of projected traffic growth on shared routes in the Kansas City and St. Paul areas.
"An unconditioned combination of CP and KCS would likely cause a significant loss of competition, especially for traffic moving via the Laredo Gateway. CP would gain control of KCSM, and thus the ability to increase the costs or reduce the quality of rail service in Mexico for railroads providing shippers competitive options to CPKC north of Laredo," UP wrote in its 334-page filing.
The promises CP has made to investors — including $1 billion in merger-related revenue growth — will put pressure on CPKC to divert traffic from UP and BNSF Railway, UP argues.
"CPKC would have a strong incentive to engage in this type of anticompetitive conduct: to meet Applicants' aggressive promises to investors, CPKC must divert substantial volumes of business from shippers currently using UP or BNSF to provide service north of Laredo without sacrificing profits," UP contends. "The limited (if not illusory) efficiencies arising from the proposed transaction will not achieve those aggressive promises."
CP has said it will keep all gateways open on commercially reasonable terms. But UP asked the board to impose enforceable measures to preserve competition at Laredo and other gateways. Among them: Requiring CPKC to provide rate quotes for both single-line and interline service via gateways and permitting UP to use a proposed second bridge over the Rio Grande at Laredo.
UP also said the STB should require CPKC to reach agreements with other railroads and fund necessary capacity improvements before being permitted to increase train counts over shared or trackage-rights routes.
"Applicants failed to address the need for additional infrastructure and investment to accommodate the additional eight to 12 trains per day they plan to operate on UP-owned tracks between Robstown and Beaumont, Texas, including lines through the crowded Houston terminal," UP notes. "BNSF also operates its own trains on many of these lines. Amtrak also operates on UP's lines between Beaumont and Houston. Applicants also failed to address other railroads' operations in analyzing the investment needs on lines they own but share with other railroads. They did not account for UP, BNSF, and Amtrak operations over the Neches River Bridge, a chokepoint for traffic moving between Houston and New Orleans. They also failed to address whether the 42-mile joint facility that UP and CP use to access Kansas City could accommodate their planned traffic growth of 14 trains per day. They also failed to address the impacts of their plan to route additional traffic through St. Paul, Minn., where their operations overlap with the operations of UP, BNSF, and Amtrak."