WASHINGTON — A slump in rail traffic continued in November, with lagging intermodal traffic leading to a 4.5% drop in overall volume, compared to the same month in 2020.
The latest statistics from the Association of American railroads show that U.S. railroads originated 1,028,039 containers and trailers in November, a 9.6% decrease from November 2020. The month's 917,787 carloads represented a 2% increase.
The November figures mark the fourth straight month of overall declines compared to 2020, with the rate of decline increasing each month. October volume was down 2.8%, after September saw a 1.9% decline. In August, the decline was just 788 carloads and intermodal units, officially a 0% decrease.
AAR Senior Vice President John T. Gray focused on the rise in carload traffic.
"Fifteen of the 20 carload categories we track have seen year-to-date carload increases on U.S. railroads through November," Gray said. "Coal leads the way, with carloads up more than 11%, or nearly 306,000 carloads, mainly because the price of natural gas to electricity generators has doubled since the beginning of the year. Chemicals, grain and commodities related to steelmaking have also all showed solid carload growth this year."
Year-to-date totals for the first 11 months show carload traffic up 7%, intermodal traffic up 6.4%, and overall traffic up 6.7%. The year-to-date traffic averages 506,215 carloads and intermodal units.
Weekly traffic also down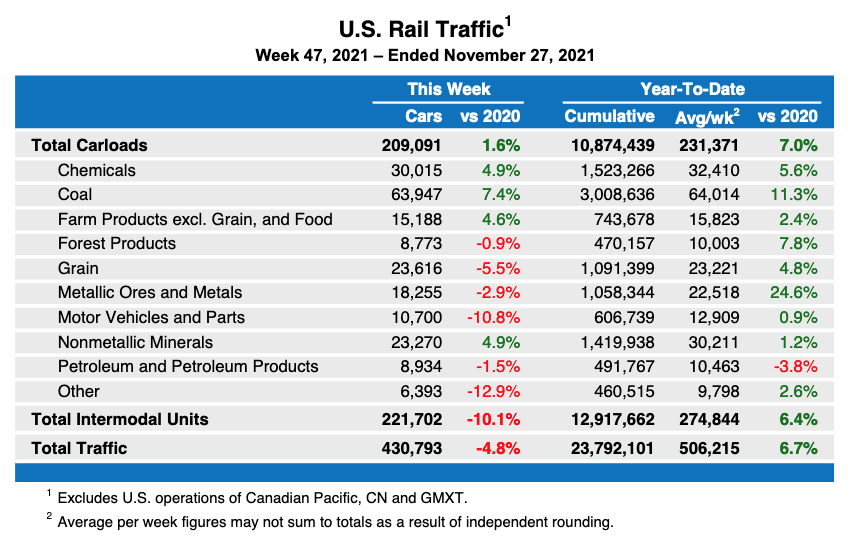 For the week ending Nov. 27, the total U.S. traffic of 430,793 carloads and intermodal  units represented a 4.8% decrease from the same week in 2020. That included 209,091 carloads, up 1.6%, and 221,702 intermodal units, down 10.1%.
North American totals, for 12 U.S., Canadian, and Mexican railroads, include 295,807 carloads, down 4.4% from the corresponding week in 2020, and 281,953 intermodal units, down 16.1%. The total traffic, 577,750 carloads and intermodal units, is a 10.5% decrease.