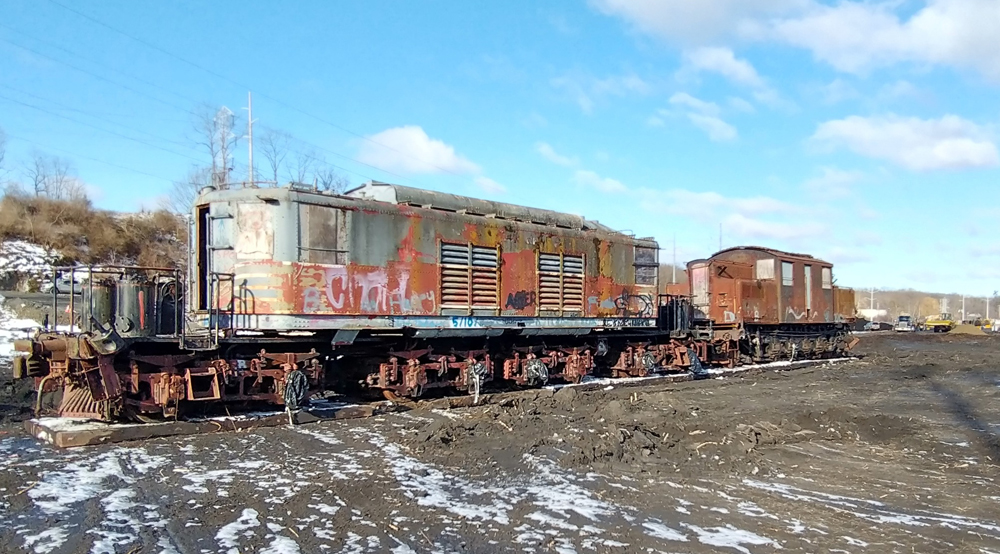 ---
GLENMONT, N.Y. — Two historic New York Central electric locomotives are finally safe after a 4½-hour ballet to lift and shift them 200 feet on a Hudson River island on which they were stranded, dodging a torrent of heavy truck traffic.
The Danbury (Conn.) Railway Museum announced Thursday night (Dec. 29) that Phase 1 of the rescue plan is complete. The units are now staged for disassembly and trucking 120 miles to the museum site. Completion of a suitable permanent exit road from Beacon Island near Albany is expected to delay that move — Phase 2 of the project, estimated to cost $125,000 — for at least three months.
The operation, carried out by veteran railroad contractor Hulcher Services Inc. of New Oxford, Pa., took place the evening of Dec. 19, according to Stan Madyda, museum project manager.
"It's been a long road this past two years in what we've been doing, trying to get these out, the obstacles that kept popping up," he said. Added museum President Jose Alves: "This is really a pivotal moment, and the point of no return."
The electrics, plus two diesel units and four passenger cars, stood in the way of plans to build a $350 million plant to manufacture offshore wind-turbine towers [see "Museum works to save two rare New York Central electric locomotives," Trains News Wire, March 18, 2022]. All were stranded on a land mass, no longer a separate island, because rail access had been cut by a bridge washout, and ground conditions were too swampy to permit trucking.
The diesels – an NYC Alco RS-3 and an NYC General Electric U25B – and passenger cars could not be economically saved, and were scrapped in late November and early December. Without a rescue plan, the electrics would have been scrapped, too [see "Rare New York Central electric locomotives still threatened," News Wire, Nov. 22, 2022].
The units are NYC Class S-1 (2-D-2 configuration) No. 100, built in 1904, and Class T-3a (B-B+B-B configuration) No. 278, built in 1926. Built by a consortium of American Locomotive Co. of Schenectady, N.Y., and General Electric Co., they are among the last of their kind.
No. 100, built as No. 6000, is especially historic, with the museum calling it "the world's first mainline electric locomotive." It was the prototype of a 47-unit fleet that made possible NYC's 600-volt DC third-rail electrification, including the opening of the 1913 Grand Central Terminal complex. That project was prompted by passage of laws that mandated electrification after smoky conditions from steam locomotives caused a Jan. 8, 1902, collision in NYC's Park Avenue Tunnel. Fifteen people died and many were injured in what became New York City's worst train accident.
The other electric, No. 278, is the sole survivor of a 36-unit fleet in a second generation of locomotives used on NYC commuter and freight lines around New York City.
After the diesels and passenger cars were scrapped and rails immediately removed, the coupled electrics sat on an isolated stretch of track with perhaps 6 feet remaining at either end. The electrics were still standing on the footprint of a planned building.
A delicate rescue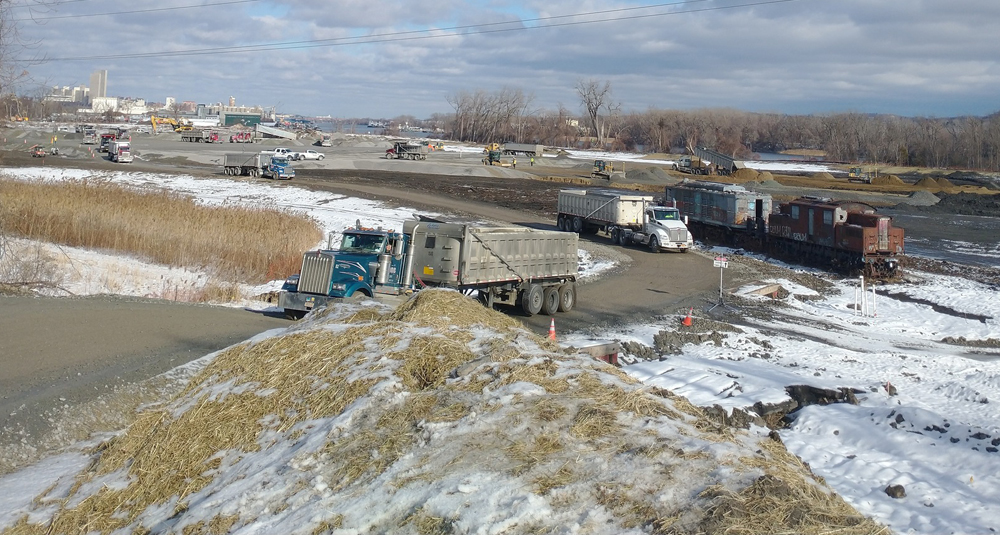 ---
Environmental concerns, permit delays, a homeowners' lawsuit, a change of land ownership, and red tape — conditions that shifted weekly — had snagged the project from the start.
When Hulcher, better known in the railroad industry for cleanup of derailments and hazmat remediation, finally had positioned its four sidebooms (tracked vehicles with cranes) Dec. 19, the road they had to cross was busy with a barrage of trucks arriving with stone to shore up the swampy conditions. The soft earth was caused by years of dumping 2 million tons of toxic fly ash from a nearby power plant, formerly fueled by coal but now by natural gas.
"I counted at least 70 trucks," Madyda said. To make the site suitable for the wind-turbine project, he noted, they have been dumping stone in one-foot layers, with some areas needing as much as 11 feet of stone fill. Some 37,000 truckloads from a half-dozen quarries are needed, he said.
Madyda said the firm coordinating the truck movement, Keller Contracting of Albany, allowed the museum to use sets of "swamp mats" on which to park the two electrics in their holding area. "That was a saving of $10,000," Madyda said. The mats are made up of 8×8 timber assemblies that resemble panel track but without rail.
The move was supposed to take place on Tuesday the 20th, but the last of Hulcher's sidebooms unexpectedly arrived a day early, about 4 p.m.
"At 5 o'clock we got the swamp mats in place, and by 6 we got everything chained," Madyda said. "It was just getting dark when they started to bring in the machines. They did the first lift with the T-motor, got that into place, and went back for the S-motor. All told, we were done by 9:30 p.m."
As expected, the lift and move inflicted some damage on the units — a broken step, divots in the carbodies, and a broken casting — that will need repair.
Effort involved weekly calls
As point man on the project, Madyda since April has been sitting in on weekly Thursday-morning conference calls among all stakeholders to discuss the locomotives.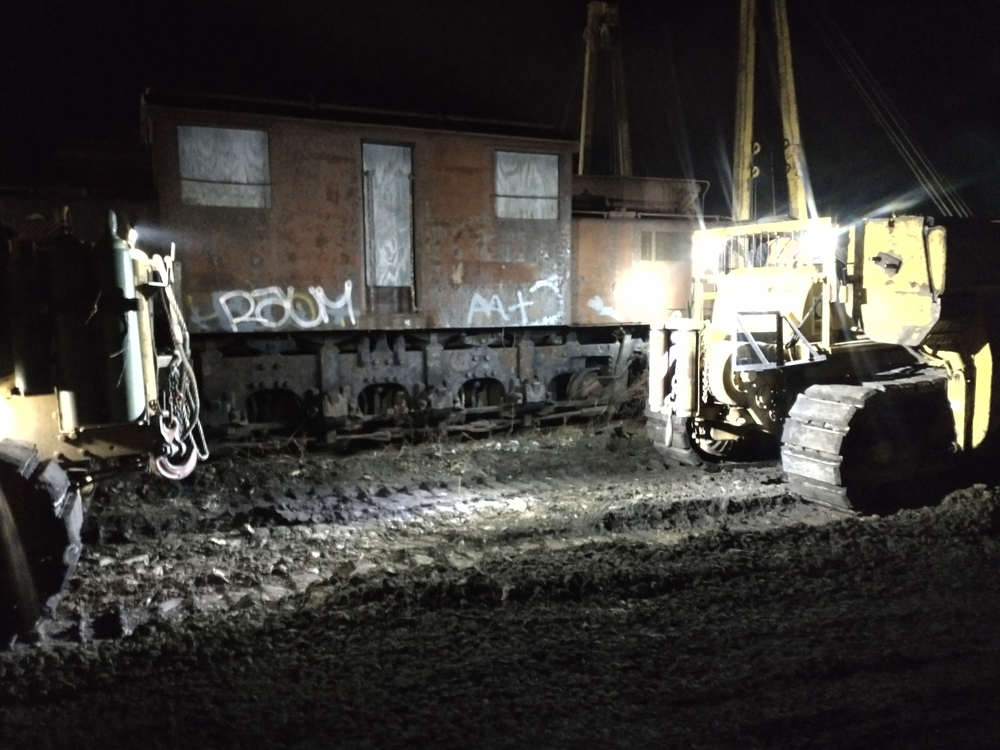 "Each call had some importance — some were 10 minutes, some a half-hour," he said. "They made sure we understood their position, that this is a huge project that needed to go forward, and any dragging of our feet would not be favorable to the locomotives."
The wind-turbine project is being undertaken by the Port of Albany, with a U.S.-Canadian-Danish consortium, Marmen-Welcon LLC; a Belgian steel construction company, Smulders; and a Norwegian energy company, Equinor ASA. The wind turbines will be placed off Long Island.
Madyda emphasized that all parties have been sensitive to the historic nature of the equipment.
"We had very little control over anything," he said. "Here was a multinational company with a  $350 million manufacturing plant on one side, the Port of Albany on the other side, and here we are, a little nonprofit museum trying save a couple locomotives. We did our best to work with them and understand their situation. Everyone knows the historic significance of it, certainly the CEO of Port of Albany knows, Rich Hendrick. He's been very good to work with, and made some phone calls on our behalf to move things along."
Madyda credited several others with helping move the project along: Henry Posner III, chairman of Railroad Development Corp. of Pittsburgh, who's provided financial backing when it was needed; volunteers Paul Marsh of Glenmont and Dave Pickett; and consultants Mike Venezia and Dennis Daugherty.
Although they were once restored, the locomotives were heavily vandalized and parts were stolen while stored on the island. The museum has found some replacements, including a headlight for the T-motor off NYC 271. Still needed are bells; a pantograph; and for the S-motor, both headlights.
Over the last several years, the museum has sunk at least $20,000 into the project so far and faces a bill for the movement of perhaps $90,000. The trip to Danbury will require a crane for disassembly and, as noted, will cost $125,000. Donations can be made at www.danburyrail.org/electrics or by mail to Danbury Railway Museum, P.O. Box 90, Danbury, CT 06813.