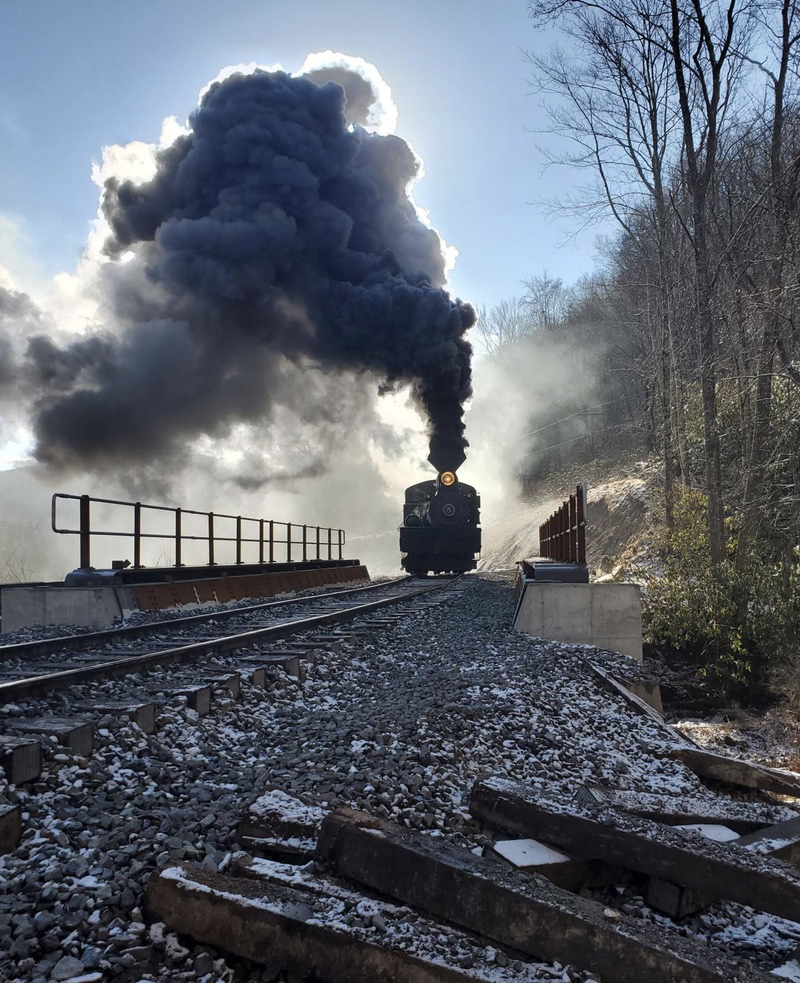 ---
CASS, W.Va. — Cass Scenic Railroad Shay No. 5 made the first trial steam run over the restored former C&O Greenbrier Division track between Cass and Durbin, W.Va., on Wednesday, operator Durbin & Greenbrier Valley Railroad has announced.
The 30-mile round trip was the first for a steam locomotive since the Greenbrier River destroyed much of the line during flooding in 1985, and was a notable milestone following completion in January of the Trout Run bridge, the last major obstacle in restoring the line.
The trip by No. 5 — at 117 years, the oldest locomotive in the United States still operating on the track for which it was built — was to retrieve former Meadow River Lumber Company three-truck Heisler No. 6. That locomotive powered the Durbin & Greenbrier Valley's Durbin Rocket for seven years. The Heisler is out of service with a badly eroded smokebox floor and will require about six months in the shop to return to steam, according to Durbin & Greenbrier Valley president and CEO John Smith.
When repaired, No. 6 may be a candidate to power the recently announced Greenbrier Express trains set to begin operation between Cass and Durbin later this year [see "Durbin & Greenbrier Valley announces plans …," Trains News Wire, Jan. 31, 2022], given a top speed nearly twice that of the available Shay locomotives or of Climax No. 9, the former No. 6 of the Middle Fork Railroad (Ellamore, W.Va.). Eventual plans call for the train to be powered by former Buffalo Creek & Gauley 2-8-0 No. 4, awaiting restoration to operating condition. For information on to to donate to that restoration effort, please visit this website.
Smith said the route will see a trial run with passenger equipment sometime next week. The first Greenbrier Express trains are scheduled to begin operating in April. For information on that trip or other Durbin & Greenbrier Valley trains, visit the Mountain Rail website.
— Updated Feb. 6 at 11:20 a.m. to correct photo credit to Walter Scriptunas.