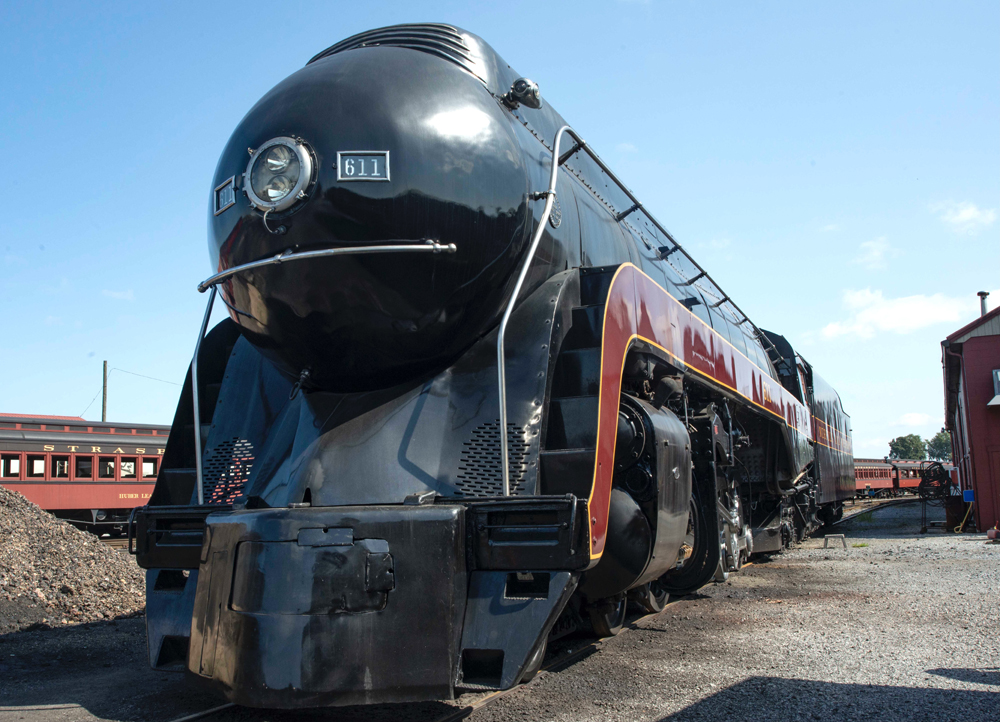 ---
STRASBURG, Pa. — The Railroad Museum of Pennsylvania, in partnership with the Virginia Museum of Transportation, is offering specially designed tours of Norfolk & Western Class J 4-8-4 No. 611. The engine is currently stored at the Museum until it returns to its home base in Roanoke next month.
Now through May 14, the Railroad Museum of Pennsylvania is offering 90-minute tours that discuss the history of No. 611, including how and why it was saved, an in-depth look at its restoration to operating condition, the impact it has on the railroading community and how it has become an ambassador of steam in partnership with various railroad museums and tourist railroads.
Also included is a tour of the Railroad Museum of Pennsylvania restoration shop. The 611 tour is offered Wednesday through Saturday at 11:30 a.m. and Sunday at 1:00 p.m. It is limited to 12 persons ages 12 and over. The cost per person per tour is $25.00, in addition to regular Museum admission.
Visitors may call 717-687-8628, extension 3003, to book tickets or purchase them when they arrive at the admissions desk. Tour goers are advised to wear safe shoes and otherwise dress accordingly for the outdoor yard and restoration shop.
No. 611 was constructed by the Norfolk & Western at its Roanoke Shops in 1950, one of 14 Class J 4-8-4s built for passenger service. It is the sole surviving Class J. The locomotive is on exhibit at the Railroad Museum of Pennsylvania until May 14 in collaboration with its owner, the Virginia Museum of Transportation.