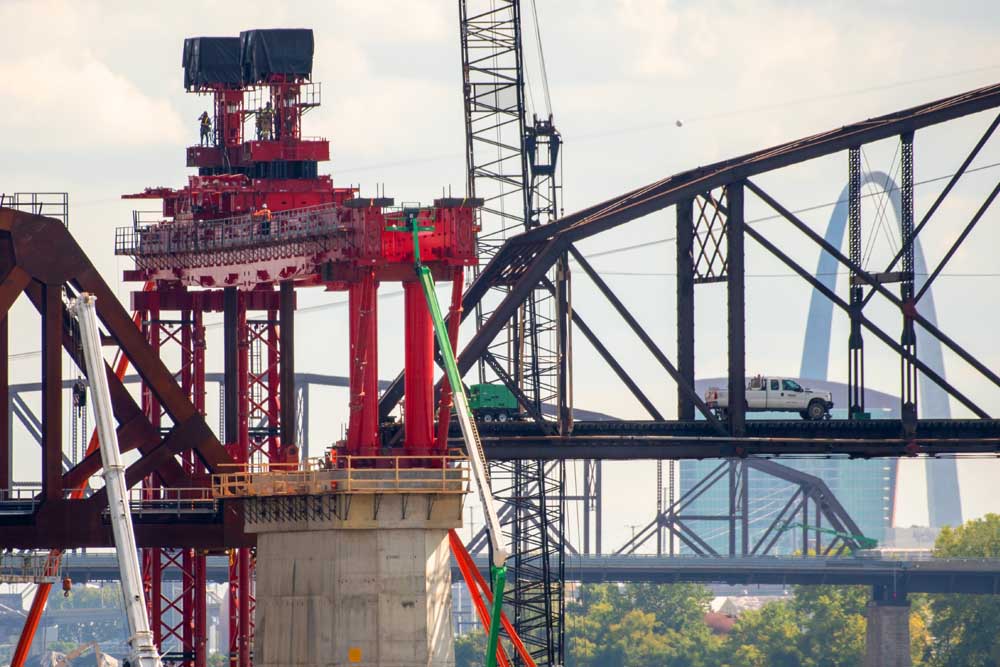 ---
ST. LOUIS — The culmination of the Merchant's Bridge rebuild project, which began in 2018, is scheduled to take place today (Friday, Aug. 26), with the third and final new span being floated into place on the Mississippi River.
Terminal Railroad Association of St. Louis (TRRA) owns the bridge.
The 4,340-foot-long bridge, completed in 1889, links Venice, Ill., with North St. Louis. Norfolk Southern is a major user of the bridge, which it utilizes to reach Luther Yard in North St. Louis. Several TRRA jobs along with Amtrak traffic between Chicago and St. Louis also use the bridge.
The bridge is a vital rail artery linking east-west rail corridors serving the Midwest and the St. Louis area, a major national rail hub.
With the placement of the final new span, the $222 million project, which will double the capacity of the two-track bridge, is nearing completion. Because of age and engineering concerns, TRRA has for several years only allowed one train with six-axle locomotives to occupy the bridge at any given time.
Walsh Construction is the general contractor for the project, which has seen each of the new spans fabricated on barges on the Missouri side of the river, just south of the Merchants Bridge, then floated into place. The work has been dependent on weather, river currents, and river traffic levels, with high winds and high water levels adding to the challenge.
"We're not at the finish line yet," Eric Fields, chief engineer with TRRA, said in a Thursday phone interview, "but when we have this major capital investment done, it will be a huge capacity increase for freight transportation in general. And it is a safety improvement for passenger rail, as well." TRRA usually handles two to 12 Amtrak trains per day over the Merchants Bridge.
The first of the three new spans was installed in September 2021 [see "St. Louis TRRA Merchants Bridge project reaches major milestone," Trains News Wire, Sept. 20, 2021]. Installation of each of the new spans has required 10-day closures of the Merchants Bridge. During those periods, trains have used another TRRA-owned structure, the MacArthur Bridge, south of the Merchants Bridge and on the south edge of downtown St. Louis.
"We made sure our spans met American Railway Engineering and Maintenance-of-Way Association guidelines for high-wide loads," Field said. "We have to complete the installation of the eastbound main off the bridge after we get the final span in."
"The project has exceeded my expectations," Adam Mahlandt, general superintendent of the TRRA, said in a Thursday phone conversation. He praised all those who have been involved in the project.
"The credit truly goes to Eric and our engineering department, who have spent years planning this project," Mahlandt said. "In addition to that, a lot of credit to our operating team who has had to reroute traffic during the three ten-day work outages.
"For every TRRA employee, this will not happen for another two hundred years."