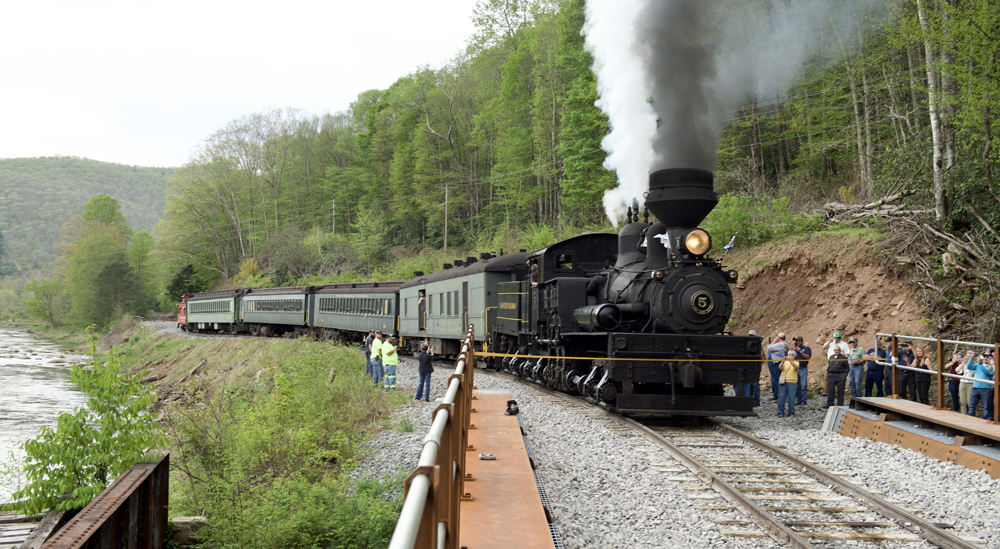 ---
CASS, W.Va. — West Virginia state dignitaries were among the passengers Friday on a special Durbin & Greenbrier Valley Railroad train to dedicate the opening of the Trout Run Bridge and with it, reopening of the northernmost 15 miles of the former Chesapeake & Ohio Durbin route.
Shay No. 5, West Virginia's official state locomotive, provided power for the train's 6-mile trip from Cass to the bridge. The bridge, along with much of the track on either side, was washed away during a disastrous flood in 1985. Its replacement, completed earlier this year, was the last obstacle to reopening the line between Cass and Durbin [see "Trip by Shay No. 5 marks first steam test run …," Trains News Wire, Feb. 2, 2023].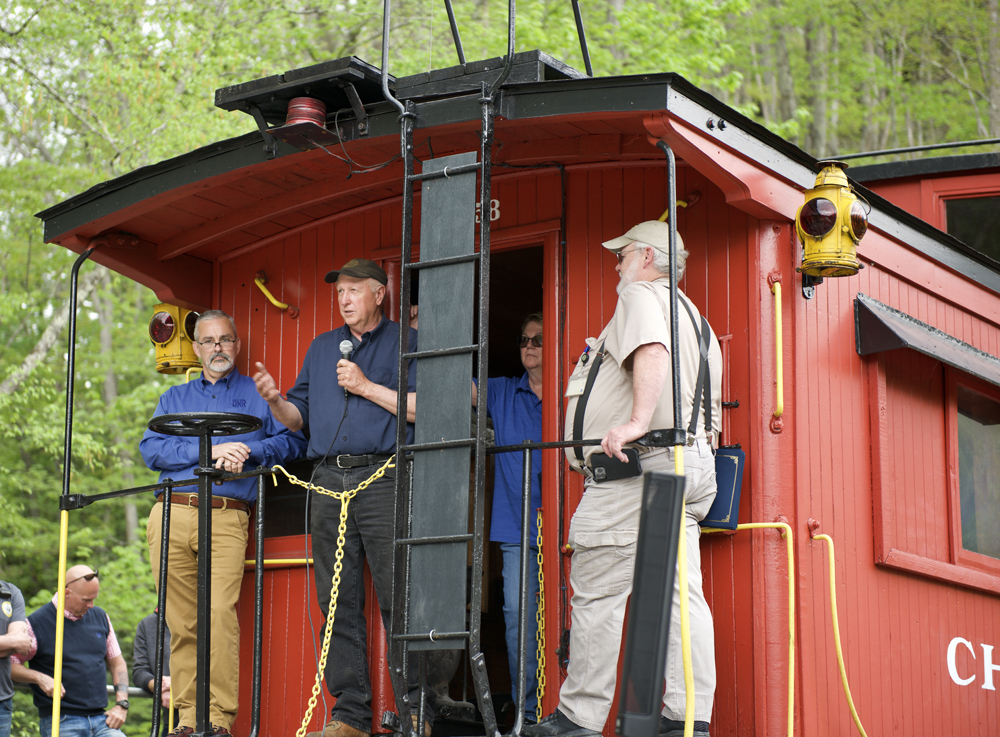 Upon reaching the bridge, passengers detrained, then Shay No. 5 pushed through a ribbon to mark the official opening. Durbin & Greenbrier Valley CEO John Smith; Cindy Butler, executive director of the West Virginia State Rail Authority; and Jimmy Wriston, West Virginia Departments of Transportation and Highways secretary, offered remarks using the train's caboose as a speaking platform, with Wriston awarding certificates of appreciation to those who contributed time, effort, and expertise to the project. The Shay then pushed the consist back to Cass.
Friday's ceremony was followed on Saturday by the inaugural run of the Greenbrier Express, a sold-out excursion behind doubleheaded Shay locomotives, with No. 5 leading the way. It was the first revenue run between Cass and Durbin in more than 35 years. Regular Greenbrier Express operations begin May 20 [see "Greenbrier Express sets inaugural run …," News Wire, April 13, 2023]. More information is available at the Durbin & Greenbrier Valley website.