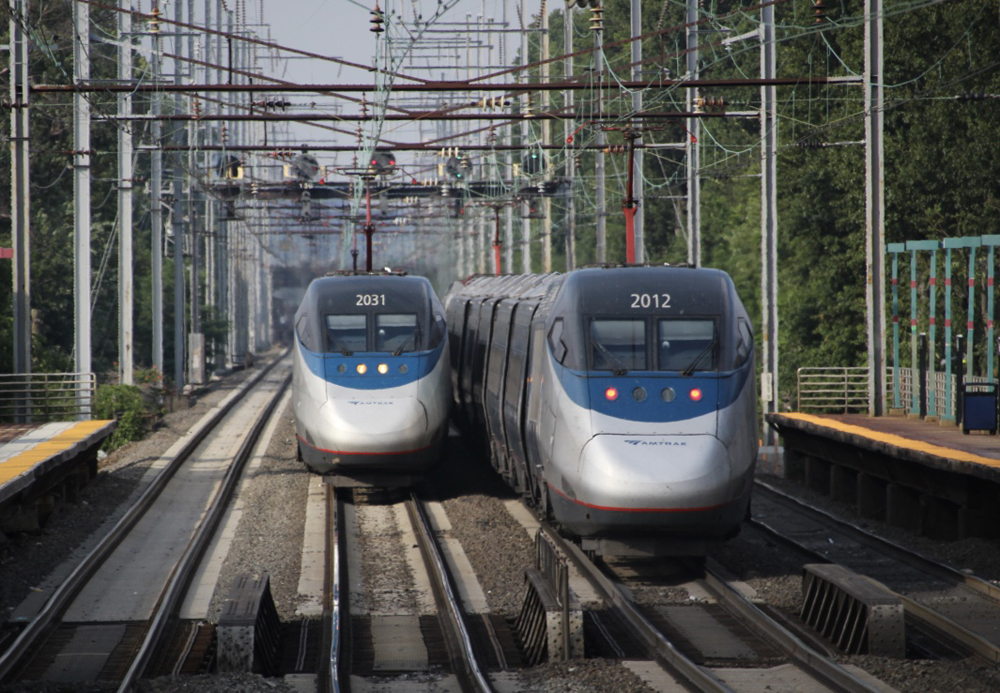 It is both the best of times and worst of times for transportation infrastructure in the United States, according to the just-released 2021 report card from the American Society of Civil Engineers.
Rail infrastructure, which for the ASCE's report includes Class I, II, and III railroads, and Amtrak, gets a B. That's the best grade of all sectors. "Private railroads are investing close to 20% of their revenue into infrastructure, averaging over $206,000 per mile annually over their 140,000 mile network," says Michael Schipper, a professional engineer who is a member of the ASCE report card committee for both rail and transit.
From 2017 to 2019, the top four Class I railroads — BNSF, Union Pacific, CSX, and Norfolk Southern — invested $38.3 billion in track, structures, and equipment.
But on the Northeast Corridor in 2019, infrastructure-related issues caused 328,000 train-delay minutes, which Schipper says is the equivalent of 700 train trips from Boston to Washington, D.C. The state-of-good repair backlog on the NEC is $45.2 billion, and Amtrak spent just $713 million across its entire system on such projects from 2017 to 2019, according to the ASCE.
The picture is grim for the nation's transit systems, which get the lowest grade in this latest report card. Schipper calls it a "depressing D-minus."
He explains, "Our transit assets continue to age and fall into the state of poor repair. Many transit agencies lack sufficient funding to do basic maintenance." Schipper says there is a $176 billion transit investment backlog, with 36% of storage yards and maintenance facilities in poor condition and 19% of all transit vehicles in poor condition.
The ASCE report, available here, notes that with declining ridership and the financial effects of the COVD-19 pandemic, delays and reliability issues will become more frequent in coming years. ASCE warns that without addressing these problems, ridership losses will continue.
A transit building boom added 12% more route-miles for commuter rail over the past 10 years and 30% more light rail and streetcar miles. But that may have come at the expense of upkeep on existing lines.
"System growth has the potential to increase capacity, but it must be coupled with routine maintenance for the older parts of the system," reads the 2021 transit report card. "Unfortunately, capital investments for a growing number of state-of-good-repair needs has not taken place."
Jeff Nelson, chairman of the American Public Transportation Association, speaking at the ASCE's online release of the new report card, said, "We can't have an A-plus economy for the D-minus transit system." He called for a stable, long-term investment strategy for the nation's transit.
Phillip Washington, CEO of the Los Angeles County Metropolitan Transportation Authority, took it another step further, suggesting a national infrastructure bank to fund repairs and improvements. Referring to the decline in federal investment, he said, "We've been on the 30- or 40-year infrastructure vacation."
ASCE made several recommendations to raise the grade for transit infrastructure. These include raising the gas tax by 25 cents to address shortfalls in the Highway Trust Fund, a major source of federal dollars for transit agencies, along with increased investment from state and local governments and private industry.
For rail, ASCE recommends continuing a regulatory and tax structure that supports private-sector investment, including the Railroad Track Maintenance Tax Credit, Railroad Rehabilitation and Improvement Financing (RRIF) program, and Transportation Infrastructure Finance and Innovation Act (TIFIA).
For passenger rail, ASCE urges investment in high-population regions and state-supported Amtrak routes.
Maryland Gov. Larry Hogan, also joining the ASCE's webinar, said that he and other governors have met with President Joe Biden and Vice-President Kamala Harris. Hogan, a Republican, described it as "a great meeting." He believes that infrastructure investment is a top priority for both parties, and for business and labor.
Biden and Transportation Secretary Pete Buttigieg are expected to introduce a large infrastructure proposal following passage of the pandemic relief bill.