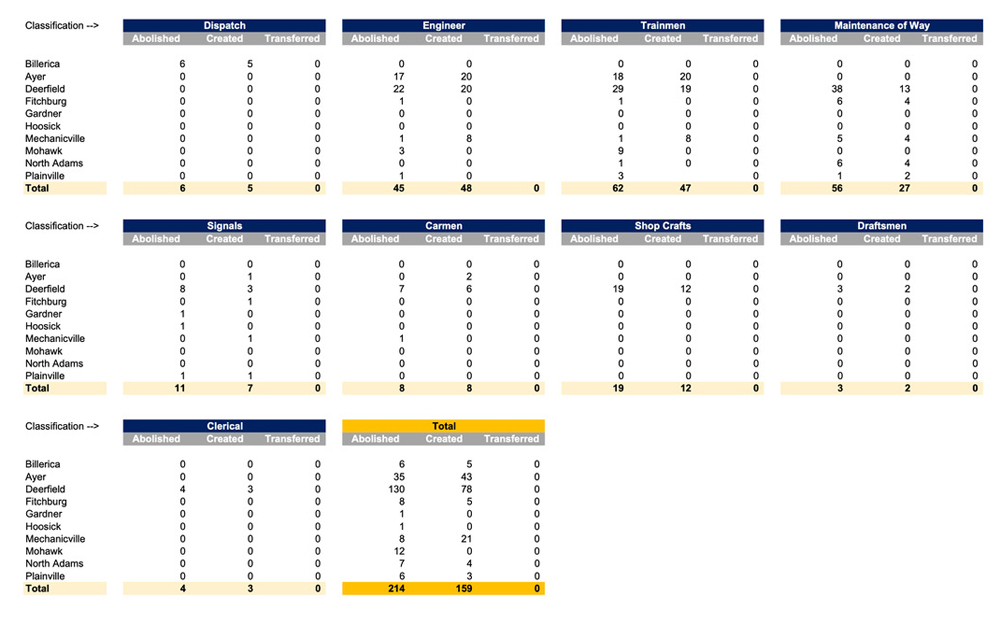 WASHINGTON — CSX Transportation's proposed acquisition of New England regional Pan Am Railways will have a significant impact on employment levels at Pan Am Southern, the joint venture it will share with Norfolk Southern.
Genesee & Wyoming, which has been designated the neutral operator of Pan Am Southern, estimates that it can run the railroad with 25% fewer employees than current operator Springfield Terminal, according to a CSX regulatory filing posted to the Surface Transportation Board website on Wednesday.
Overall, Pan Am Southern employment will drop to 159 employees from the current 214. The biggest cuts are to maintenance of way, which will be halved, and the shop and signals workforce in East Deerfield, Mass., where employment will fall by more than a third.
The Pan Am Southern consists of about 425 miles of rail lines and trackage rights routes, including the former Boston & Maine main line between Mechanicville, N.Y., and Ayer, Mass., that provides NS access to New England via its so-called Patriot Corridor. Pan Am Southern also includes the north-south route Pan Am uses between White River Junction, Vt., and its branches in Connecticut via Springfield, Mass.
Pan Am Southern will lose the daily pair of NS intermodal and automotive trains that run between Mechanicville and Ayer. The trains will shift to trackage rights on CSX's parallel Boston & Albany route and will reach Ayer via Providence & Worcester and Pan Am trackage north of Worcester, Mass.
Genesee & Wyoming will operate and maintain Pan Am Southern under its Pittsburg & Shawmut subsidiary, which will do business as Berkshire & Eastern. Three of G&W's New England railroads — New England Central, Providence & Worcester, and Connecticut Southern — connect with Pan Am Southern.
NS had sought a neutral operator for Pan Am Southern. CSX and NS will jointly own Pan Am Southern, with NS retaining its 50% share and CSX acquiring Pan Am Railways' stake. CSX has agreed to sell its stake within seven years if NS "or its assignee" wishes to buy out CSX.
Pan Am subsidiary Springfield Terminal also operates Pan Am Railways. CSX, in its 375-page merger application filed last week, said it "does not anticipate any adverse impacts on Springfield Terminal craft employees allocated to the PAR System."
That has surprised some observers, who note that duplicate facilities — such as Pan Am's headquarters in North Billerica, Mass., and the locomotive and car shops in Waterville, Maine — are typically rationalized in end-to-end mergers.