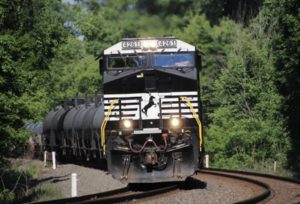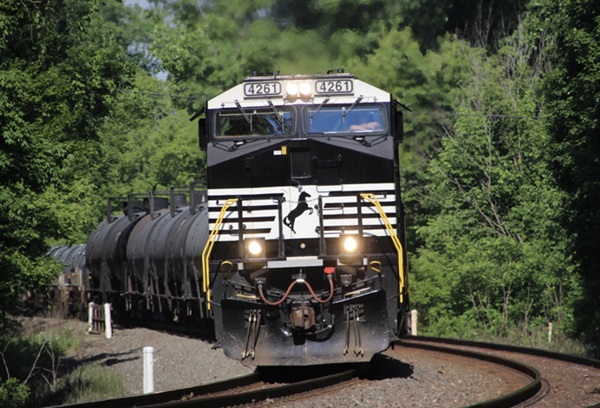 NORFOLK, Va. — Norfolk Southern's third-quarter revenue and profits sank due to pandemic-related traffic declines, but CEO Jim Squires says the railroad is picking up the pace of Precision Scheduled Railroading improvements.
"As we continue rolling out PSR, our team sees additional opportunity for efficiency and growth that will close the [operating ratio] gap with the rest of the industry," Squires told investors and analysts on the company's earnings call on Wednesday morning.
NS reported a record-low quarterly adjusted operating ratio of 62.5% for the third quarter and says it can hit a 60% operating ratio target next year. But the other publicly traded Class I railroads all posted operating ratios below 60% in the third quarter, with Eastern rival CSX Transportation 5.6 points ahead of NS.
New Chief Operating Officer Cindy Sanborn says the railroad is accelerating operational changes that will make the railroad faster, more efficient, and more productive. "It's significantly more than tweaking," Sanborn says of efforts to increase train lengths and improve freight car velocity.
For the quarter, NS operating income declined 6%, to $939 million, as revenue declined 12%, to $2.5 billion. Earnings per share, adjusted for the impact of one-time items, increased 1%, to $2.51.
NS cut expenses 15% in the quarter, or more than twice as much as the 7% decline in volume. The railroad's operating ratio, adjusted for one-time items, improved 2.4 points compared to a year ago. Absent the adjustment, the operating ratio was 66.5%.
Intermodal volume grew 1% in the quarter, but that was more than offset by an 11% decline in merchandise traffic and coal's drop of 32%. Energy-related traffic was responsible for the lion's share of the volume declines, Chief Marketing Officer Alan Shaw says.
Domestic intermodal was up 9% in the quarter to record volumes, Shaw says, while international volume fell 11%.
Shaw expects a continued strong rebound in consumer-related traffic, including intermodal and automotive, but expects anything connected to energy to recover more slowly. There was no hope for a coal rebound with natural gas prices remaining low and utility stockpiles 45% higher than last year, Shaw says.
NS once again set quarterly records for fuel efficiency, train weight, and train length as it moved tonnage on fewer but longer trains. Train length was up 12% compared to a year ago, to 6,600 feet.
"Our mission was to absorb returning volumes at minimal additional cost," Sanborn says. The rebound in intermodal and merchandise volumes since bottoming in May and June largely was handled within existing trains.
The number of crew starts remained flat in August and September even as volume increased, NS executives said. Overall NS employment remained 18% below the levels of a year ago.
There's still plenty of opportunity for NS to boost train length. Sanborn says only 9% of merchandise trains maxed out the horsepower of their locomotive consists, and only 10% of intermodal trains exceeded 10,000 feet.
The railroad idled the hump at Enola Yard outside Harrisburg, Pa., during the quarter and is curtailing operations at its hump yard in Macon, Ga., next week as part of a redesign of its intermodal and carload network in the South. Macon will be the sixth hump idled since NS began making Precision Scheduled Railroading operating changes in 2019. [See "Norfolk Southern to idle its sixth hump, at yard in Macon, Ga.," Trains News Wire, Oct. 28, 2020].
"A lot of these hump conversions that you've seen … actually improves car speed," Sanborn says. "And at a system level what we want to do is avoid touches all together if at all possible. If we can speed the cars up, that's good for us in terms of asset intensity and it's also good for our customers. It provides them a more timely service product."
NS did not disclose specific on-time performance data for the quarter.